Songs from the ICU: The Whispy (GASP) Pop Vocal Style (GASP) Take-Over
COLUMN: There's nothing sexier than a soft whisper in your ear. I mean, right up close to your ear. Something sensual, and something inviting, and — GASP — backed by a (GASP) wall of mid-tempo down-stroked electric guitars. Gasp.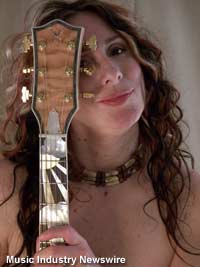 I am, of course, referring to the trending pop female vocal style that has ruled the airwaves for many years: The Whisp. You know it all too well – some poor gal shoved one inch from the Neumann dangling two inches above her chin, practically sucking on the thing like a popsicle, breathing lyrics like "Oh / Yeah / Uh / Huh / You want it" into the mic. It's a scene from the "Singers Gone Wild" DVD. Due to the close proximity of the "singer" to the mic diaphragm in order to create this "whisp" effect, every wanton GASP for breath is ear-splitting, and worked into the song as some sort of "artistic punctuation", when in truth – it not only inspires terrifying tuberculosis flashbacks from a past life, but demonstrates bad vocal form.
That's right, bad form. I'm all for phrasing and artistic interpretation for variation in a vocal track. But as a vocalist, I can tell you that there's a difference between breathing heavily into a mic — which really should be accompanied by a $4.99 a minute, just to be fair — and singing. With the exception of very few artists like the cross-over Kelly Clarkson, pop vocalists have been reduced to phone sex operators. But without the perks.
Sure, there's a time and a place in a song for The Whisp. But an entire album of The Whisp, coupled with the gasping every few words in a phrase because apparently, the oxygen tether from the ICU isn't long enough, well – that's just painfully bad vocal form, and questionable producing.
Then why would a producer encourage an entire album of The Whisp in the studio, you may ask? Because the singer they're working with can't sing, that's why, and come on, Jim, they're not a miracle worker. Not everyone can sing, even singers in signed bands, but almost anybody can breathe lyrics into a microphone. So if your marketing package is hot enough, and your deal is penned and in the pipeline and your producer is under a deadline and your singer, well — sucks — then it's time for The Whisp. Just breathe (GASP) and look good (GASP) and the tube mic preamps and doubling your vocal track in the studio will fatten up and fill out what God just didn't give you.
Producers are supposed to work with artists in the studio, especially vocalists, to get as much as they can, emotively and artistically, out of that person. For instance, when I've produced vocalists who are struggling in the studio, even vocalists who may not be vocal acrobats, I will take the time to work with them to find the "sweet spot" in their voice in order to get a solid vocal tone for what they're able to produce. An album saturated with The Whisp, especially in a three to four note song range, is symptomatic of two things: a weak voice, or a lazy producer. And the truth is that most likely the singer has puny pipes.
Not only are the pipes puny, but so is the "singer's" diaphragm. It's a two piece puzzle, and 0-2 isn't looking good. For those who surfed YouTube on your iPhone instead of studying in anatomy class, let me clarify: the diaphragm is not a part of the female body which is purchased at a drugstore. The diaphragm, in fact, is a muscle shared by both genders, located roughly where the rib cage comes together. It is responsible for the fact that you breathe. Like any muscle, it needs to be worked out, or it's weak. A weak diaphragm is no biggie if you're sitting around eating Doritos and watching Project Runway. It's a huge biggie if you're fronting a band 280 days out of the year for two to three hours a night. Wimpy diaphragm = wimpy breath control. Wimpy breath control = The (GASP) Whisp. And, in terms of a 280-date live performance calendar, The Whisp = time to bring in pre-recorded tracks, in order to lip sync the concert, lest a real oxygen tether backstage be hauled around on the road.
And guess what? That happens.
Let's not even discuss the volumes of pitch problems a singer will encounter when they, literally, don't have the guts to control their vocal mechanism. Being sharp or flat, or what so many people love to call "being pitchy", occurs not from a singer's throat – but from a lack of control over the singer's breathe. And where does that breath control come from? Why yes — you in the back, watching "Singers Gone Wild" on YouTube? That's correct: The Diaphragm.
Considering the modern pop / rock market morphed from the throats of Janis Joplin, Barry Manilow, Aerosmith, Abba, The Beatles, The Eagles and Heart – all HUGE vocally-driven artists with HUGE diaphragms — this sudden "signing the pop / rock person who can't sing" phenomenon has had puzzled me for the last decade. Only the music industry would hire someone to do something who, well – can't do it. Imagine hiring an accountant to come do your taxes. You take hours to prepare everything, drop it off, and came back a week later, only to find everything stacked exactly where it was. When you question the accountant, since you've already paid him to do the job, he says, "Dude, sorry. I can't add. But I'm hot." …Oh, well, okay then.
I mean, really?
The loss of the singer in the studio has been widely felt throughout pop and rock music, and reflected in album sales. Sales of teeny bopper pop have always held, trending with whichever teeny-boppy artist is crooning at that point in time, but a severe drop-off in sales have been reflected in the 35-45 demographic, and this is widely due to the fact that that demographic was raised with singers, not breathers – Ann Wilson, Billy Joel, Pat Benetar, Freddie Mercury, Annie Lennox, John Cougar Mellencamp, Whitney Houston, Terri Nunn, Any Hair Band Guy Singer, even weird ol' Cindi Lauper would belt it out. Now, to hear singers who actually sing, one must often migrate to the Hip Hop and R & B world, and catch some Beyonce.
Occasionally, a pop vocalist will slip through the system today, maintaining the rights to use their vocal mechanism. When Kelly Clarkson sings, I'm not feeling that Marilyn Monroe "Happy Birthday to YOU, Mr. President" vibe as Kelly dug her key into the side of HIS dirty little souped-up four wheel drive. Lady Gaga also kicks out a vocal show that is impressive, as does Pink, who also produces a large amount of her own material.
The Pop Whisp as it is used today, with layers and layers of vocoder effects, was first made popular when producers attempted to patch together the voice of Britney Spears in the studio, and has been used as a default every since. It's very simple to capture The Whisp in the studio, takes the least amount of time, and can be doctored up very easily. Plus, it covers a multitude of tonal evils in many signed singers who flat-out just can't sing.
Focus groups claim that men fall apart over The Whisp, defining its reedy, whispering tone as "alluring and sexy". Well rock on for the guys. But considering that there are more women than men in America, it would be lovely to have something on the air that doesn't inspire me to hand an oxygen mask to the poor chick who is wheezing into the microphone. Code blue, in the vocal booth.
Not everyone has to have Patti LuPone's vocal mechanism to be considered "a singer". The Dance and Trance genres use the ethereal, filtered or lilting one to three note vocal line just like a keyboard patch – as just another layer in the thumping mix. Country music takes advantage of vocal styles that are delicate and sweet, even tasty in their softness. Alison Krauss handles this very well. Clearly, when citing The Pop Whisp, I'm not talking about how a microphone handles a soft voice. I'm taking about how no voice is compensated for, on the microphone.
This Whisp factor hasn't just been relegated to females. There was a male version, but over time, Michael Jackson was the only one who could pull it off with panache and make the "Ooh-uh-HAH" cool. Otherwise, the Male Whisp came and went, likely because men whispering into the microphone was just a little too Village People for most, and I'm not referring to the vocal style. Richard Marx was quickly replaced with the "lock-jaw front men" like Eddie Vedder. Eddie can sing, in a "jaw-wired-shut-meets-a-billygoat" kind of way. But I guarantee you, he's not being asked to suck on that Neumann mic. Yep, that was as awkward to write as it was to read. Now you know why they don't do it.
The contemporary male version of The Whisp is actually The Growl, where no matter what, the guy just throws his guts behind his song until the capillaries burst in his eyes, and pitch-be-damned, as long as he sounds like he's passing a ten-day-old log of cheese. I like to call this vocal style "Songs From the Crapper", but that's another article.
People love great singers. Great singers move people to tears and instigate goose bumps. It's a fact that people pay more attention to, and invest more money in, a voice that is distinguishable. People listen to the vocal attack in a song to define the song's feeling tone. Even people who can't sing throw caution to the wind when inspired by a great singer, ergo, the "in the car boogie" and "the shower concert". Susan Boyle was a hit not just because of her underdog status, but because that mama can bring the house down! And a strong singer doesn't have to be a "pretty" singer. Macy Gray has a funky-licious voice that's strong and catchy, but not exactly pretty. So does Tom Petty, though I'd put his voice in the more Nasal-icious category. The only people who don't seem to like singers that sing are the labels who continue to sign singers who can't sing.
So I put out a challenge to A & R reps everywhere, who haven't yet been replaced by Ellen on American Idol or a hits counter on iTunes: sign some GREAT singers. We're out here, all over the place. And we want to do our job. Heck, we'll even get all whispy for you when it's appropriate. But just to be in good taste – tack on the $4.99 a minute, would you?
Editorial Note: the above article by Ms. Egnew does not necessarily reflect the opinion of this publication. Further, it has not been edited or corrected in any way in order to maintain her "voice" for this article.