ContinuuCon 2016: First Continuum Fingerboard Conference and Concert
For fans of multi-dimensional MIDI controllers, and true performance instruments in favor of grid controllers, the first (annual?) Haken Continuum Conference has been announced for June 9-11, 2016 in Asheville, North Carolina. This new event has been dubbed "ContinuuCon" (pronounced con-tin-you-con).
Ticket includes two days of conference proceedings (Friday and Saturday), a Thursday evening reception and Friday night concert.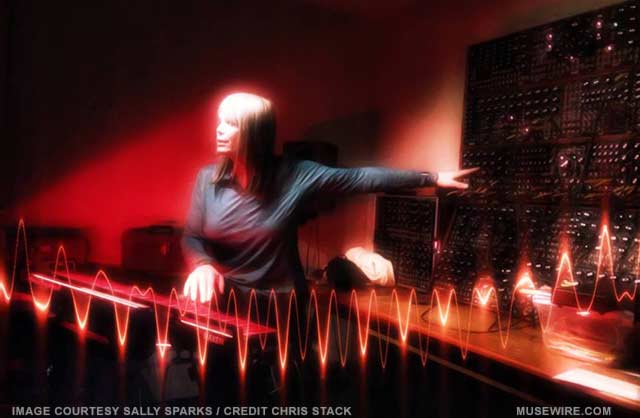 According to the event organizers, "The Haken Continuum Fingerboard, described by many as the most expressive electronic musical instrument ever invented, counts Slumdog Millionaire soundtrack composer A.R. Rahman, Dream Theater keyboardist Jordan Rudess and arena-packing EDM artist Amon Tobin among its players."
Among the expected event performers/speakers will be Sally Sparks, who frequently performs with the Continuum. Sparks also gave a lecture and performance on the Continuum January 29 at the University of North Carolina in Asheville.
Official event website: http://www.continuucon.com/.
Tickets (price is $99 prior to April 30, 2016; $49 for students): http://www.brownpapertickets.com/event/2487030 .
Event sponsors include the Bob Moog Foundation ( http://moogfoundation.org/ ),
Make Noise ( http://makenoisemusic.com/ ), and ExperimentalSynth.com.
As an owner of a Continuum myself, I asked Lippold what he thought about the event and the sudden attention that multi-dimensional controllers are getting in the music world, and for MIDI control in particular.
"It is an incredible honor that folks are organizing this conference. This is one of those things that only happens in my wildest dreams, not in real life," Haken said. "It will be great to see and hear everyone! That is a lot coming from me — I normally avoid social situations."
He added, "It will be so nice to have time to discuss what is unique and important about the Continuum and the EaganMatrix. It is cool that multi-dimensional controllers have gotten to be a popular topic, but there is a lot of misinformation and confusion about the issues involved in expressive performance — what an expressive controller should be able to do, what the MIDI encoding should include, what the synthesizer should be able to do, and what skills are important for the performer.
"I have worked on the Continuum and its predecessors for over 30 years, and I have worked with Edmund Eagan for about 15 years; since this is my life's work and builds on the experience of Ed's life work, it is really nice to have the environment of the ContinuuCon to share knowledge, experience, and ideas."
For those who want to really know how the new generation of controllers work, and see them "in action," this will be a must-not-miss event.
About the Haken Continuum: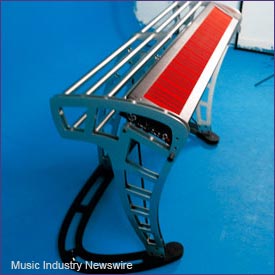 Designed by Dr. Lippold Haken and manufactured by Haken Audio, the Continuum Fingerboard is a musical instrument that allows unprecedented realtime performance control.
With a greater pitch range than a traditional 88 note Midi keyboard, the Continuum offers realtime continuous control in three dimensions for every finger that is placed on the playing surface.
Included internally is a custom designed user programmable synthesizer, specifically programmed to take advantage of the subtle and dramatic expressive musical possibilities of the Continuum.
The Continuum is available in full-size (nearly 8 octaves) and half-size (nearly 4 octaves) versions. Learn more at: http://www.hakenaudio.com/Continuum/ .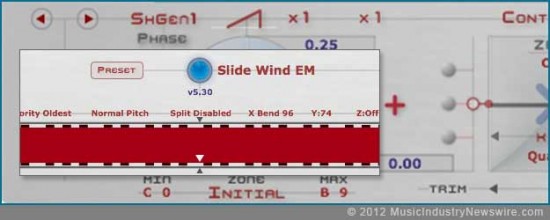 About Asheville, N.C.:
The event website describes the local Asheville area as so: Once home to musical luminaries such as Bela Bartok and Bob Moog, the natural beauty of the Asheville area combines with its deep heritage of surprisingly advanced musical thought to provide the perfect location for ContinuuCon. In addition to Bela and Bob, the Asheville area boasts many other examples of wide ranging musical culture.
EVEN MORE INFORMATION:
Users and fans of the Continuum can also check out the active Facebook group page, here: https://www.facebook.com/groups/ContinuumUsers/.
DEMO VIDEO:
A quick video of a continuum improvisation by Sally Sparks, using the Eventide H9 for reverb. Audio recorded with in-camera mic. (2013)
PHOTO CAPTION/CREDIT: Sally Sparks performing with the Haken Continuum. Photo used with permission. Photo by Chris Stack ( https://www.facebook.com/chrisstack ).
Article is Copr. © 2016 Christopher Simmons and first published on Musewire.com – all rights reserved.