REVIEW: B and Elephants – A Compelling Romantic Bi-Cultural Journey
REVIEW: The four piece group "B and Elephants" delivers innovative yet passionate progressive world music comprising fundamentally of Spanish folk and Classical Indian styles embedded in a dreamy and fresh psychedelic rock constant. B&E appear to be an unusual phenomenon, referring to themselves as 'Psychedelic ethnic acoustic rock.'
A distinctive continental tone is produced by this marriage. The sometimes-frenzied Spanish percussiveness, passionate arrangements and sensual harmonies meld excitingly well within the mystique of Classical Indian music and its dramatic melodies, exotic time signatures and hypnotic ragas. This results in an emotive and fulfilling musical sensation.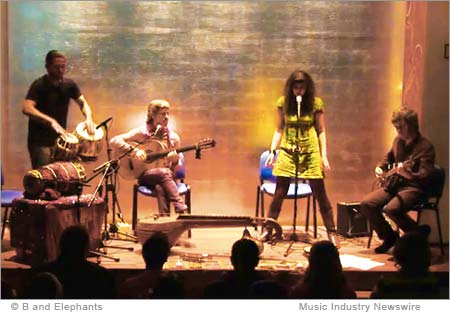 The concept of B&E was born after two budding Classical Indian music students of Spanish origin (Nacho and Bélén) collaborated in India with their "Guru" music teachers to etch out the first of many wonderful pieces in a band called "Beuroshna & Elephants". These pieces ultimately grew and evolved to become a major portion of the repertoire of the group B and Elephants, which formed after the Nacho and Bélén returned to Spain.
Upon further observation it appears that B&E's compositions have been painstakingly extruded from the fundamentals of each discipline and originally were merged and interwoven beat-by-beat and note-by-note from the basic combination of the respective styles outwards.
Serenading and swaying, the alluring and seductive voice of Bélén (B&E's female lead vocalist) and her elaborate melodic cries resound through tight flamenco-esque rhythms, and yearning harmonies, then delicately the arrangements shift smoothly and powerfully through pleasing timing changes and the novel transformations between ethnicity.
Employing masterful Sitar melody lines (the instrument being a Saraswaty Veena to be precise) – frolicking Tabla, Darbuka and Mridangam textures (Mridangam is a traditional Indian drum), a gypsyish dose of Piano Accordian and Violin here and there, subtle plucks from what sounded to be an Oud (A medieval Middle Eastern instrument similar to a Lute), and underlying all this Spanish Guitar cast among a skilful menagerie of percussion and driving drumming parts. The instrumentation provided by B and Elephants is certainly world class and the music reflects the excellence of their guru's instruction and the performers defining talent. In fact before researching B&E I was convinced that the primary musicians were all actually Indian themselves.
The lyrical content varies between Spanish and English language which evoke a distinct cross-cultural flavour not unlike the supergroup Mars Volta, to which B&E resembles an Eastern acoustic little sister.
B&E's sound is very traditional to its roots and hence reminds one of acts which have extracted classical Indian themes and musical devices into other western musical forms such as rock and folk i.e. Jeff Martin (Tea Party), Page-Plant (Led Zepplin). The comparisons with Spanish influenced counterparts are also numerous.
Personally I found B and Elephants' songs uplifting and spiritually illuminating, at times in the vein of "Ravi Shankar's sacred chants" and also Anoushka Shankar of course, (see "I'm in the mood") and also refreshing like some joyful Bollywood tunes. Meanwhile in absorbing the collective essence of most songs, both instrumentally and lyrically, I felt comforted and soothed, reminiscent of the effects of some 60's and 70's folk rock groups.
Overall I felt inspired that- no matter where you are, or who you are, different cultures can be connected intrinsically and beautifully where there is the desire to do so.
B&E have reunited an ancient musical thread, one which spans between Asia and Europe. Likewise, they have continued to reach further afield to embrace the western mainstream's staple of rock and roll, and even though their version of it may be ethnic and acoustic, it still rocks!
B and Elephants are Nacho (Guitar), Bijo (Percussion), Poncho (Bass) and Bélén (Vocals)
You can find their music available at (well, we couldn't figure out how to actually buy their music as of this writing, and they didn't reply to query about it; but you can listen to their music for free on MySpace). Or check them out at www.myspace.com/bandelephants .
---

Article is Copr. © 2011 by Jaben Golledge and MuseWire. Band image sourced from their MySpace page, and is © B and Elephants.