Quick Review: MP MIDI Controller, version 2A, previewed at Superbooth23 Berlin, is now shipping
/MUSEWIRE/ — The folks at MP MIDI have announced that their latest iteration of the innovative MP MIDI Controller, version 2A, previewed at Superbooth23 Berlin, is now shipping. The 2A version adds glass flat top minimal design, increased viewing angle, encoders through glass, optional rack mount kit and additional power port.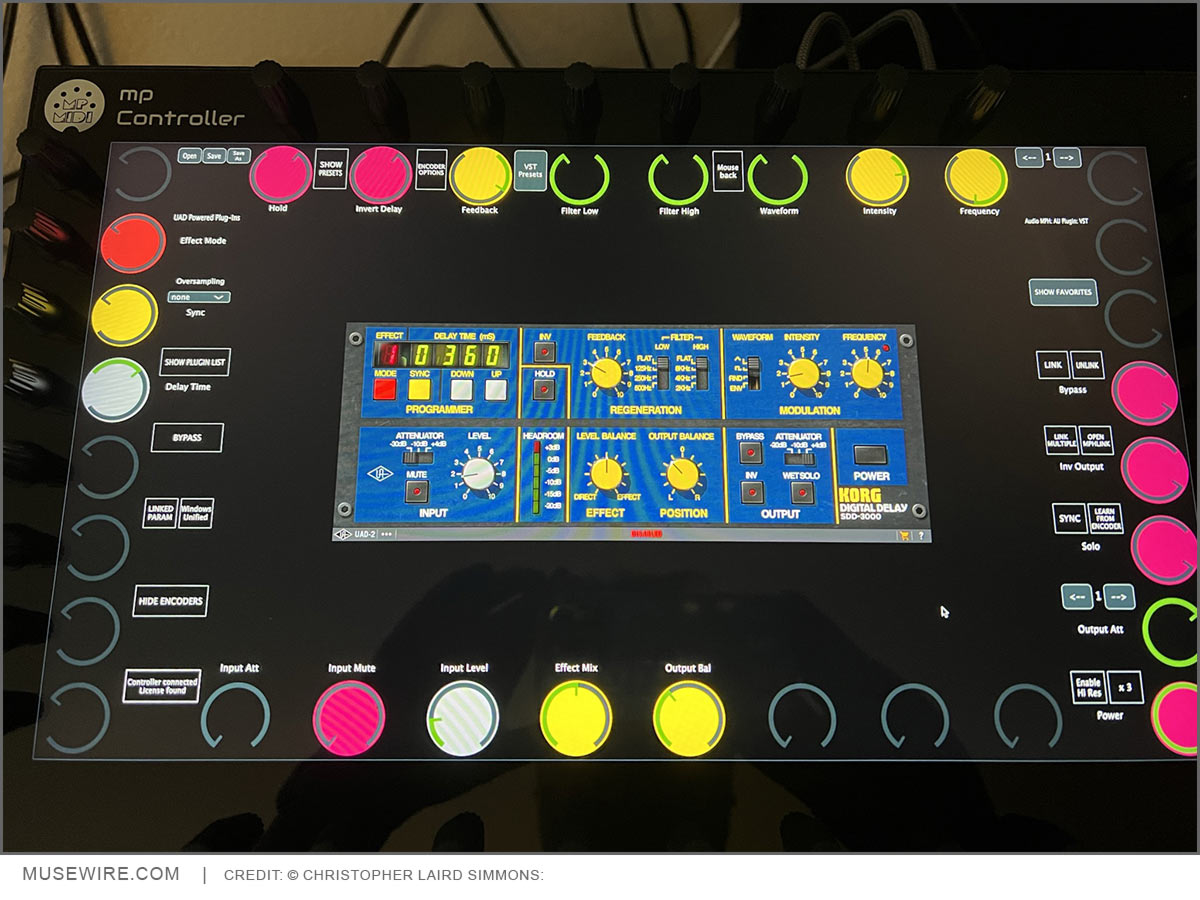 What is it? It's a very cool touchscreen with knobs you connect to your PC or Mac and control any VST2/3, AU plugins, audio effects and instruments, and works in all major DAW that can host VST3/AU/AAX plugins. More than 1,000 presets are included for many popular plugins from Arturia, N.I., UAD, iZotope, etc. Not only are these presets pre-mapped to the knobs and ready to go, but you can also select to load plugin presets such as artist settings from within the plugin once launched.
Compared to the original version, developed as far back as 2018, and previewed at music trade shows in 2019, the MP MIDI Controller is unique in that it combines a plugin wrapper to work with a DAW (e.g., Logic X, etc.) and can load plugins – either instrument or effect – and then load, configure and save "preset" controls for the bank of controller knobs on all four sides. The software allows real time touch to configure any element on screen, such as ADSR for synth, resonance, filter and instantly assign to any knob and then color code it.
If you're old enough to remember Novation's AutoMap, this won't be entirely new to you on the surface (pun intended; ha!).
"Quite simply, it's the best MIDI controller solution for those who want to control virtual synths or effect plugins with easy recall and a mix of touch and knobs for real time control."
This controller is also a true touch screen, so with many apps, where there is a slider or EQ graphic, you can easily touch-and-drag, just like an iPad or similar tablet.
I was early adopter of the 1A version, and got the 2A version (also early adopter) last week (there was an interim 1A+ version I never saw). Quite simply, it's the best MIDI controller solution for those who want to control virtual synths or effect plugins with easy recall and a mix of touch and knobs for real time control. It even works with Universal Audio's UAD plugins.
I quite like the new design: it's glossy and flat like iPad with the knobs coming through the glass. This compares to the 1A model which has a matte screen and a lip around the edge, where the surface was "sunken" below the outer frame housing the knobs. Some might not like the reflections on the glass screen, but in many modern studios once it's "turned on" and with plugins loaded, you don't notice it so much, and one can always adjust studio lighting for location if any big hotspot while in use.
It's fairly easy to power with any modern PC or Mac. I'm using with an M1 Ultra desktop, with one cable going to a USB hub for the MIDI communication, and one Thunderbolt cable going from back to the controller for both power and video. It also has HDMI port for older gear that doesn't support video over USB-C connection.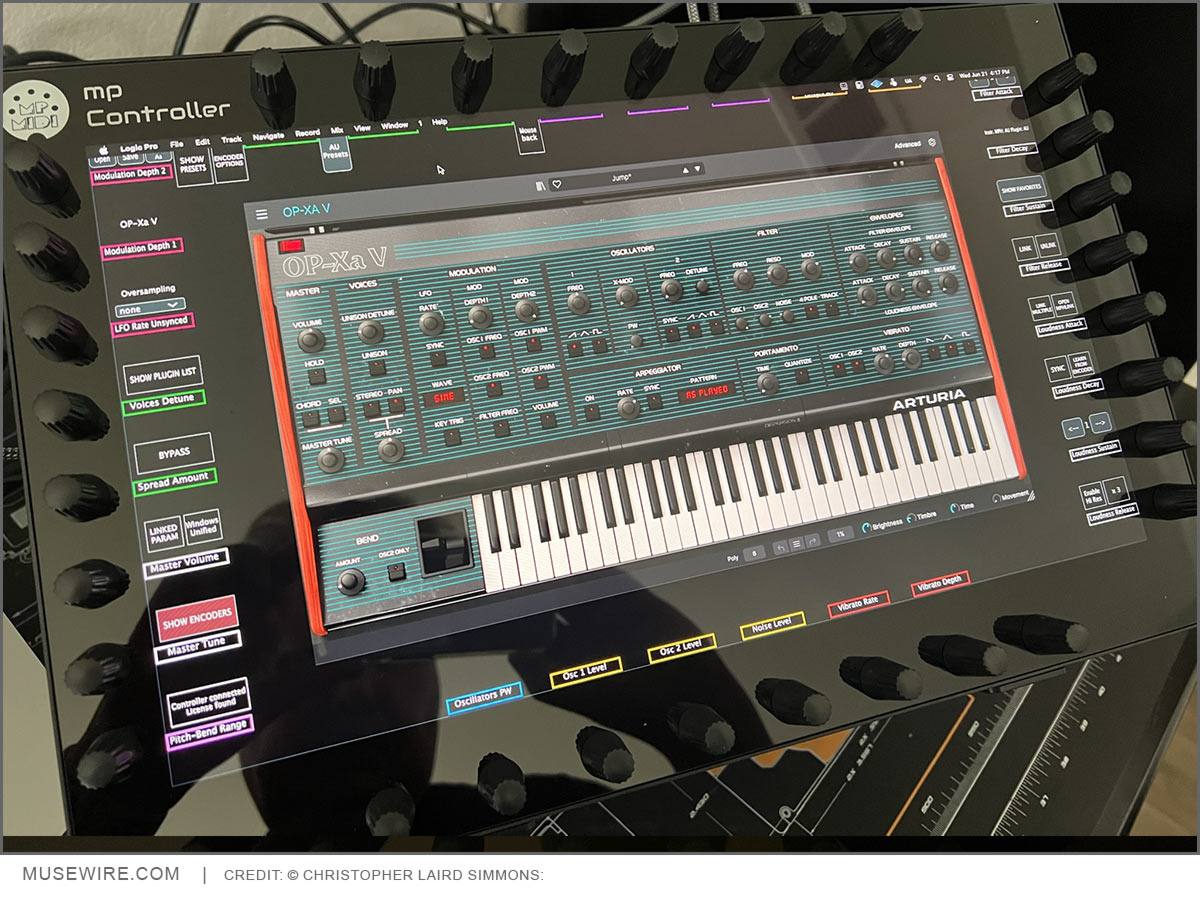 An optional UPDD driver can be added for pinch-zoom function, so pesky (ahem) "old" plugins from UA can be zoomed in to see more clearly than on a modern 4K or even 1440p display.
I'm also happy to say the company (aka MP Controllerbyte Ltd) has great customer support and responded to any of my queries the same day.
It's not inexpensive, but when compared to a decent tablet like the iPad, custom encoders, custom software and really the only thing like it on the market, it's priced competitively for a relatively small production run device like this. Pricing is roughly US$799 depending on where you are, state of the universe, shipping, and other factors.
For me, it's the exact thing I've been looking for, having been a "MIDI dinosaur" since 1983 when the Sequential Prophet 600 came out. I've been through just about every kind of knob controller, software for iPad, and other bric-a-brac to control virtual instruments and plugins — and this just works. Highly recommended.
Learn more: https://mpmidi.com/
VIDEO (YouTube):
From MP MIDI's channel: "In this video we use OB-Xd and Diva to recreate an excerpt of a trance classic, Fusion by Hiver & Hammer from 2006."
SPECIFICATIONS:
Controller Hardware Specifications
Model 2A
01.
Dimensions
Width: 403 mm
Length:255 mm
Back height: 102 mm
Front height: 27 mm
Weight: 3.75 Kg
02.
Encoders
32 high quality endless encoders. Controllable resolution via the MP host plugin
Modes: Absolute and Relative
Per Encoder Options: Resolution, Polarity, Range, Set CC Id
03.
Touchscreen
15.6′ IPS multitouch monitor
500 nits brightness
Resolution 1920 x 1080
Powered by USB-C No external power adapter needed
The display can optionally be powered with a wall adapter (5V, 2A or more – phone charger compatible) . There is an extra USB-C port for additional power when needed.
Model 2A display parameters can be set via a remote control (included)
Windows 7/10/11, the touchscreen is multi-touch enabling up to 10 concurrent touch-points, and the MP MIDI Host software is now a multi-touch interface. The MP Host plugin is multi-touch ready.
Mac OS X, the touchscreen operates with single touch natively & multitouch with UPDD
Model 2A – does not require UPDD to enable touch functionality
however UPDD offers additional touch features such as
auto mouse cursor placement, right click menu options, smart magnifier and many other.
04.
Enclosure
Metallic enclosure with mounting holes on the sides. Can be rack mounted. Rack kit can be purchased separately during checkout.
05.
Connections
_USB-C provides power to the monitor, accepts video signal (thunderbolt) and transmits touchscreen data to the computer
_USB -C optional port for additional power to Display
_USB -C for MIDI
_HDMI for video connection when used without USB-C thunderbolt
None of the USB connections require high bandwidth, any USB version will work USB-2 or USB-3
06.
Cables Included
2 x USB-C to USB-A, USB 3.1 Gen 2, 1m cables,
1 x USB-C 1m cable
1 x HDMI to HDMI 2m cable
07.
Online Manual
for more information see the online manual here https://docs.google.com/document/d/1tCQYl_ZwaQYt5b9mdNNMn86d1ElMfpYcStZRy3eQDeY/edit
08.
OS and Plugin Compatibility
Windows 7/10/11 and Mac OS 10.14 Mojave or above. Compatible with Apple Silicon computers. MP Host plugin runs native on ARM Apple Silicon (universal plugin binaries Intel and ARM as AU/VST3 and AAX)
LEARN MORE:
https://mpmidi.com/features
###
This article first appeared on MuseWire.com and is Copr. © 2023 by Christopher Laird Simmons. All rights reserved. Images by Christopher Simmons.