Music Review: Trent Reznor and Atticus Ross 'The Social Network' (2011)
REVIEW: Hearing one of the softer tracks from this album playing in my studio, a visitor dismissed it as "NIN lite." I hear it as something much more complicated: "NIN expanded to include the invasion and conquest of modern classical music."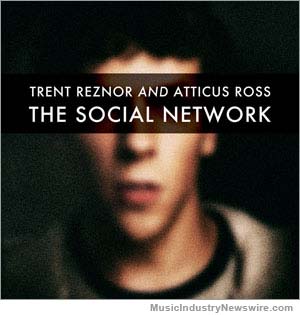 A chameleon alters its appearance to blend into its surroundings. A load-bearing wall supports the weight of a structure while resisting the forces pressing against it. A tailored suit accents the positive aspects of the wearer, and, if necessary, helps disguise or minimize the negatives.
Kind of like soundtrack music.
With that in mind, it is often interesting to hear music in a movie and then hear it on its own. Within the David Fincher movie, "The Social Network," the music is just about perfect. The intricacies of Aaron Sorkin's script are brought out visually and audibly in scene after scene. The director/writer/composer triumvirate virtually revels in the overlapping themes of intellect vs. emotion, trust vs. betrayal, and individualism vs. conformity. If you have not seen the film, you are missing a thrill ride of human drama played out with heaping scoops of humor, embarrassment, joy and pain. All of it aided by Ren Klyce's sound design and the soundtrack by Trent Reznor and Atticus Ross.
Fincher has always had superb scores for his movies. The Dust Brothers on "Fight Club." Howard Shore on "Seven," "The Game" and "Panic Room." David Shire on "Zodiac." Alexandre Desplat on "The Curious Case of Benjamin Button." Now, by working with Nine Inch Nails frontman (Reznor) and a contributor to NIN, Korn, Pink and more (Ross), he adds a fascinating layer of new sonic exploration to his astonishing visual creations.
(Just as an aside, let me relate a joke told to me by a film school student: David Fincher is the luckiest man in motion pictures. Why? Because he gets to direct when the writer, cinematographer, composer, editor, production designer, effects supervisors, and actors just happen to be doing their best work.)
The Fincher/Sorkin/Reznor/Ross team roars through the story with cunning and conviction. Reznor and Ross infuse the production with a cornucopia of intriguing music in several styles of electronica. Their composing is so sleek and assured that it seems to be at least equal to the haunting work of such neo-classical composers as Philip Glass. (Another aside: if you want to hear Glass in full glory on a soundtrack, try "Koyaanisqatsi.")
In "The Social Network" you will find themes that are as soaring and regal as in John Barry's "The Lion in Winter" or Elmer Bernstein's "The Great Escape." You can revel in mood-altering and eerie passages that match the quality of the Miklos Rozsa score for Alfred Hitchcock's "Spellbound." There are friends of mine who disagree vehemently, but I think the compositions here are on a par with Maurice Jarre's "Lawrence of Arabia" or the great work by Bernard Herrmann ("Psycho," "Sisters," "Vertigo," "North by Northwest," "Taxi Driver," "Citizen Kane").
While there is plenty of unearthly machine-made music in the 19 tracks, it is the blending of all types of sounds that makes this score come alive. The tones that form these tunes are like NIN taken to an altar and sacrificed to appease the gods of acoustic, electro-acoustic, amplified acoustic, and violently processed acoustic auditory input.
Ghosts could have played the piano parts. Spirits could have played the crunchy guitars. Best of all, melodies are formed in some sort of paranormal collusion between composer and listener. Played at low, medium or top volume, these tracks encircle your head and slide into your brainpan.
"The Social Network" as an album holds up brilliantly. That it does so in a variety of ways only adds to the excitement. What you can hear here is not only music as mood enhancer, music as historical presentation, music as triumph of academic composition, but also music as raw power and a sneaky tool for autohypnosis.
Album Summary:
Trent Reznor & Atticus Ross – "The Social Network"
Composed, Arranged, Performed, Programmed and Produced by Trent Reznor and Atticus Ross
("In the Hall of the Mountain King" composed by Edvard Grieg)
Article Copr. © 2011 by John Scott G. Originally published on MusicIndustryNewswire.com.