Music Review: Cassidy Haley 'The Fool' (2011)
REVIEW: Before seeing the singer perform live, this album sat around the studio for a few months. After playing it a couple of times at various volume levels, the urge to write about it became too palpable to pass up. While several tracks leave me unmoved, the ones that work are propulsive, powerful and possessed of a kind of absinthe-soaked hallucinogenic quality that is pleasantly unsettling.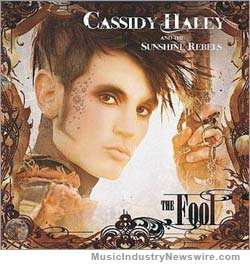 There are artists who pour out their emotion as if they have a gargantuan inner reservoir of feelings. On the other hand, there are artists who are detached from their material in ironic ways. Either approach can work (consider Janis Joplin, Josh Groban and many operatic singers among the former; consider Rod Stewart, Katy Perry and any number of cabaret artists among the latter).
Ahh, but combine those two approaches and all sorts of delicious theatrical possibilities emerge. You get the best of both worlds: you can cry at a moment's notice and you can pull back to soulful introspection a second later. Actually, you can pull back into almost anything. World weariness. Iconic poses. Self-deprecating humor. Angst. Cynicism. The poetry of stillness as your band explodes around you and eleventy-thousand cross-dressing dancers cavort all around you. But I digress.
As all the little monsters know, Lady Gaga is currently queen, goddess and potentate of this combination of raw and naked emotion with a kind of dazed-but-bemused attitude that sometimes suggests Zeus and the Olympians watching humanity from a cloud kingdom in the sky.
Okay, large preamble. Sorry. All that is to point out that Cassidy Halley takes the combination approach on "The Fool," and the result can be striking. Keep in mind that you might not be struck by anything except puzzlement over the opening two tracks of the album. Neither one, "Prologue (The Fool, Part 1)" and "Fly" have much going for them in the excitement department. Ideally, the collection might better have begun with "Spindle," which has some drive to it, allowing Halley to work the detachment/involvement dichotomy to good effect.
"Whiskey and Churches" is next, and I almost immediately found myself humming and singing the "mygodmygodmygod" refrain no matter what task was being performed around the house. Jumping in the pool after a 2-mile walk? "Mygodmygodmygod." Climaxing at the end of a session of lovemaking? "Mygodmygodmygod." Taking out the trash? "Mygodmygodmygod." Halley has come up with the all-purpose chant of the decade.
In addition, the songwriting in many of these tracks displays another form of blending. The tales are mini-movies. Or short stories. Or diary entries. Forget the "or" and just embrace the fact that Halley is offering you: Spiritual confessions. Wild speculative inventions. Social commentary. Observational reporting.
There are almost too many layers to his songs. (Note to self: give those opening tracks another chance; perhaps there's poetry to be found within them despite the lack of musical pyrotechnics.) Sonically, the album offers up something that every producer dreams about: dynamics. The softest sounds are allowed to occupy a soft, velvety space; the loudest parts are thus made even more powerful when the full fury of the rock-solid instrumentation is unleashed.
What about hits, some people may ask. "This Time" and "Dying to Live," even with their current running times of 4+ minutes, are pretty strong contenders for whatever it is that constitutes a hit these days. "Crazy" from Gnarls Barkley was hit but I cannot tell you how many people I've spoken to over the past few years who say they don't know it. Same thing for "Feels Good, Inc." from Gorillaz, or any of Gaga's songs, for that matter. Hell, the other day someone said they didn't know any Eminem song. Yet when I asked about the Chrysler TV commercials that "starred" Detroit, they had to admit that they had inadvertently heard Mr. Mathers. But you can get into a great deal of the album and many cuts are potential hits.
One proven hit song on the album is "Moon River." Originally composed by Henry Mancini and Johnny Mercer and most famously used in the Blake Edwards film of Truman Capote's "Breakfast at Tiffanys," the song is given an idiosyncratic rendition that conjures up another wild conglomeration involving genre blending, music history classes, camp, and pure old-fashioned show-biz hoopla.
With three narration-oriented cuts, there is some sort of "concept album" thing going on here. Sure, you can follow the story, but who would want to do so outside of a live show? While every track is sonically nifty, not every song is a knockout, yet there are enough highs to make it a worthwhile trip. And speaking of trips, yes, there is an absinthe-soaked quality to "The Fool" such that you may experience hallucinations and apparitions. And you will probably end up humming or singing parts of the songs.
Album Summary:
Cassidy Haley and the Sunshine Rebels – "The Fool"
Produced by Anita M. Hyde
Songs written by Cassidy Haley (except "Moon River" by Henry Mancini and Johnny Mercer)
www.cassidyhaley.com
VIDEO:
Article is Copr. © 2011 by John Scott G and MusicIndustryNewswire.com.