Music Review: Billy Burnette 'Rock n Roll With It' (2011)
REVIEW: If his name sounds familiar, you are probably already a fan of rockabilly. But even if that genre's blend of rock and country ain't your thing, these songs are so much fun that you might become a Burnette-ette by the time you get halfway through the album's dozen hip-shaking tracks.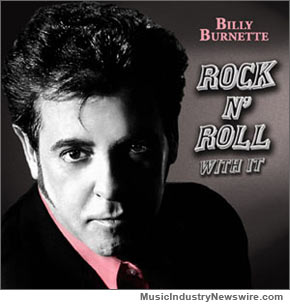 Perhaps you feel you know all you need to know about rockabilly music. Twangville-a-go-go, you might think, backed with steady-beat bass and drums played faster than a lover's heartbeat, plus some nice dollops of energetic guitar licks, and maybe some keyboard riffs that verge right on the cusp of boogie-woogie or even whorehouse party-time action.
All that is well and fine, but lots of people feel there are severe limitations to the genre. Here are some of the statements I have heard when trying to introduce friends to the music of Sleepy LaBeef, Robert Gordon, Lee Rocker, Carl Perkins and others: The musicians just do their thing and nothing else; the vocals are drenched in echo to the point of ear fatigue; the song formats are so predictable that they cannot continue for much more than two minutes per track; and you can't play an entire album of that stuff without finding it tired after about the third cut.
Okay, so perhaps some of the time they are right about some of those points. But then along comes "Rock n Roll With It" to blow away each one of those preconceptions.
Defying Convention
On this album, the musicians play with a tremendous mixture of gusto and groove, bravado and style. Hell, this band is so good they can be subtle even while slamming you up against a wall. The vocals are a stone solid kick, with just the right amount of sonic caress from engineer Micky Jack Cones. The songs are terrific and well-paced (none are under 2:40 and five of the tracks break the four-minute barrier with slippery grace and a big bounce that keeps the dancers happy, meaning you can put this on at a party and there will be hip-swiveling going on all over the place).
As for being able to listen to the entire album, I played it during a drive down to Long Beach to see Sandra Piller perform and I felt like I was going eighty miles an hour even when traffic ground to a halt. And yes, I listened to it from start to finish with a big crazy grin on my face.
Who's Who & What's What
Half of the twelve songs are by Burnette and he co-wrote the other six working with such writers as Shawn Camp, Erik Paslay, Dylan Altman, Gary Nicholson, and Billy Burnett, Jr. and as I said, the tunes go way beyond the typical rockabilly fare, which was really just a merger of early rock with what was sometimes called hillbilly music.
Throughout "Rock n Roll With It," the numbers not only pack a big punch, their raw vitality is delivered with studio polish. The title track opens the program with a hard-smooth-hard-smooth approach and a head-bobbing beat that is just about perfect for an audience to clap along.
"My Love Will Not Change" follows with a delivery that is sweet and sincere but never cloying. The band almost seems to be playing a slow song with an up-tempo feel, or perhaps it's the other way around. The guitar jams are top quality in this five-and-a-half-minute workout, with the tone somewhere at the flash point between country comfort and raga bliss.
On "Only the River Knows," the big ballad of the collection, Burnette and the band are achingly beautiful. The pace picks up once more with the next number, "Hot Rod Hillbilly," an ode to moonshine runner and seminal NASCAR driver Junior Johnson. As is the case throughout this album, your ears are treated to some terrific guitar-picking.
The first eleven songs all seem headed for the album closer, "Armed and Dangerous," which manages to be everything rockabilly can be while also summoning up references to early Yardbirds, heavily amplified blues, the rock-soul of Them, and the swirling theatrics of The Doors. This is one heady brew, let me tell ya. Had to hit "repeat" and let this track do its thing to me all over again.
Bio Blast
No write-up of a Billy Burnette project can be complete without a whole bunch of obligatory biographical details. So here goes: He and his cousin Rocky are name-checked in the classic 1957 recording of "Rock Billy Boogie" by Johnny Burnette & The Rock and Roll Trio (two-thirds of which was comprised of uncle Johnny and dad Dorsey). Billy released his first recording, "Hey Daddy, I'm Gonna Tell Santa on You," on Dot Records when he was seven.
At age 13, he was on tour with Brenda Lee. He spent eight years in Fleetwood Mac. He played guitar on tours for both Bob Dylan and John Fogerty. In addition to having his music on movie and TV soundtracks, he's done a bunch of work as an actor. And as a songwriter, he wrote "All I Can Do is Dream You" (Roy Orbison), "River of Love" (George Strait), and "Do I Ever Cross Your Mind" (Ray Charles and Bonnie Raitt).
So, Billy Burnette does a whole hell of lot more than just rock or just roll with it; and so will you when you play this album loud, which is something I heartily recommend.
Album Summary:
Billy Burnette – "Rock n Roll With it"
Produced by Billy Burnette
www.billyburnette.net.
VIDEO:
Article is Copr. © 2011 John Scott G; originally published on MusicIndustryNewswire-dot-com before the site was revamped as MuseWire.com in March 2015.