Hey, Is That Your Song?
COLUMN: Right this minute, one of your songs could be playing somewhere in the world and you may not know it. Your composition might be on terrestrial radio, internet radio, broadcast television, satellite radio, cable TV, satellite TV, in a nightclub, at a bar, or a myriad of places where you cannot hear it.
As a creator or artist, you may be thrilled by this exposure; but as someone trying to make a living from your music, you have very real questions and concerns: is the song being used for free or will there be legal compensation for your work?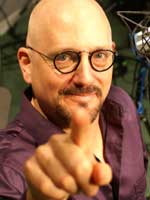 Artists, songwriters, music publishers, managers, agents and others share this concern. The only people who are not bothered by this state of affairs are fools and thieves.
Among the firms that are extremely interested in tracking the playing of songs are the three North American performing rights organizations (PROs), ASCAP, BMI, and SESAC, and the Production Music Association.
Audio Recognition
A promising development in this area is known as real-time audio recognition. One such technology, called BlueArrow, is owned by Landmark Digital Services, a wholly owned subsidiary of Broadcast Music, Inc. (BMI). Using a patented algorithm acquired from Shazam Entertainment Ltd. in Great Britain, any song entered into Landmark's system has its unique identifying features mapped and stored with the attached metadata in their database.
From that point on, BlueArrow only has to capture a digital sample from an audio source to identify it. The audio may originate anywhere: radio, TV, internet, satellite or cable broadcasts, even a mobile phone.
If your song has been detected by the monitoring system and has been fingerprinted in Landmark's database, it can be identified from even a short segment from almost anywhere in the song. Background noise can be at nearly oppressive levels and the BlueArrow technology can still I.D. your song.
"Audio recognition for the purpose of identifying music is a reality for millions of people around the world every day," said David De Busk, Vice President, Business Development, Landmark Digital Services, LLC. "We are beyond the point of determining whether it is viable."
Fingerprinting vs. Watermarking
The BlueArrow approach is what is called fingerprinting. This is opposed to watermarking, which involves imbedding some sort of identification code into the song, an idea that seems workable but which has a number of problems. One is that a remix of the song, or sometimes even just a digital copy of the song file, may jumble the watermark. Another problem is that anything that can be added to a file can also be stripped out of the file if someone wishes to do so. But the sonic shape of your song, or what you might call its digital fingerprint, remains constant despite copying, file-sharing, or all but the most radical remixing.

Data You Can Use
Best of all, when a match is made by the system, BlueArrow provides not only the title of your composition but also the date, time and source of the audio. A music publisher, for example, can compare that data with the reporting – or the checks – from whoever licensed the song (or contact the user if there isn't a contractual use of the song already arranged).
Landmark Digital states that their testing has shown BlueArrow to achieve 99% accuracy for song samples within two seconds of playing time. Even allowing for music industry hyperbole, they are making a bold statement and one that bodes well for everyone concerned with a career in music.
"BMI embraced the significance of audio recognition because it is a core function of BMI's business," De Busk noted. "BMI established Landmark Digital Services LLC to be the home of the BlueArrow technology. Landmark's continued strategic development of BlueArrow ensures that the accuracy and quality of music identification expected by BMI will well serve the needs of the affiliates in the future."
Mediaguide
Created through a partnership between ASCAP and ConneXus Corporation, Mediaguide has been in business since October, 2002. Mediaguide accurately identifies music and advertising in broadcast, cable and the Internet. Now monitoring more than 2,500 U.S. radio stations in real-time, 24/7 across all commercial and non-commercial formats, MediaGuide utilizes patent-pending fingerprinting and patented watermarking technologies.
The result is valuable data for performing rights organizations, record labels, promoters, publishers, advertisers, agencies, media buyers, market research companies and broadcasters. Best of all, individual artists, composers and songwriters can subscribe to the data and get instant airplay detail on their copyrighted works.
Their fingerprinting methodology doesn't rely on meta-data nor require copyright owners to modify the digital content of songs. And the company acquired audio watermarking technology (from UK-based Ishce Ltd.) to further extend their monitoring capabilities. Mediaguide has an international capability and is being used to monitor radio stations in Italy, the Caribbean and South Africa.
Over 200 customers use Mediaguide data everyday, including ASCAP, who uses the data to deliver the most timely, accurate monitoring of radio performances for its 375,000 members. The range of Mediaguide products include MusicMonitor, ArtistMonitor, StationMonitor and SeeSpotRun. Mediaguide also powers Blackberry and iPhone applications, including the award winning Radio Companion on Blackberry.
As summarized by Mediaguide's CEO, Steve Lubin, "Mediaguide is delivering today what others are simply promising. We're leading the field because we're fully deployed. And the comprehensive and accurate business intelligence our technologies provide are of measurable value to all involved, whether they be creators, publishers, broadcasters or advertisers."
Broadcast Data Systems
A part of The Nielsen Company, BDS utilizes digital-pattern-recognition technology. SESAC is one of the clients of this firm, which claims to monitor more than 100 million song performances on radio (satellite and network) and music video channels in North America. As you might expect from a Nielsen firm, BDS supplies chart data to Billboard Magazine.
SESAC was the first PRO in the US, and perhaps the world, to utilize audio recognition technology. "Starting in 1994, we did a deal with BDS to create the first PRO dedicated to Latin music (SESAC Latina) and the first PRO to use pattern recognition technology to track performances," states Hunter Williams, Sr. VP, Strategic Development, SESAC. "In 1996, we expanded the use of BDS to include all formats of music being monitored at the time."
In 1998, SESAC began using the Aris watermarking technology with the hopes of tracking music on television. Aris had become Verance by the time they launched their monitoring network and SESAC subsequently became the first to accept and pay royalties on Verance tracking reports. In 2003, they contracted with Audible Magic for digital fingerprinting to expand radio coverage to include formats not monitored by BDS. That led BDS to monitor about 150 stations in formats including Black Gospel, Jazz, Smooth Jazz, Americana, and College. "Today, through BDS, we monitor about 1,600 radio stations 24/7/365," Williams points out.
SESAC isn't stopping there; they are experimenting with other technologies. "Last year we entered developmental relationships with BMAT, Activated Content, and DigSound for the purposes of expanding our monitoring coverage into television," Williams continues. "BMAT offers advanced fingerprinting solutions, while Activated and DigSound focus on watermarking. Ultimately we believe that a combination of multiple technologies (fingerprinting and watermarking) will win the day. Fingerprinting is easier to apply, but doesn't solve all the issues. In the digital space, watermarking can provide significant advantages like proving ownership, facilitating forensic monitoring, and tracking re-titled works."
The goal is providing copyright owners and music users "greater accuracy, efficiency, and transparency. We at SESAC are proud to have pioneered the use of audio-recognition technology in the U.S. through our outstanding relationship with BDS," says Williams.
TuneSat
Also moving forward in the area of audio tracking is TuneSat. Currently monitoring music use on more than 100 TV broadcasts in the USA and more than 65 in the EU, the TuneSat methodology involves clients providing metadata for each song. The metadata identifies artist, album, composer, publisher, PRO, percentage splits on ownership of the song, song title, and custom ID. Clients also provide a hard drive containing the music files.
TuneSat's approach also involves fingerprinting instead of watermarking. As their site puts it, "Fingerprinting is a passive technology in that it does not embed an external file into the master recording." The music is analyzed along with the metadata to create a unique identifier, a musical DNA, if you will.
Everybody Wins
Who benefits from audio recognition and song tracking technology? Songwriters, music publishers, and PROs, obviously, but the gains go beyond that. Advertisers, ad agencies, and media buying agencies can verify when material is aired. Radio and TV broadcasters can use this technology to track programming on a 24/7 basis. Production music libraries will have a new tool for monitoring use of their catalog. Carriers of all types need to know when and where copyrighted content is used because non-reporting can lead to legal action.
"The new fingerprint technologies from companies such as Landmark, Tunesat and others, are exciting for the PMA (Production Music Association) members because for the first time in history we're getting a more complete idea of where our music is performed," says PMA Chairman, Randy Wachtler. "I applaud ASCAP, BMI and SESAC for getting behind this technology and bringing even betters ways to track their members' music."
As was mentioned in an earlier column, the PMA has pushed for breakthroughs in the metadata that can be embedded or encoded into music tracks. As Wachtler noted, "The PMA, with the help of the PROs, has developed a metadata standard to help new production music libraries encode in a way that is acceptable to the PROs and help establish a standard for the industry." You can view the standard at the PMA's site, pmamusic.com.