CD Review: 'Ghost Stories' by the Catholic Comb
MuseWire REVIEW: Mysterious goth band The Catholic Comb created a disturbing smoky concoction in 2005 and then apparently remained underground. Yeah, I hadn't heard of them, either, but now that I know, I'm a convert.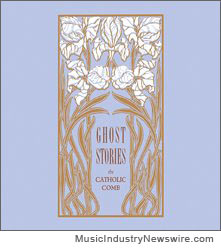 Sometimes a good album goes unnoticed. For a while. This one came to me purely by chance. I say by chance, but it was from using a system for bringing new music to my ears. Here's the plan, in case you want to try it: go to your local record store (in my case, Freakbeat Records) and purchase the first five albums where the cover design looks interesting.
The Rules
Can the albums be new or used? Yes. CD or vinyl? Yes. Are you allowed to read the liner notes to see what instruments are used on the album? Yes. Can you put one back if it turns out you picked up a Mannheim Steamroller album by mistake? Yes. Okay, then here's the first of the accidental gems: "Ghost Stories" by the Catholic Comb on Vexed Verse Records.
Sound of Velvet Being Spanked
There is darkness swirling around every sound on "Ghost Stories," an album so steeped in elegiac angst and quiet screams that you will probably smell like incense when you're done listening to just a few tracks.
This quartet seems influenced by eighties mournful rockers too numerous to mention (but okay, I'll toss out some names like Echo & the Bunnymen, Bauhaus, Joy Division, Modern English, Psychedelic Furs; y'know, like that). But they also seem to be less a rock band than a group of poets who decided to form a rock band. The spirits of Baudelaire and Rimbaud flit in and out of the atmosphere. While the lyrics may not be judged to be the equal of Les Fleurs du mal or Une Saison en Enfer, you can feel the influence nonetheless.
In what might well have been haze-enshrouded sessions, the band created sounds akin to things that never were and places that never could be. Their tracks are the sound of velvet being spanked, of leather being shaved.
Suite
More a song suite than a collection of individual stories or stand-alone songs, the album is full of eerie wonder and half-sobbed confessions. Not sure if I believe all of the stories written and sung by Adam Stoiber and Daniel Awand, but I believe that they believe them.
In "Oh, No!" they cut to the chase in lyrics that have probably reverberated through everyone's brain from time to time, and certainly after enduring any GOP presidential debate: "I was asking God to talk to me, I was young and open, But still there was no reply." Kind of makes you say "Oh, No!" indeed.
"Sixteen to Twenty-one" takes you on a trip inside the personality of one who is both wondering and wandering: "On a night when I'm scared of my dreams, I can't sleep – frightened by the years, Years deep and dark as the sea, If i don't watch out they'll be drowning me; Suddenly I feel that I'm not alone, Outside the wind is whispering."
"Young People in Love" belies its title with the opening lines: "This evening, two bodies bleeding through streets, these feet move so easy; Beneath all reason there is no reason." Boy do I hope they're wrong, but hey, we've all felt that way at times.
The opening line of "It's Grave," which is track 8 of the 10-song cycle of personal pain and delicious despair, begins with something that is perhaps unintentionally humorous: "It takes a lot to get me this low." Oh really? I'm not sure about that.
The final cut, "The Significance of the Greatly Insignificant Storm," contains the finest use of whooshing ambient noise I have heard this side of a Brian Eno recording. Matched perfectly with the band performance, this is the sonic equivalent of double-vision.
Madness Under Control
The audio of "Ghost Stories" is a jarring funhouse ride, full of treble, jangle, and the beautiful engine whine of hand-tuned European sporting-car ferocity. This is the sound of a band on the edge of insanity. It's controlled madness, and with the promise of trouble coming around the bend and aiming straight for you.
For whatever reason, The Catholic Comb totally escaped me when they first arrived on the scene, probably because I don't attend Tricia LaBelle's Bar Sinister nearly often enough. But I'm glad this album is in my collection. Listening to it takes me on a private tour of many shattered and tattered places within the sometimes cruel theater of humanity, but somehow the band makes me comfortable on the journey.
Album Summary
"Ghost Stories" by the Catholic Comb
Written by Adam Stoiber and Daniel Awand
Produced by Willie Samuels and the Catholic Comb
Recorded, engineered and mixed by Willie Samuels
www.myspace.com/thecatholiccomb
VIDEO: The Catholic Comb "Sixteen to Twenty-One"
Additional video: The Catholic Comb "Vampire Life" – http://youtu.be/NDvkDkgCudQ .
Article is Copr. © 2011 by John Scott G, originally published on MusicIndustryNewswire-dot-com before the site was revamped as MuseWire.com in March 2015 – all commercial use rights reserved.