Winter NAMM 2010: News, Views, and Breakthroughs
MuseWire staff editor Scott G reports on his visit to this year's Winter NAMM 2010 in Anaheim, Calif. While there is always more to see than the brain can always assimilate, Scott has picked out some of the things which called to him from across a crowded room.
NOTEFLIGHT CRESCENDO
Composing music? Do it in the cloud. Noteflight Crescendo is a cloud-based online music notation service that allows composition, collaboration, commentary, and social networking. The company describes its design as an affordable and easy-to-use alternative to such desktop notation programs as Sibelius and Finale.
There are two levels of the Noteflight offering, one free and one fee-based with advanced features. "We have already seen tremendous acceptance of Noteflight," states Joe Berkovitz, President and Founder of Noteflight, "and now we are proud to be launching this more powerful online music notation platform for professionals, educators, students and music enthusiasts." In addition, "there is a free model for the novice or occasional user," Berkovitz adds.
The demo I received at NAMM was smoothly impressive. Looking back on it, I probably should have attempted to quickly compose a JSG Noteflight NAMM Theme right there on the spot but we had limited time and my mind was clicking off the people who would probably love this service: singers, songwriters, music teachers, composers, and even those people you meet at parties who claim they have written a hit song if only someone will listen to it.
"It's a great tool for composers," Berkovitz points out, "but we're also proud to be a social networking community at the same time." Since starting in 2008, Noteflight has amassed 50,000 users in 130 countries. You can choose your collaborators, decide to allow editing or comments, remain totally open or relatively private. Let's face it, the product is noteworthy. www.noteflight.com.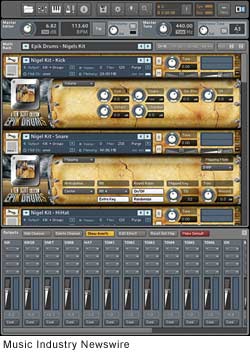 SONIC REALITY EPIK DRUMS – A KEN SCOTT COLLECTION
First of all, it is very difficult not to go off on a fanboy tangent after interviewing Ken Scott. The guy produced David Bowie albums, for cryin' out loud. He engineered "The White Album" by those four lads from Liverpool. I have plenty of great recordings in my collection bearing the credit "Produced by Ken Scott," including works by Jeff Beck, Devo, Billy Cobham, Dixie Dregs, Mahavishnu Orchestra, and many more. Oh, also Happy The Man, a progressive rock outfit that made a mark overseas but not here in the States. (Note to interviewers: if you want to see a big grin from Ken Scott, mention how much you like "Crafty Hands.")
But back to the NAMM news. There are several things shared by all those great recordings on which Ken Scott worked: clarity, power, dynamics, excitement, and superb drum sounds. Which is what prompted the folks at Sonic Reality to create a virtual instrument/plug-in product with the imposing title EpiK DrumS – A Ken Scott Collection.
So okay, what is included in the Collection? Well, first of all, Billy Cobham, Bob Siebenberg, Terry Bozzio, Woody Woodmansey, and Rod Morgenstein are the drummers who were recorded for the project, and they worked with Scott to provide us with drum kits and percussion in their own unique styles as well as recreating the subtlety and thunder of recordings by Bowie, Supertramp, Mahavishnu, Dregs, Missing Persons, Elton John, and The Beatles. You get more than 130 gigabytes of 24-bit drum samples and there are more than 2,000 grooves in rock, pop, and fusion styles.
Not only can you swap out various parts of the drum kits, each individual drum and "microphone" setting can be tweaked almost any way you would like. You can play the samples from a keyboard or any electronic drum kit. The drums and grooves are packaged with the Infinite Player powered by Kontakt so they will work on every major DAW and work on both Mac and PC. The demo I received from Ryan Holquist at the Sonic Reality NAMM booth was eye-opening (and yes, ear-opening), and it didn't hurt that people like Stanley Clarke were dropping by to take a peek.
Scott has spoken of the genesis of this project: "For decades people have asked me how I got this sound or that drum sound on so and so's record. Now they can not only have that information but they can get the authentic drum sound itself."
Authenticity was an important aspect of the venture. "It's amazing we were even able to find all of the original vintage gear to make this product in 2008 but now Ken's classic warm 70s drum production is preserved for all time," observes Dave Kerzner, CEO of Sonic Reality.
When I mentioned to Scott how the most impressive thing was not the astonishing sounds but the way they could so easily be altered, he noted that "Flexibility was one of our goals in developing this project." In my interview with Scott at NAMM, the topics ranged from music to sonics to studios-in-the-box to copyright issues to mobile2mobile file communication. And then one final point emerged: "Education is a surprising side-benefit to the way we approached this project," he said. "By having so much flexibility built into it, it not only works well for professionals, it becomes an excellent teaching tool for anyone learning how to blend and balance drum sounds in a mix."
www.sonicreality.com .
IK MULTIMEDIA STEALTHBOARD and AMPLITUBE 3
Guitarists and bassists often fall into one of two categories: those who play with their instruments plugged into hardware, and those who play with their instruments plugged into software. The former are still highly respected and may be saluted for their dedication to the "old school" approach. But they are limited to whatever sonic control is offered by the stomp boxes they have arrayed on the floor in front of them.
The musicians who have embraced the modern age have no such limitations thanks to firms like IK Multimedia. Let's take two of their new offerings to use as examples. AmpliTube 3 is software gear that gives you instant access to 160 audibly truthful modeled pieces of gear, including 51 stompboxes and effects, 31 amp/preamp/power stations, 46 speaker cabs, 17 post-amp rack effects, rotating speaker effects, reverbs, choices of microphones and their placement, and even room ambience. You can take control with a new "drag & drop" feature so experimentation is quick and easy.
Also new at IK is the StealthBoard, which is able to replace any pedalboard on the planet. It uses a USB MIDI port to connect your instrument to your computer, plus MIDI in/out connections for any other MIDI controllable gear, including amps. The demo I got at NAMM showed how easy it is to take your guitar or bass (or whatever audio you run through it, for that matter) to any arena of audio splendor.
Additionally, the StealthBoard, StealthPedal wah, and AmpliTube 3 are available as a complete software + hardware solution for playing and recording.
www.amplitube.com
www.stealthboard.com
www.ikmultimedia.com .