Winter NAMM 2010: A Delightful Data Deluge
COLUMN: Sure, the magnificent array of musical products known as The NAMM Show was just a teensy bit smaller than in years past, but you would never know it once you were walking through aisle after aisle of shiny, flashy, nifty displays. Could anyone get to see everything? Nope. Could anyone get to hear everything? Hah! (Or should that be Huh?) But I got a ton-and-a-half of input and was dutifully impressed with quite a lot of the gear. Here are some examples.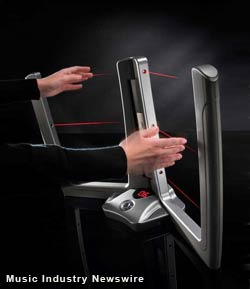 BEAMZ
Every NAMM show unveils new electronic tools and instruments, some for professional musicians, and some for non-musicians. But the Beamz is one of the few that is both. At their press event, I saw it used to make lovely music by chart-topping musicians Euge Groove and Craig Chaquico, both of whom regularly use a Beamz in studio and in concert. But someone with no music training can also use the Beamz. In fact, this new high-tech gizmo is utilized in hospitals and therapy sessions, even for patients with limited movement.
So, what is a Beamz? It's kind of a synthesizer you play by moving your hands and fingers through six laser beams. At which point, some of you will say "no way" and others will say "let me get my hands on this!" With each of six beams assigned to different instruments, patterns, sounds, grooves, etc., you have a high degree of flexibility every time you flick the switch.
The unit is powered by computer through a USB port, which makes the Beamz a "plug and play" device, and with 30 pre-installed song tracks, anyone can jam right away on tracks in 20 genres, including: jazz, blues, hard rock, classical, reggae, hip hop, Latin, dance, smooth jazz and more.
For pros, the best news is that your own musical creations can be loaded in using Beamz Studio software. You can import MIDI, WAV and/or MP3 files into the studio application so you can edit any aspect of a Beamz song and compose interactive music songs of your own, making the Beamz an exciting new instrument for studio or stage.
Watching world-class players use the unit on the Press Room stage was hypnotic, but it was just as fascinating to see others play it when I dropped by the Beamz booth. Yes, making music on the Beamz is almost too easy, because no matter what combination of sounds you choose to play, every song is always in tune and harmonious. So, while you can't play a wrong note, you can easily get repetitious if you're not careful. Hopefully, the Beamz will help teach new players to listen.
"Some of the world's greatest musicians are using the Beamz," notes Thomas Gardner, a Beamz VP, "but so are amateurs, families, kids, seniors, and more. We are seeing great response from musicians in jazz, rock, pop, country, and the DJ world. It's also a terrific therapy resource for children and adults with special needs and people who are recovering from strokes," Gardner adds. Watching the look in the eyes of people who approach the unit for the first time, I can see why the Beamz brass is very excited about this new product.
The Beamz can be used on its own or in any jam session. It can be used to accompany a group of other instruments or it can be the lead instrument. This is not like Guitar Hero or Rock Band because you are actually making the music happen.
With the Beamz, it's in your hands. Not just the playing, but everything. You can change the positioning of what instruments are assigned to the laser beams, but you can also adjust volume settings for each instrument and modify the overall tempo of the rhythm, all while the song is playing.
Beamz also launched a game component, ShadowBeamz, at CES 2010. Available as a free download, ShadowBeamz begins with three different skill levels and the game lets players engage with this interactive instrument from anywhere in the world. Pro, amateur, education, therapy, and gamers – Beamz does seem to have it all.
www.thebeamz.com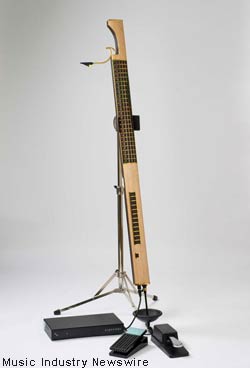 EIGENHARP
Like a lot of people who deal with the media, I get incredulous when reading announcements like this one: "The Eigenharp is a brand new instrument, the very first of its kind. Designed specifically for live performance, it is simply the most expressive electronic musical instrument ever made. Developed by a British company over 8 years, it redefines everything we have come to know about electronic instruments."
Upon seeing something like that, some of us want to immediately disprove every point, every phrase, every word. So it was with a strong sense of skepticism that I attended their press conference and product demo.
But here's the thing: the Eigenharp is pretty spectacular. Like a cross between a guitar, synthesizer, keyboard, saxophone, and perhaps twelve other instruments, the thing looks intriguing, if a bit daunting. Using it, a musician can play and improvise, play and record loops, change key, transpose, alter tempo, program beats, switch and layer sounds, all while performing live.
There are two styles of Eigenharp. The Alpha is designed with professional musicians in mind and features 120 highly sensitive keys, 12 percussion keys, 2 strip controllers, a breath pipe and a number of pedal inputs. The Pico is a smaller, more affordable version with 22 keys, a breath pipe and strip controller. Either way, the sonic breakthroughs seem to live up to the hype.
www.eigenlabs.com
GRUV GEAR
I don't move furniture, studio equipment, stage sets, lights, speaker cabinets, or amplifiers, but if I did, boy-oh-boy would I want the Gruv Gear V-Cart Solo. Described as the "ultimate personal gear transport cart for musicians," this is the best way to get your gear on a roll. In a fast-paced presentation at NAMM, they quickly took the cart through all of four configurations: 4-wheel platform, 2-wheel dolly, 4-wheel tilted "V," and its compact folded mode. "We all love it when it's time to get on stage," says Jay Baldemor, Founder and CEO of Gruv Gear, "but there hasn't been much progress in making things easier between gigs, so we got the idea to work in this arena. Before the V-Cart Solo, the choices were very limited: clunky carts, overpriced carts, carts that were made for other purposes." From what I saw, all that has changed because the V-Cart Solo is the next best thing to having your own roadie.
www.gruvgear.com
BLUE MICROPHONES
Every time you turn around, Blue appears to launch a new microphone, and this year's NAMM was no exception. In fact, they have two. The Encore 100i is a dynamic vocal mic, but its wider and flatter frequency response lets you capture a variety of instruments while its tighter polar pattern reduces off-axis noise. Starting with Blue's proprietary dynamic capsule, the Encore 100i adds a custom-designed diaphragm and coil windings that are matched to a tuned acoustic circuit, a custom-built transformer for low noise, and high-pass filter to reduce stage rumble. Utilizing such matched components leads to accurate and consistent sound even at high volume levels on stage.
Moving up the scale a bit is the new "flagship" live stage vocal microphone, the Encore 300. Beginning with a custom-tuned condenser capsule mounted on a rubber suspension system, the mic also features a matched, phantom powered preamp circuit. The firm is proud to demo the mic, claiming vocal clarity and vibrancy with consistent tone and low noise no matter how long a cable is used. "The Encore 300 is the next best thing to bringing our top studio mics on stage," says John Maier, CEO of Blue Microphones. "When the recording session ends, singers can now enjoy the same Blue sound they get in the studio." I love the look of this mic, but it is not just a pretty creation as the Encore 300 is built tough, with a reinforced chassis that doubles as a protective 'exoskeleton' for the capsule, a heavy-gauge zinc barrel grip to protect microphone components and reduce resonance, electro-plated steel parts, and hardened paint finishes for scratch resistance.
www.bluemic.com
WALDORF LARGO SOFT SYNTH
Mirroring the technology used in Blofeld and Q hardware synthesizers, the Waldoff Largo Soft Synth version 1.5 offers three oscillators (two with sub-oscillators) and gives you models of classic analog waveforms running through two multimode filters with steep cutoff, resonance up to self-oscillation, and a drive stage to add even more punch and grain in the sound. The sonics are both fat and phat. The envelope generators are gazelle fast, the LFOs are as flexible as a Bulgarian gymnast and all the sounds are superb, at least as far as I could tell amidst the cacophony of NAMM (so I asked a friend who uses Largo and the reaction was "Largo sounds stone solid strange, man!") Largo also contains a flexible arpeggiator and an array of effects such as chorus, flanger, phaser, overdrive, delay and reverb. The Largo works as a VST and AudioUnit instrument. The list of features goes on too long for us to include them all here. Ya gotta love it.
http://www.waldorfmusic.de
SENSAPHONICS 3MAX EARPHONES
Can someone tell me why in ear personal monitors are called IEMs? Shouldn't they be IEPMs? Anyway, one of the world's leaders in IEMs, Sensaphonics, has just come out with a custom earphone featuring a proprietary twin-driver bass system along with a precision high frequency driver. The sound is superb, plus the earpieces use soft-gel silicone so they seem to kind of hover on your noggin. "We were the first manufacturer to extend low frequency response by adding a second speaker to a custom earphone," states Sensaphonics President and founder Michael Santucci. "To meet today's demands on IEM earphone performance, we developed a triple-driver design that can deliver as much acoustic push as modern wireless systems can provide, while retaining the sound signature that has made our 2MAX and 2X-S models so successful."
www.sensaphonics.com
SPECTRASONICS TRILIAN AND OMNISPHERE
Looking for acoustic, electric and synth bass sounds for your next production? Try the Total Bass Module in Trilian from Spectrasonics. This is a bottom-lover's dream. Moving forward from where the Trilogy plug-in left off and based on their Omnisphere STEAM Engine technology, Trilian is extremely flexible, letting you carve out your bass sonics to sound real or to sound really out of this world.
Speaking of the Omnisphere, this is a monster power synth that puts tons of sounds right at your fingertips. The tones can be soothing or strange, pleasing or punchy, beautiful or "bombs-away." The company is high on the hybrid synthesis and new control capabilities, including variable waveshaping DSP synthesis, granular synthesis, timbre shifting, FM, polyphonic ring modulation, high-resolution streaming sample playback, harmonia, dual multimode filter structure, chaos envelopes, a unison mode, and their Flex-Mod modulation routing system. Also impressive was the large library of sounds, including those created with a new composite morphing technique (CMT) which takes the harmonic characteristics of one instrument and morphs it into another. http://www.spectrasonics.net .
BOB KILGORE'S HARMONIC CAPO
You put this on your guitar at the fifth, seventh or twelfth fret and every note you play will now contain a harmonic tone. Brilliant! This is an absolute must-have for every guitar player.
www.weaseltrap.com .