Why Michael Orland is the REAL Winner of American Idol
COLUMN: I know, I know. It's just a TV show, designed for drama, as human beings are magnetically drawn to personal drama, especially if it's not their own. Yet being a 20 year veteran in the music industry as not only an artist but a producer, I'm not a fan of "American Idol".
If I were a doctor, I would not want to come home from work and turn on "House" – to watch work. The fickle, biting, backstage drama that is constantly bubbling beneath the surface of entertainment just so happens to be an unshakable aspect of working here that I can't stand, and I really try and stay away from that in my everyday life, because it's inane.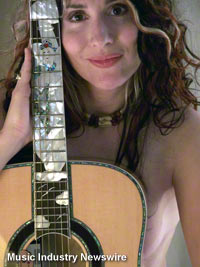 So is it likely that on one of my rare nights off, I will tune in to watch newbie hopefuls, with their baby spirits full of endless possibilities, stars in their eyes and butterflies in their stomachs, the hopes of their home towns riding on them, being publicly turned inside out as Simon tells them "they are an embarrassment" to their former church choir, their community, and the human race in general?
Um…no. That's a negatory, Rafter Man.
Maybe it's because I've been that newbie hopeful who was once told she wasn't good enough to make it, ten-ways-to-Sunday, by various incarnations of "The Overly-Pompous Douche". So call it a bad case of PTSD (that's Post-Traumatic Stress Disorder for you non-Discovery Channel folks), but I understand what that journey is like. There's more chance that a herd of Jersey Cows will wander into McDonalds and order 200 Big Macs than there is of me sitting down in front of "American idol". I just can't get behind cannibalizing people's dreams for ratings.
However, that being said, what's really important to point out is that even between the most miniscule cracks of the most suffocating sidewalk, a beautiful flower will find a way to weave through, and reach up to smile at the sun. Or, for those of you less invested in artsy-fartsy analogies, as much as I want to smack Simon and his bad haircut square upside the head, not everything about "American Idol" is evil incarnate.
I can deeply appreciate that these hopefuls will put it all out there, in front of God and everybody, in pursuit of their dreams. In fact, I once had a terrific conversation with Randy Jackson, and he's a lovely person. We talked all about producing music and his opinion on fostering artists, and he genuinely seems like his heart is in the right place. And now Ellen Degeneres is on the judging panel. Ellen allows the contestants that have been voted off of Idol the night before to come onto her daytime talk show the day after, and perform live – which I LOVE, by the way, because how affirming is that, to be interviewed on National TV and have the opportunity to sing to America one last time, after something so disappointing occurred the night before? Good for you, Ellen! Hopefully Ellen will add some humor and levity to the artistic growth process of these kids, which can be an incredibly frightening experience for those coming fresh out of the Nebraska church choir, who haven't yet developed skin as thick as a fossilized rhino.
Amidst these fine aforementioned folks, there stands one human being yet to be introduced for whom I have an enormous amount of personal respect, as both a musician, and a music industry professional. Enter Michael Orland, the Associate Music Director for "American Idol".
You all know Michael – he's the very talented pianist you see that accompanies the voted-off Idol babies singing the day after, on Ellen's show. The reason for my effusive introduction of Mr. Orland is a genuine gratitude for what he brings to the artistic development of these kids, in the midst of such a possibly damaging environment.
Michael Orland is the humanity behind the hype. He's the go-to guy for all the contestants. He practices the material with them. He helps them translate the feedback given by the judges into much less personal, and all constructive, information, which actually helps them grow as performers. He encourages them when they've been made to feel stupid for being there. He laughs with them, gives them pointers on how to better sing and present their song, is their shoulder to cry on when everything gets a little too overwhelming, is their home-town rooting section in Hollywood, their emotional support, and a real friend to these hopefuls in an industry where frankly, no one cares if you're destroyed from the inside out – as long as the ratings are good. He saves these babies from becoming yet more collateral damage in the Hollywood War for the Airwaves.
Michael Orland IS what "American Idol", and frankly, the music industry, SHOULD be – constructive support and development of up-and-coming, new, and even established talent. Why is that such a difficult concept for American Entertainment to wrap their brain around, I wonder? I mean, think of it from an economic perspective: American consumers are lazy. Oh, c'mon, we are, you guys! You and I both love what we love, period. We want to go buy our same artists' albums because we love our artists. They could crap on a disc, but we'll still buy it, because why? We love our artists. The Tonight Show with Jay Leno show is still on, isn't it? Well there you go. America likes what it likes.
The only time we become fickle, as a culture, is when drama is involved. It's the same principle as slowing down to look at a terrible accident along a highway – we only want a glance, but it's not worth pulling over, and laying down a concrete foundation for your next home. Drama piques curiosity, but past that, it loses interest and the public either needs new drama to keep them engaged, or new people exhibiting the same garden variety drama. "New" is the key, when dealing in sensationalism. "America Idol" has been the top-ranked show on TV since its fourth season, but the last two seasons, this ranking has slipped. Again — "new" is the key, when dealing in sensationalism.
However, talent will hold the interest of a fan base – and often, even untalented individuals will hold a fan base, God bless 'em – because of WHAT? Because of a fan's affinity for the artist. Sure, sensationalistic drama will temporarily pique the morbid curiosity of any person. But it is the heart that holds the audience over time.
Developers of programs such as "American Idol" believe in the "quick hook" – the only way to engage the audience emotionally is to create an underdog for which the audience can root. Ergo, we cast a villain – in this case, the razor-tongued Simon Cowell, who will be leaving "American Idol" after this season to focus on his new Fox show, "The X Factor". Said villain's job is to help create new underdogs each week, because as discussed, an audience's attention to sensationalism is temporary. This is accomplished by hammering on various contestants, just long enough for said contestant to gain the riled-up loyalty of the over-protective viewing audience. It's important to note that for this formula to be effective, it must be timed correctly. Just before the harassment turns an ugly corner into general bullying, Cowell would divert his attention to another struggling hopeful. After all, the network wants people to despise Simon, not stir the public into a boycotting hysteria that paints Cowell as an emotionally abusive psychopath. That's not good for sponsorship.
This entire modality is rather involved. Reality writing teams must be consulted every week in order to arc and map the storyline show to show. And yes, there's a storyline, week to week. That's the only way to control sensationalism.
Again, let us return to the cost effective argument. It would be much easier for any network to develop a program that, rather than attempting to manipulate the power of human empathy – rested in the power of human empathy. I, for one, would be much more interested in watching the artistic journey and personal struggles of these contestants as they bloom into more seasoned performers, rather than the "big floor show" followed by pithy judging. "The Biggest Loser" is an example of a successful competition-based program that works on the principle of leaning on human empathy rather than working so hard to manipulate the viewers' empathy, at the expense of wide-eyed hopefuls. This is achieved by following the natural human struggles of the Biggest Loser contestants, not hinging the empathy's direction on one poor foil, like Simon. In Simon Cowell's defense, there are only so many ways over eight seasons that a person can say "I'm not impressed".
In fact, Fox contributes a large part of the success of "American Idol" to Cowell's presence on the show. So you tell me: Do you think that Fox didn't know the power of manipulating human empathy when they hired the King of Killer Comments at nearly $36 million dollars an episode?
Sure, no "Reality Show" on TV is without a guided, sensationalistic flair. It is entertainment after all. And it's often naively uttered around America's water coolers that "these kids know what they're getting into." Well, no, they don't. These are hopefuls who are the best singers in their families, in their high schools, in their towns, in their scenes, in their churches. They are surrounded by supportive people who regularly tell them how talented they are. As such, they aspire to be a famous singer. That's what they are prepared for. They are not prepared for how vicious it can really get down here in the mire of the media trench. There's nothing that prepares a person for that level of politics, nor that level of instant adoration, nor that level of national hatred, all overnight. Especially singing in the Nebraska church choir.
These are hopefuls who are chasing a dream. There will only be one winner. If and when that overwhelming realization hits the fan, and those "American Idol" hopefuls feel like they've made a mistake leaving their hometown, that they're drowning in a chaotic nightmare that well exceeds what they ever expected — Michael Orland is there. To remind them that it's only music. To remind them why singing brings them joy. To remind them that the power of the human spirit cannot be judged. That they are capable, and valuable – and no matter what, they will always be a winner.
That's why the real winner of "American Idol" is Michael Orland. And unlike Simon – I am impressed.
Editorial Note: the above article by Ms. Egnew does not necessarily reflect the opinion of this publication. Further, it has not been edited or corrected in any way in order to maintain her "voice" for this article.