Supersonics at the Super Bowl XLIV
COLUMN: Music was at the heart of nearly three-quarters of the eleven million commercials that aired during Super Bowl XXXXVMLCDMIIEEEEE or whatever they were calling it. And music was the bleeding heart of the halftime break.
Even some segments of the game itself were set to music. For example, the player intros ("Let's meet the Indianapolis Colts defense. . . ") were accompanied by pulsating faux metal guitar crunch that came from a production music library, but these sounds were in the background as we learned how to pronounce the athlete's names ("Saints right tackle, Jon Stinchcomb!") so the throbbing chords worked just fine.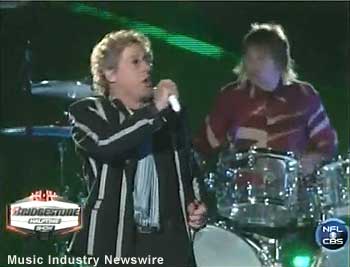 Photo: Roger Daltry of The WHO during half time show.
A wonderful tone was set by the music in many spots, including the high-tech Callaway golf clubs spot, several wonderful Hyundai car commercials, and in the Audi spot featuring a parody of "Dream Police" that became the "Green Police." I have the broadcast on my TiVo and can tell you that more than half of the more than five dozen commercials just are not effective when the sound is turned off.
For example, there were ads for upcoming motion pictures that look downright silly without their powerful music tracks. One was for a new film from M. Night Shamalamaham called "The Last Air Conditioner" (note: all spelling is approximate due to my having a martini prior to typing this report). The bass tones and compelling dramatic melody on this spot made it seem like Something Very Important was happening even though the visuals, upon second examination, appear to be outtakes from the 1986 flop "The Golden Child."
An absolutely brilliant ad for Google used a mixture of sound effects and an ever-expanding musical theme that made you want to stand up and cheer. The visuals told the story of boy meets girl in Paris, boy wins girl, boy moves to Paris, boy marries girl, and finally celebrates the birth of their first child, all through the text of searches made on Google. The ad is outstanding in every aspect, not just the wonderful music track.
In one of several Bud Light spots, people get ready for and attend a party, with all their comments "sung" through an Antares Auto-Tune. This is usually an annoying gimmick but here it becomes a delightfully humorous commentary on today's mainstream pop and hip hop music production. Literally, this ad wouldn't work without the music.
Of course, just as music can make a spot, I am sorry to say that music can break a spot, shatter it, and utterly destroy it. Consider the ad for Boost Mobile. This is presumably a technology-based company, and yet they used a rap that sounded like one of those cloying Raffi or Teletubbies nursery rhymes. The message this sends to all potential users of Boost Mobile is something like "We are inept but we think you are too stupid to notice."
The embarrassing Charles Barkley ad for Taco Bell also had a lame rap that just killed any possibility the ad would attract any customer above the age of six. (Although if that was their goal, why spend anything to hire Barkley?)
Dove for Men put a silly talk-sing vocal to Rossini's "Overture: William Tell" in a misguided attempt to seem "lighthearted" as they sold skin care products to. . . well, to whom are they selling? Men? Gay, straight? Perhaps this spot is aimed at wives and girlfriends. "We know you spend a small fortune on creams, ointments, emollients, and so on, but shouldn't you also buy some of that stuff for your man?" Guys, this is all part of the feminization of men. I suggest you play some strong country or rock music right now and get this Dove for Men nonsense out of your system.
Next up: the halftime show, which typically features six minutes of commercials (all with music tracks), three minutes of ex-players and coaches saying things like "if one of the teams plays better and scores more points then they're gonna win it," and twelve minutes of some well-known musicians playing their hit songs.
There have been some very entertaining mini-concerts at past Super Bowls. The Rolling Stones. Prince. U2. So this year's appearance of The Who was highly anticipated. These guys first built their reputation on their live shows. The "Live at Leeds" album is consistently rated one of the most commanding and essential rock performances in recording history.
But they weren't any good at the Super Bowl. In fact, other than the bass, drums and backing tracks, they were a mess. Off-pitch. Off-tempo. Wrong notes in the solos. My guess is that CBS and the NFL could have hired the third-best Who tribute band in any city on the East Coast and had a much better show.
Roger Daltry's "where is the key" approach to lead vocals made Taylor Swift's Grammy performance seem pleasant and assured by comparison.
Pete Townsend's music stands up even when subjected to his own piss-poor guitar work. Fact is, he has composed great songs that are still quite exciting even when the performers have seen their talent exit the building.
The breakdown (and I use the term in both meanings) went something like this:
5:01 p.m. "Pinball Wizard" in a tentative rendition.
5:02 p.m. "Teenage Wasteland" in a "let's see if we know the melody" version.
5:05 p.m. "Who Are You?" because it's the main title theme to one of CBS's top-rated primetime shows.
5:08 p.m. "Listening to You" in a "what song are we doing?" approach.
5:09 p.m. "Won't Get Fooled Again" in a "thank heaven for all the instruments on the prerecorded tracks" performance.
5:13 p.m. Done.
The stage set and lights were superb.