Review: Shure KSM42 Large Dual-Diaphragm Studio Condenser Vocal Mic
REVIEW: You've been kidnapped by evil Audio Trolls and locked in an underground bunker. You are allowed to live only if you produce the world's best vocal recording. You're allowed only one microphone to capture the perfect vocal tone on a soprano, a tenor, an alto and a bass vocalist — in the pop, rock, jazz, blues, and classical genres. You must choose the mic wisely, one that will outshine any other in amazing flexibility, rock-solid performance in different acoustical settings, tight and fat signal reproduction without overdriving the sibilance attempting to create faux sparkle, clear unflappable consistency in the face of varying humidity, and "the shimmering punchy sound" that screams professional studio vocals.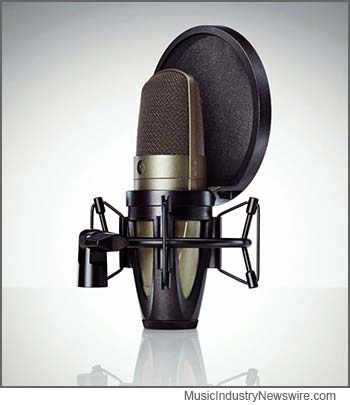 Oh — and the Audio Trolls will only give you a budget of less than $800.00.
Before you collapse in a defeated heap bemoaning the fact that the standard Neumann U87 is well into the four digits, you suddenly realize that you're within budget for the Shure KSM42 Large Dual-Diaphragm Studio Condenser Vocal Mic, part of Shure's jaw-dropping studio line that has turned the audio world on its ear by taking over professional studios everywhere.
Unlike a tube mic, the age-old professional industry standard that is known for its responsive warmth and buttery sound — yet is as tonally moody as someone's sister during that time of the month — the KSM42 Studio Condenser performs with outstanding consistency no matter what the environment or who the singer. Thanks to Shure capturing and stabilizing the tube mic mojo with their Prethos Advanced Preamplifier Technology, now anyone, anywhere, can record vocals that sound like they came from a $5000.00 mic kept in a perfectly climate-controlled booth, coupled with a $10,000.00 tube pre-amp.
How, you may ask, is this actually possible for under $800.00? Well, the Prethos Technology uses what Shure calls "transparent internal circuitry architecture", which is a fancy way to say that one of the oldest and most trusted audio titans in the industry has actually succeeded in bringing dominating studio mics into the 21st century at a price that's inviting for studios on every level. During this economy, I can't think of anything better. Considering the mic came from Shure, this should surprise no one, yet it came as a pleasant surprise to me as I know Shure in the live music field rather than the critical-demand vocal studio environment.
As a veteran producer who has worked with not only all sorts of voices but on the Engineering end of some of the best tube studio mics the industry has to offer, I decided to give the Shure KSM42 a run for its money in my own production studio in Los Angeles, which handles artist recording as well as post-production voice-over work. I wanted to hear the mic, not the outboard gear, so I plugged the mic into a garden variety, over-the-counter Beringer tube mic pre-amp. I chose the Beringer because I wanted to hear what this mic would do with a generic source that could be found in any project studio across the country. (Because let's face it — a log would sound amazing plugged into a mic pre-amp like the EAR 824M.)
As a soprano with a musical theater background, my vocal load is a torpedo for any studio mic, rattling diaphragms at 3.3 kHz and driving tones to pierce at 5-9 kHz. I let this mic have it while singing both classically and in full-throttle rock, something most mics have a difficult time capturing without help from outboard gear. The Shure KSM42 took everything I had to give and handed it back in a beautifully sculpted, warm, fat, tight and succinct signal that never pierced, never shattered apart, and never overdrove, but exploded with expression and warmth. I whispered into the mic with jazz tones and the Shure KSM42 captured the feathery, lilting delicate approach with precision and sexy articulation. The dynamic range of this microphone is ridiculously amazing and the broad sweet spot allows a singer to actually move while recording. Along with the fact that this mic is extremely quiet, I was instantly addicted to the warm shimmer and ease of use created by the Prethos Technology.
I was additionally wowed by the Shure KSM42's performance considering the mic was taken out of the box and plugged in — no tubes to warm up, no humidity in the room to control, no matched load tube pre-amp to buy or even consider. Usually, to get a studio mic primed to sound this sweet, it's quite a process. The mic itself screams competence: It's a solid, heavy offering, and while holding it, one can feel the authenticity of the sound to come. Shure even thought ahead on this model to include a pop screen that magnetically adheres to the mic, so no more clanking and gangly pop screen wiggling around during a session. The mic's Dual-Diaphragm technology is so stable that it does not require the fussing with pop screen proximity, so the magnetic addition ads to the insty-ease of use. Couple that with a space-aged looking ShureLock Rubber Suspension shock mount, velveteen dust pouch and aluminum carrying case and again — welcome to the 21st century, professional audio.
I was so impressed with the Shure KSM42 that I thought I'd give it a try on the air during my show "Haunted Playground" on LA Talk Radio. While needing to Skype into the studio while out of town on tour, I ran the KSM42 directly into my laptop via the Shure x2u XLR to USB adapter. It was the moment of truth — not even a Beringer tube amp to assist the tone — nothing but the microphone. I plugged the headphones into the x2u and the warmth of the mic itself melted like butter in my ears — no tube amp required. The mic was outstanding on all its own. I've skyped in several times to LA Talk Radio while on tour or on location filming, and this mic sounds like a million bucks every time, in any environment.
For any studio purist out there who still may be thinking that unless a mic has a tube and costs more than $5000.00. it's not worth its salt — I beg you to reconsider. The Shure KSM42 Large Dual-Diaphragm Studio Condenser Vocal Mic is not only a contender in the major studio production environment, but a paradigm-breaking offering that thanks to Shure's commitment to excellence and affordable pricing has leveled the professional studio playing field. I now prefer recording with the Shure KSM42 to recording with the Neumann U87.
It's that good, that easy, and that consistent.
Shure has outdone themselves with their KSM Studio Series, proving they're a dominator not only in live applications but in meeting the stringent high-end tonal demands of the largest professional recording facilities. In my Los Angeles production studio (humid climate), I've replaced the tube mics with the KSM42. I've outfitted my third record label's main studio chamber with the KSM42, located in Wyoming (arid climate). I have no doubt the KSM42 (or KSM44a, a slightly more ticked-out version of the KSM42) will soon be as iconic in the new studio environment as the Neumann U87. The Shure KSM42 Large Dual-Diaphragm Studio Condenser Vocal Mic owns it, and should be a staple in every studio arsenal.

Article is Copr. © 2012 by Danielle Egnew, and originally published on MusicIndustryNewswire-dot-com before the site was revamped as MuseWire.com in March 2015 – all commercial and reprint rights reserved.