Pink Powder Problems
Non-stop rock and roll, aerialists, pole dancing, costumes, wild props and cavorting with hoops are just some of the entertaining things in the current EU tour by Pink. The theatrical presentation is great. I know because I have been seeing it at Powder shows for the past few years.
I was at the first live show of Powder, the Los Angeles-based turbo-pop performance-rock band (www.powdermusic.com). Fronted by vocalist Ninette Terhart and guitarist Phil X, the group specializes in high-energy rock that's a cross between heavy metal and melodic pop.
Which is to say that you'll be knocked sideways by their power while also finding yourself able to sing along with the chorus by the second or third time it appears in each song. Yeah, that sounds like hype, but I've taken several people to Powder shows, and watched it happen.
The musicianship is also of a high caliber, as it should be from players who make their living making music. You've heard their work on film and TV soundtracks, commercials, and hit albums. Phil X's guitar work was all over the most recent Tommy Lee album, to name just one example.
Big Show
Accompanying their spectacular sonic presentation are theatrical exploits so big you'll think that an LSD-inspired offshoot of Cirque de Soleil leaped on stage with them. Ninette creates weird eye-catching costumes and props, several dancers perform well-rehearsed routines that tease the audience, and stilt-walkers and fire-eaters are frequently swirling in the ever-changing visual and aural onslaught.
Flying
Taking things one step higher, literally, Ninette and her dancers are also aerialists and they are aloft on huge silk banners for about one-quarter of the show. (Ninette and Buffy also perform as the Silk Sisters, which is almost entirely airborne.)
I've said it before but it bears repeating: it doesn't matter who you are or what you've done; if you haven't experienced a Powder show, you're still a virgin.
Flashback
A year or so ago, the people who work with the sensational vocalist Pink put out word that they were looking for aerialists, so Buffy submitted a video containing performances involving the Silk Sisters and Powder. Nothing happened and nobody thought much more about it. Until photos of Pink's show in the EU began popping up on fan sites.
"That's Powder's stage show," many people have said. Maybe it is and maybe it isn't. You can see some of the similarities here:
www.tinyurl.com/yfdlb3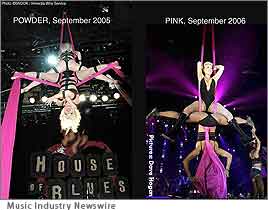 Immedia Wire Service's head photographer, Snook, has been documenting Powder shows since their debut and you can see many of his images on that site as well as at www.powdermusic.com the official Powder Web site.
I got on the phone with Phil X and he wanted to make it clear that they like Pink's music and respect her as an artist. The band feels that people who work with Pink may have utilized some of the stage effects worked out by Powder. "It's okay," he said, "but if Pink releases a DVD of her European tour, it would be nice if people knew we did some of this stuff first."
Pix Not Video
Keep in mind that I haven't seen Pink's show. But a side-by-side comparison of the photographs makes it seem like there has been a little, um, how to put this, borrowing of Powder's routines. Just a couple of them. Like the silks. And the hoops. And the props. And having the dancers dress up like the lead singer. And so on.
But go see for yourself.
Pink is a great artist. Powder is a great band. Perhaps they should collaborate on a show. I mean officially. Because, according to those photos, they already have.
[tags]G-Man, Scott G, Music Critics Must Die, G-Man Music, music rants, Pink, Powder, performance art[/tags]