New CDs Take Music in All Directions
REVIEW: Scott G goes back to old habits by writing a batch of CD reviews. As in his prior reviews, the musical styles he covers are all over the place, from the hip hop of Enjae to the glorious organized noise of Nine Inch Nails, from East/West chanteuse Noa Dori to two very diverse soundtracks ('Rize' and 'Young, Single and Angry').
Like a lot of music writers, I began scribbling reviews to get free albums and concert tickets. Then, once my own albums started to be released, two things happened that changed things.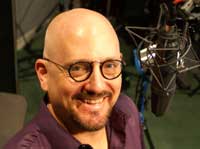 First, the incredible inanity of most music writers became glaringly apparent. Only a few people got what was happening on my first few albums, except when the album was firmly involved with just one genre like trance. At which point, only the guys who liked trance would write a review.
Second, the business aspects of my music and marketing made it difficult to listen to other people's music, much less write about it. Too much of my time was spent writing songs for other people to sing, composing music for commercials, and running a music production company.
Also, to make things more complicated, my songwriter partners wanted to find a publisher that would value songwriters ahead of the "suits." The way we solved it was to open Golosio Publishing. But guess who's running it? Yup, me.
So, no time for writin' reviews, right?
Sure, but . . .
But sometimes you just want to take a CD and offer it to people who wouldn't ordinarily hear this type of music. Such is the case with these 5 albums. Each has its ups and downs, yet each offers pleasure beyond measure in the various ways their creators let sound and emotion pass from their world into yours. (Please note that Golosio Publishing is not involved with any of these songs.)
ENJAE
A multi-year labor of love by Natalie Barry, this self-titled album is a great blend of modern and old school hip hop sounds. There is terrific low-end bump in the music tracks, plus each song features some nifty layering of tones and musical ideas for what can only be called sonic flavoring. Barry says that part of her goal was "keeping it minimal with a taste of ear candy" and she certainly succeeded. Plus, her vocals are lovely throughout. And although she is singing, not talking, most often her tracks have a feeling of an intimate poetry recital. As for the lyrics, well, they are personal to the point of making listeners feel like voyeurs. The effect is a bit like looking into the psyche of a contemporary female artist who has decided to reveal part of her soul. A true DIY triumph, you can visit http://www.myspace.com/enjae for more information.
NINE INCH NAILS
The Year Zero album comes with a sticker bearing a warning that "Consuming or spreading this material may be deemed subversive by the United States Bureau of Morality" and inviting you to call 1-866-445-6580 to "be a patriot." The recorded message when I called was hysterically funny; yet, in many ways, it really wasn't so very humorous when you consider the kind of right wing wackos who often reach positions of power these days. Written and performed by Trent Reznor, the nearly 70 minutes of music on Year Zero stands as a perfect example of gloriously organized noise. Angry yet fluid, each song shoots out of your speakers or ear buds and circles around you or inside you like the twister in the Wizard of Oz. The 24-page booklet is on beautiful glossy stock yet poorly printed; you can read the blurry lyrics with the aid of a magnifying glass. Some sort of anti-technology point is being made, perhaps, but it just gave me a pain, whereas the music, for all its jagged edges and creative dissonance, achieves a rarefied level of purity and grace. On Interscope Records.
RIZE
As a soundtrack to the inspiring documentary feature film by David LaChappelle, the album cannot possibly recreate the awe one feels when viewing the krumpers and clowns in their frenetic new dance creation. But the music from Flii Stylz, Dizee Rascal, Dap, Red Ronin and others, is outstanding. There are contributions from Christina Aguilera, Edwin Hawkins Singers, and the Blind Boys of Alabama, but it is mainly Flii Stylz who keeps things bouncing, racing and (if you'll permit this word) rocking. Born Anwar Burton, Flii Stylz has taken the entire history of rap and hip hop, digested it, and spun it out into a form that is new and déjà  vu at the same time. The soundtrack album contains neither Lauryn Hill's "Tell Him" nor the 2Pac/Elton John "Ghetto Gospel," both of which are in the film, but this is still an excellent collection. It's released by Forster Brothers Ent.
NOA DORI
From singing the lead role of The Queen of The Night in Mozart's The Magic Flute to starring in The Phantom of the Opera, Sweeny Todd and West Side Story, there is little on a stage that Noa Dori cannot do. Putting her classically trained voice into pop music was an inspired career choice, and the dance-meets-Euro-with-R&B-plus-Middle-Eastern tunes on Letting Go never fail to captivate and excite. You'd think that all those different seasonings might spoil the stew but you'd be wrong. This is a wonderful percolating pleasure cruise across several continents. It's a sonic documentary of rhythm and soaring vocals. Take a trip over to http://www.noadori.com to see if you like the sights and sounds. No passport required.
YOUNG, SINGLE AND ANGRY
Matt Forger handed me this soundtrack album at a NARIP event, so I knew it was going to sound great. Primarily produced by multi-instrumentalist and composer Jon Mattox, with mixing from Forger, this is a collection of 15 songs of love, angst, and/or loss. Of the bands on the recording, I had previously only heard of the Young Dubliners and Alpha Cat (Elizabeth McCullough) but everybody shines in their delivery of the various moods and grooves relating to the ups and downs of getting together and breaking apart. Cruise on over to http://www.brightorangerecords.com if you want to learn more about Alpha Cat's "perfect dark pop," Sterling Witt's "slacker rock with a twist," and a whole lot more.
[tags]CD review, Enjae, NIN, Nine Inch Nails, Trent Reznor, Rize, Flii Stylz, Alpha Cat, Young Single and Angry, soundtrack, Noa Dori, music industry news, Scott G, Gman[/tags]