Music Review: Rob Kendt 'I'm Not Sentimental' – Too Much Talent is a Dangerous Thing
REVIEW: You'll find clever lyrics, strong melodies, and excellent musicianship on songs in several genres on the new Rob Kendt album. But as Scott G points out, this may be too much of a good thing.
Rob Kendt is a tall quiet fellow who writes nifty songs and evocative music for theatrical productions. He's also a journalist with a long history of writing theatre criticism for the NY Times, LA Times, Variety, Back Stage West, and Broadway.com.
This makes some people wary. Being able to write a literate column somehow automatically disqualifies you from being a good musician, at least in the minds of those who cannot imagine being good at one job, much less two.
So it is with tremendous pleasure that I am able to report that "I'm Not Sentimental," Rob Kendt's album on Ruby Records, is superb.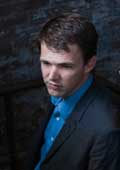 From Rock to Roll
Mixing pop and jazz, Kendt leads a stellar cast of top-notch players through sprightly renditions of tunes that incorporate elements of several genres, everything from singer-songwriter angst to country laments, and from humorous social observation to quirky cabaret outrageousness.
The playing is lively yet offers the everything-in-its-place perfection of studio jazz cats backing a vocalist they admire.
Words of Wisdom
While the music raises a smile or two, it is the lyrical escapades that truly delight. Rhyme upon rhyme, phrase upon phrase, Kendt takes listeners into a labyrinth of stories that make you laugh or cry. Or both.
Not since Cole Porter has there been so much eyebrow-arching commentary in a group of songs. Not since Dave Frishberg has an album contained so much delightful wordplay. Not since Samuel Pepys has an artist revealed so much of himself while scrutinizing his fellow human creatures. (See, I, too can be literary.)
Being Original & Covering Up
Of the 14 tracks, an even dozen are original compositions that are deftly entertaining. They are wry, sly, and poetic, yet have the rambunctious free form of a street corner preacher. Kendt often seems to be half confessor and half teller of tall tales that were once based on truth but have now taken on a life of their own.
Two of the tracks are covers, or should we call them cover combinations. One is a sleek conglomeration of Martha Davis' "Only the Lonely" with Erik Satie's "Je Te Veux." The other is the really wild blend of a song written for Britney Spears, "Oops I Did It Again," with Lennon-McCartney's "The Continuing Story of Bungalow Bill." Yes, it works. Alarmingly so.
So does the entire album. But people of little imagination will never believe me.
Visit www.robkendt.com to learn (and hear) more.
[tags]Rob Kendt, gman, Scott G, Britney Spears, album reviews, pop music[/tags]