Music Review: Pushing Red Buttons 'The Butterfly Net' (2008)
REVIEW: I would probably have liked this album more if it was comprised of personal friends, or the brother of my girlfriend, or fronted by the lads working part-time at the local Auto Club, but coming in cold I found the album "The Butterfly Net" to be a bit tedious and lyrically annoying.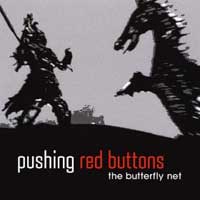 While there are some appreciable musical chops from drummer John DiGiulio, and the various guitarists, and keyboard/producer/lead vocalist Rich Gaglia, the overall product could have been much better. Of the two lead singers (Gaglia and Dave Clark), Gaglia has a very limited range, and so the vocal performance varies from talking-singing, to sing-song, and the most annoying thing being the syncopated 1-2-3-4 lyrics and vocals where notes hit right on the quarter note beat, which gets very irritating as the tracks play out. On the first track, "Disguise," his voice lacks energy and volume and sounds a bit like a singer practicing in his living room without ever hitting full volume in a studio setting. This makes it sound affected versus engaging.
Dave Clark is better, but again is doomed by the silly lyrics.
You're a Frankenstein
with a jealous mind
its time to pick up the torches
and chase you down
gonna burn you to the ground
and scatter your ashes
It's a style, and the band does have a following for being a leading "weird rock" purveyor, but I didn't get it.
My main complaint is the lack of much melodic content, songs without notable hooks or bridges, and verses that repeat and repeat (the track "Entitled" just goes on and on, with the only interesting bits being a faux lead-out keyboard solo which then brings the song back in, and a decent guitar solo in the middle); but I can't tell if they're just covering a bunch of bad notes or doing a "clever" fade song out, then fade it back in for a final couple of riffs. But this kind of production element is typical of the trite elements like a pet cat meows on track 5 (the cat gets a credit on the liner notes!), the megaphone vocal drop-ins, a break in the middle of "The Butterfly Net" with one person clapping, and similar.
"Entitled" actually starts with a nice little guitar melodic riff, but that isn't repeated for a chorus or expanded to make the song really build. Instead it seems tacked on to the front, and is symptomatic of some of the "bits" that don't pull together here.
This album wants to recall bands of the '70s like Supertramp, or Lake, without the good qualities of either. It's not entirely terrible, but it doesn't make me want to import the album to my iTunes library or go see them play live where they are probably far more interesting to behold.
One of the strongest of the 13 tracks, the short final track "Looking at Night," showcases what could have been a more interesting retro-prog instrumental album. The lengthy instrument noodling and prog-orchestra solo midpoint through the title track "The Butterfly Net," is a prime example of the potential. But sadly, even the title track comes back from the middle with a bit of fluff that wants to be Ringo Starr but suffers from the syncopated "I – am – sing- ing – on – the – beat -and – here – is – another word" style found throughout the album.
If the album had built on these two tracks, and found a better vocalist, and some more visual lyrics, there could really be something here. At least Jon Anderson of Yes, has a certain mindset of spiritual ideas that fill in the blanks for this kind of music, and a better vocal range than Mr. Gaglia.
I did like the more open and under-compressed production. The instruments and backing vocals all sound great, and I liked the subtle B-3 playing, the lead guitar parts are more capable (great riff midpoint in "The Parting Shot") than the majority of albums I get for review here. Again, if this band stuck more with the long-form prog noodling, with more focused vocals (meaning, somebody else singing), and less of the sing-song or syncopated style (some may like it, I found it very irritating) of writing words to the beat, I could really dig this. At least they're trying to write about personal experiences and not dragons, and unicorns, but what they are singing about is really just not that interesting.
Upshot: good instrumentals, musicianship and production. "Almost" got it retro-prog album, brought down by unimaginative lyrics and weak lead vocals.
Album Summary:
Pushing Red Buttons – "The Butterfly Net"
Produced, engineered, and mixed by Rich Gaglia.
Songs written by Steve Herrig (except 4 tracks co-written with Gaglia).
www.myspace.com/pushingredbuttons101
Disclaimer: always remember that any review, including this one, is purely subjective and from one listener's point of view. One man's brine is another man's wine.
[tags]Pushing Red Buttons, The Butterfly Net, Rich Gaglia, Steve Herrig[/tags]