Music Review: Phoenix Block 'Chemtrails' (2008)
REVIEW: New Jersey based Phoenix Block's new CD "Chemtrails" nicely combines '80s flavored world alt-rock with modern rock and sits nicely in various places if you happen to like artists as varied as U2, Bon Jovi and Remy Zero. Once I got past the hand addressed envelope with the phony "you requested it" note on front (um, when did I do that, folks at MLC PR firm?), and the hype-sheet included that provided the usual mini-bios of the band mates, I popped in the CD and spun it up to play in iTunes on my Windows XP based PC.
My initial thoughts listening to track 1, "Can't Divide Us," was a pleasant reminiscence of the kind of music I loved during the '80s. The first track had a flavor of U2 and many of the euro-alternative rock bands. Lead vocals by Andrew Jaffe were competent and a nice up pitch in the chorus.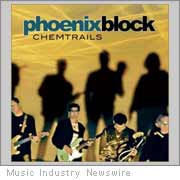 The second song and title track was a little weaker, and had a nice bridge and chorus, but the vocal performance during the verse was a tad over-dramatic for the material. All of the playing and choice of instruments, and mix sound great. The talking fade out sounded better to me than the verse performance, but this is subjective as with most music. Funny thing, I never really heard the phrase "Chemtrail" in there, so you're not getting beaten over the head with that as you might be on a Rush song (think "Superconductor"). This is one of those songs I'd likely enjoy more on repeat listening. Coincidentally, alt-star Beck has a single of the same name out, right now, and this is likely going to cause either some confusion and/or help Phoenix Block's general awareness when folks do music searches online.
"On My Mind," is a radio-friendly song, that I enjoyed, and the overall performance and melody are very pleasant. Bit more of a ballad. I can easily see this showing up in an episode of the Smallville TV show, which isn't a bad thing. This communicates more to those who might like modern alt rock ala Three Doors Down.
Wow. "Future Calling" has a great synthy, rock intro, telephone vocal effect verses, pop chorus, and fits nicely into that space between 80s and modern alt-rock. All of the songs remind me a little of many bands I like, including some of the Aussie alt-rockers from the '80s including Icehouse. There is a remix version of this song, which should do well on the dance floor, but it's not on this disc (it's available in the iTunes store).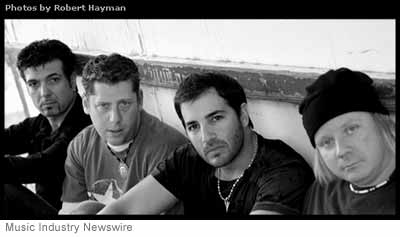 In general, the flavor of the songs remind me of bands I like, such as U2, Icehouse, Remy Zero, and even a little bit of Five for Fighting and echoes of Bon Jovi. Flavors include echoing guitar, rock beat with lots of tom percussion work in the right places, and nice atmospheric bridges, pleasant backing vocals, great lead vocal work with only a couple of spots I would have had redone (as the "tortured" performance on certain lines is only slightly overdone; a subjective opinion).
A couple of spots I thought they had Jon Bon Jovi sitting in ("They're Coming"), which isn't a bad thing as he does the same thing (band co-founders Jaffe and Schoeffler grew up in New Jersey, as did Bon Jovi).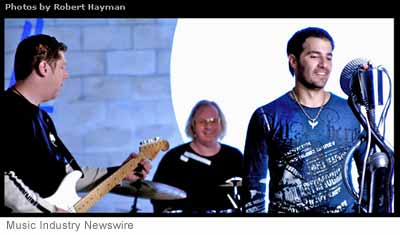 Lyrics are generally good, without any stand out poetry or too clever turns of phrase, but certainly decent construction of hooks and feeling to fit the melodies. Nothing was trite enough to make me grimace (unlike about a dozen or more CDs I have here on my desk right now), which is a testament to their collective experience playing live on the College circuit and in New York clubs. Song writers who learn their craft playing live generally are better able to gauge audience response to songs, than closet artists, and understand it's often about tone and feeling with modern music. Bands like U2 often are able to rise above that and do both poetry and feeling. Phoenix Block isn't in that league (yet), but this is definitely a band to watch, and if they break big will have a great future.
Overall, a really nice effort and a pleasant discovery amongst the giant pile of "listen to me please" packages we get here every month. About six tracks in I began to really enjoy this. Tony Catania did a very competent job in the production, mix, and engineering. The album was mastered by George Marino at Sterling Sound, NYC.
"Chemtrails" is the MuseWire™ "Album of the Month" for July 2008.
SHARE YOUR OPINION USING THE COMMENT BOX AT BOTTOM OF THIS PAGE.
Summary:
Band: Phoenix Block; Tony Catania, Steve Schoeffler, Andrew Jaffe, Darrell Nutt
Album: Chemtrails; CD 2008, 4 pp insert, jewel case, no bar code
Label: Hard Six Records LTD
Style: Alternative
Tracks: 13, total 51:01 min.
CD Recognized by iTunes: Yes
Digital: Available on iTunes: Yes, iTunes Plus $9.99; track most popular on iTunes "Future Calling." Single download, "They're Coming" available on Amazon.com.

MuseWire™ "Album of the Month" for July 2008.
[tags]Phoenix Block, Chemtrails album, alternative rock band, New Jersey bands, Tony Catania, Steve Schoeffler, Andrew Jaffe, Darrell Nutt, Hard Six Records LTD[/tags]