Maurice The Fish Records Booms Through Recession, Signs Four Acts
COLUMN: Maurice The Fish Records, the boutique record label based in Seattle and Los Angeles that has garnered media attention for its thriving business model implementing a low-overhead and high-yielding approach to the marketing of fresh music, has bucked the economic downturn and signed four acts in the second quarter, fattening the label's artist docket in one month.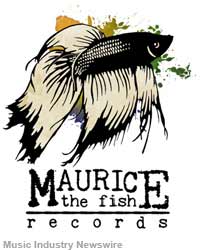 The label made the decision to include four additional genres, expanding its roster which was heavy with pop and rock. The label leaned on the staple pop / rock format to initiate a successful launch in 2008.
In the Soul / R&B genre: Veteran Northwest artist Kim Archer, known for her powerful live performances. Archer was recently nominated for "Best Blues Female Vocalist – 2010" by the Washington Blues Society, and plays an aggressive live show schedule per year.
In the Blues genre: The JNC Trio, consisting of Nick Sandy on Guitar/Vocals, Joseph McGee on Bass, and Chadwick Russell on Drums. The trio is influenced by artists such as John Mayer, Jason Mraz, Doug Skoog and Brian from Blues Redemption.
In the Singer-Songwriter genre: Heidi Vladyka. Vladyka's intimate vocal and acoustic guitar styling is reminiscent of Jewel and Ani DiFranco, with an emphasis on lyrical irony.
In the Southern Rock genre: Guitarist and vocalist Jimmy Nelson, a Georgia native whose Lynyrd Skynrd roots are coupled with a Randy Rhoads guitar sensibility and a penchant for hickory-smoked vocals.
Maurice the Fish Records is a boutique record label with one goal in mind — providing artists with a platform in which they can maintain creative control of their music and attain visibility in a competitive market. Both the artists and staff work together in a family environment to bring music to the masses.
All Maurice The Fish Records artists, events, and upcoming concerts can be found on the Maurice The Fish Records website www.mauricethefishrecords.net, and on Facebook under Maurice The Fish Records.
Disclosure: The author of this column is signed to the record label mentioned in the article. Per FCC disclosure compliance: No compensation or other consideration was provided in exchange for mention.