Interview: Pure Harmony from DoubleVision
INTERVIEW: When you hear the name DoubleVision, you may think it's a byproduct of too much drinking. Instead, DoubleVision is a singing duo of identical twins from South Australia. Recording in a country-pop style, Candice and Nadinne are making waves down under and having a blast doing so.
G: What's the first music you remember hearing?
Nadinne: That would be Roy Orbison, Bobby Vinton, Elvis, Gene Pitney, Barbra Streisand. All the oldies!
G: You heard music at home, in the car. . . where?"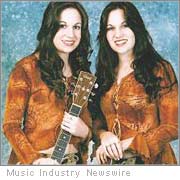 Candice: On the road. Our Mum used to do a lot of traveling. She had a transport company.
G: Was she a trucker?
Nadinne: No, she wasn't a truckie! She had to go to meetings, etc. She would bundle us in the car and off we would go, usually on the interstate, with music all the way there and home.
Candice: We knew and sung along to Bobby Vinton songs, Roy Orbison and Elvis by the time we were about 10 years old.
Nadinne: Our Mum loved the early rock n roll stuff from the 60s.
Candice: We grew up on that.
G: Did that change over the years?
Nadinne: It was when Shania Twain came out that we took an interest in modern country. We used to sing all of her songs. Know them all! We started having guitar lessons at around 16 and that's when we got our first guitars. We aren't as good as some but we get by. Hmmm, should we admit that?
Candice: We can carry a tune with them and use them for songwriting.
Nadinne: Yeah, and we've used them on stage, so good enough to play when performing but we prefer the band play.
G: When did you start performing publicly?
Nadinne: We were in school choirs and started having professional vocal tuition at around the age of 12. Our very first public performance as a duet away from the school environment was at a Boys College!
Candice: Later we were asked to sing at the Pimpinio Country Music Festival.
G: How much later?
Candice: We were 14.
Nadinne: That was a tiny little town. If you blink you'd miss it, but people from miles around used to go to the festival. The response was overwhelmingly supportive and everything has taken off for us from there.
G: How about your instruments?
Candice: We didn't pick up a guitar until we were about 16. Our passion was, and still is, singing.
Nadinne: We also used to sing quite a lot of duets for the schools we were in throughout the years at assemblies and any special occasions to do with school. We went to a campus where there were three separate schools and we were always asked to perform for the different schools for their special events. We've sung at various Country Music Festivals and Clubs.
G: When did you first try songwriting?
Nadinne: We first took an interest in songwriting when we were 16. Our Mum entered us in an International songwriting competition. At around the same time we met a musician named Richard Davidson, who has since become our record producer and very good friend.
Candice: Richard is now owner of RDMS recording studio, and recorded a demo of our very first completed song called 'Never Look Back' in June of 2000.
Nadinne: Richard suggested to us that we enter the song in SCALA's (Songwriters, Composers And Lyricists Association) annual National and International songwriting competition.
Candice: We later forgot all about it, not thinking we would get anywhere. And studying for end-of-year exams made it easy to forget.
Nadinne: After a month or so we received an invite to go to the awards but it was getting close to exam time so declined. Then, a couple weeks later we got a phone call. It was one of the organizers asking if we were going to the awards, we told her no and she said that the numbers for audience were very low and could we please try to find some time and come for a couple of hours? Award night was that same night!! So we talked it over with our Mum and she took us to Adelaide where the awards were held. We didn't know anyone there all we were thinking of was our study.
Candice: And tired!
Nadinne: But we stayed anyway.
Candice: There were a lot more people than we expected there and we wondered why she wanted us to come. We were just about to leave when they announced that they were going to present the award for the Demo section.
Nadinne: Which is what we entered, so we thought we'd hang around and see who won….. It was us! We won a professional recording of our song. Which we thought turned out disastrous! That was done at a different studio to where we normally record.
G: Can you talk a little about how you view the music industry?
Nadinne: Like most young artists starting out we had to do our time with the competitions and things. I think that's part and parcel of being an entertainer isn't it? You've got to do the hard yakka and climb over wall after wall and a lot of times falling flat on your face just to see if you've got what it takes. Every time a door opened, a door closed. But hey, it's fun in between and it's a learning experience. That's still the case. We performed for the Olympic Games festivities in Adelaide in the year 2000. We went on and entered several other competitions. Our Mum was our biggest supporter and always sat in the front row of these comps. Who out there and just starting out doesn't have that kind of doting Mum.
Candice: Yeah, so cute!
G: She was right about your success, wasn't she?
Candice: We won the New Talent Award in Adelaide for 2001 and also won the Australian State Championship for an international vocal competition 2001. Then recorded our first CD at 16.
G: Did you have any formal training?
Nadinne: We've really had training for our voices since we started primary school. That continued well after we completed high school and in college. We stopped having training in about 2005 I think. But we are thinking of going back I don't think you can ever have enough of that! The training keeps you true to yourself vocally. Training is a lot more than singing; it involves exercise and proper diet as well.
G: Would you say you are driven to make music?
Nadinne: Most definitely! Any musician would be able to answer this with a big fat yes. If you're not driven, then why do it? Music has been a part of us since we can remember, always making up silly songs when we were younger. And when we reached our early teens, we discovered we could take our writing seriously and start to make some great music. We can't see ourselves not making music in one way or another.
Candice: We have tried to take 'breaks' in the past and we've always been drawn back to music. It's in our blood and I don't think we could ever completely stop doing it. When I think of music, I think of fun and while its fun, we'll continue to sing and write.
G: What are you searching for in songs that you listen to for pleasure as opposed to songs you want to sing?
Nadinne: Generally, if we hear a song we like, we want to sing it. I love songs that tell a story, whether it makes you laugh or cry.
Candice: I think Nadinne is on the money here… songs that tell a story are more entertaining for me. I like songs that are different and aren't harping on the same old same old. Australia's Adam Harvey, Beccy Cole and a favorite American country singer of mine, Brad Paisley, are great for their 'story songs'. As for songs I want to sing, great melody is the key. I like a song that can spark someone's interest in the first few lines of the first verse.
G: Can you say what touches you most: melody or lyrics? Or does it depend on the song? Or your mood at the moment?
Nadinne: Oh, it's a combination. There are songs that have beautiful lyrics but the melody and or music leave them feeling cold. Songs have to have an equal balance of both fantastic lyrics and melody, you can't have one or the other, otherwise you won't have a great song.
Candice: Nine times out of ten the lyrics touch me most. I love it when I can relate to a song personally. It makes it that much more powerful. Every now and then though, a song comes along that has amazing music and it just blows me away. I love fast picking on guitars and banjos… it almost makes me jealous as I'd love to be able to play like that myself! I think we both agree that sometimes it can depend on our mood at the moment as to what we listen to though.
G: Can you say how music is able to touch people's souls?
Nadinne: Music has the great ability to be able to alter your mindset. If you're sad, and listen to a great upbeat song, it instantly brings your mood up. Music can make you angry, can make you happy or sad. Music can bring so much comfort to someone who is hurting. There are many a time when we ourselves have turned to the great healing powers of music.
Candice: I've been in situations where I have been feeling a bit out of sorts, then listened to a great song which has altered my whole state of mind and I've instantly felt so much better. I believe that music can touch people's souls, even if it's just one amazing song that really hits home with one person. It doesn't have to affect hundreds of people. If we do that for someone, it would be the best feeling in the world!
Contact:
www.soundclick.com/doublevision
doublevisionnc@hotmail.com
[tags]DoubleVision, country music, pop music, singer songwriter, Australia indie bands[/tags]