Forbidden Music Can Save the World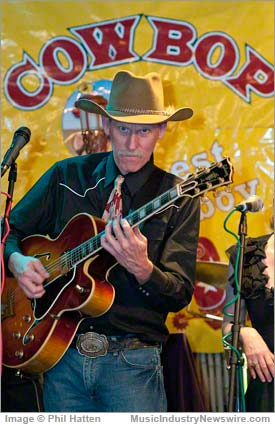 MuseWire COLUMN: Not in my house! How many kids have heard that phrase from an outraged parent who is nearly apoplectic over the latest sonic creation of artists in rock, pop, rap, modern country, goth, death metal, etc.?
From the Andrew Sisters' "Rum and Coca Cola" to recordings by The Fugs, Cee-Lo, Prince, NWA, Ornette Coleman, Blue Cheer, and Frank Zappa, there are always tracks to which parental units will object.
Sometimes it's the sound. "What's that noise?" "That's not music!" "Why, in my day, we had melodies!" This has been going on for generations.
There there's the whole issue of race and gender. Billie Holliday was acceptable to some people until she started performing with a white jazz orchestra. Benny Goodman was fine, then not okay when he integrated his group, then okay again. Then he added Charlie Christian (an electric guitarist! oh my heavens, music is destroyed forever!) and some people got upset once more. Elvis was shocking. Jerry Lee Lewis was really shocking. Madonna almost created a franchise operation for pop-shock. Frankie Goes to Hollywood saw "Relax" banned by some people, presumably because of homophobia. And let's not dwell on Chely Wright having to endure some horrifying reactions from the dumbass part of the country.
Most musicians I know seem to focus on the music instead of the societal imperatives of their time. Or, as one guy told me in a club: "Screw the zeitgeist, play in the pocket." Hit the groove with your fellow musicians and nobody cares much about anything else.
"Hey," another musician told me, "we don't care much about regulations and conventions and restrictions as long as the music works."
Viva
Nowhere is this illustrated better than each night at Viva Cantina, a Mexican restaurant in Burbank. With music every evening and no cover charge, it's what you might call a roadhouse, yet it's in one of the largest metropolitan cities in the world. Haven't heard of it? Cowboys and cowgirls know Viva because it's right next to the Equestrian Center, just a frog-leap North of the semi-mythical Los Angeles River, which is a trickle most of the year but almost impressive (in a concrete cavern sort of way) during the rainy season.
The band-in-residence at Viva is the Cody Bryant Experience, a tight outfit with a loose assemblage of players, all of 'em top-notch. Cody has been in rock groups but has mostly played in bluegrass outfits and the Riders of the Purple Sage.
So ostensibly the CBE is a country band. Shout out a request that they "play some Merle" and you'll get some Hag. But if you shout out a request for a Jimi Hendrix tune, you're likely to get that, too. Ditto if you ask for almost anything else. Okay, perhaps no one has yet dared to ask for something by Depeche Mode or Arvo Part but I have no doubt the guys could play it if someone would hum a few bars. Half the audience at Viva seems to be made up of people in the music industry who come to see and hear what happens when the band decides to do a nine minute version of "Sugar Sugar" or the "William Tell Overture." Or both together.
Guests show up and play without any regard for protocol or set lists. Indeed, there often are no set lists. You might see the most highly-regarded session players on stage one moment, followed by a punk outfit and then an Irish group. Or, since there are two rooms with two sound systems, everything at once.
Session musician Phil X drops by to add his powerful guitar to honky-tonk numbers that turn into raging barn-burners that totally kick ass. Or Cody will start playing something, just to see where things will start cookin'. The only constant is the quality of the players (hey, you really don't want to get up in front of a room full of musicians unless you know what the hell you're doing).
Cow Bop
Speaking of knowing what you're doing, consider Cow Bop. Led by the extraordinary guitarist Bruce Forman, Cow Bop takes old-timey songs and makes them into something new with an approach that might be called twang-jazz. The musicianship is beyond superb, which is one reason they are booked to appear at this year's Los Angeles Guitar Festival as well as the Monterey Jazz Festival. Sure, each member of the group would probably be the leader if they were in any other band, but the appeal of Cow Bop goes way beyond superior playing.
For the record, the nifty-zesty rhythm section is comprised of Jake Reed on drums and Alex King on bass. Sharing lead lines is Phil Salazar on fiddle, and he can do jazz or country at the drop of a hat. Plus, he sometimes plays through a wah-wah pedal, making some otherworldly noises that fit into the mix just fine 'n' dandy. Stepping out front on the tunes is vocalist PintoPammy, who connects with the audience on every note. The gal sings and swings.
But the main thing Cow Bop has in their favor is simply this: they are an absolute gas to watch. People whoop and holler and cheer and applaud and dance. And those of us who have attempted to play or record great guitar sounds are often transfixed by the fluidity and grace of Forman's work.
Genres Galore
Other bands in other genres are regularly showcased at Viva. The Cheatin' Kind are country, The Drills are punk, 5th & Birmingham are country-rock, Brantley Kearns is bluegrass, The Hangmen play rock, Glen Roberts Big Band plays swing, Simon Stokes is sometimes quite Out There, and so on. There will be singers you know and singers you want to know, like Christine Nelson, Tonya Watts, Julie Newmark of The Highlifes, Jessica Wolfe of 5th and Birmingham, and too many others to list here.
Troy
Which brings me to Viva's regular Wednesday night thing. Well, "regular" isn't exactly the proper word. Come to think of it, "proper" isn't exactly the right word. Let me back up to provide some historical perspective. . .
The time is 1958 and a flamboyant Troy Walker begins performing in Hollywood nightclubs, attracting the friendship of Cherilyn Sarkisian, who also haunted the Sunset Strip scene but to somewhat better success, first singing backup for Phil Spector sessions, then as a solo artist called Bonnie Jo Mason, next in a duo called Caesar and Cleo, and finally as the longer-haired member of Sonny and Cher. Walker soon made his own way as well, recorded some albums, got signed to a record label, and developed a live act that won rave reviews whenever it didn't get him arrested.
Like a gay Don Rickles with a singing voice that blends a meadowlark with a freight train, Walker alternates between toying with the audience and bowling them over with an outsized personality and WTF attitude that is amazing to behold. Now a word about that voice of his. It can be pleasant and on-pitch one second, and then become kind of an amplified human saxophone the next. Or it can seek out the harmonic properties of the room so he can hold a note that rattles the margarita glasses on the tables and rearranges the tacos on your plate.
There is no preparation for a Troy Walker appearance. He has about eleventy thousand songs in his head and you'll eventually hear all of them if you attend enough of his shows. The night I was there, he performed for about an hour and did portions of approximately fifty-eight songs. He'll start a Freddy Fender tune, slip into "Get A Job" by The Silhouettes, dig into the elegant creations of Cole Porter, and in the blink of an eye be into the Roy Orbison songbook for a mini-medley. I swear that one night he'll manage to go from "Surrey with the Fringe on Top" to "Enter Sandman."
Somehow, the band is able to follow this musical version of hitting random buttons on your car stereo. In fact, the band becomes part of the musical excursion, subtly implying chord changes that lead to a smooth transition to another song. Other times, Walker takes full control and nobody knows where we're all headed but we know it when we get there and somebody in the room lets out a yell because they were first to figure out the tune.
Good News
The approach of Cody Bryant and Viva Cantina is both fun and entertaining. And in embracing everything musical, I believe it is life-affirming. So the only question is, how can we export a bit of this to all the trouble spots of the world?
Article is Copr. © 2011 by John Scott G. Photo by Phil Hatten.