Events: NARIP's Bands, Brands and Beyond
EVENT REVIEW: There used to be a big difference between a concert that sold out and a band that sold out. But for many artists, that difference no longer exists. Many examples of this new economic reality were examined at a fact-packed expo entitled "Bands, Brands & Beyond" produced by the National Association of Record Industry Professionals, or NARIP. (Note: in the spirit of full disclosure I should point out that I am on the board of NARIP.)
There was such a high level of interest in bands/brands topic that speakers and attendees flew in from across the country, and one, Laura Cohn, postponed her honeymoon in order to be at the event.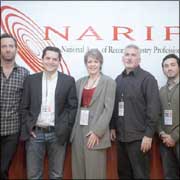 Money Matters
Why the intensity of response? Consider just a few of the recent examples of bands getting involved with brands: Madonna teamed with Sunsilk to launch her first single off the "Hard Candy" album, using it as the soundtrack for the hair product commercial as well as appearing in the spot. The material girl reportedly pocketed $10,000,000 for this arrangement, and the global publicity for her music was worth far more than that.
Procter & Gamble partnered with the urban music division of the Island Def Jam Music Group to form TAG Records and release new hip-hop acts. If the name of the company sounds a bit familiar it's because the brand behind it is TAG Body Spray.
Chris Brown's top-selling single, "Forever," was created around the marketing phrases of Wrigley's Doublemint brand. Brown and his music later appeared in the company's gum commercials.
Nine artists on the Sony label are teamed with Bloomingdale's for performances, merchandise, and more. The artists are Boys Like Girls, Lenka, Joshua Bell, Teddy Geiger, Nicole Atkins, Michelle Williams, Wyclef Jean, Raphael Saadiq and Cindy Lauper,
AARP is sponsoring Tony Bennett's tour as part of an extensive audio branding initiative led by industry pioneers DMI.
The list goes on: Jeep sponsors the Tim McGraw and Faith Hill tour; Bacardi sponsors a Groove Armada tour and helps them release their next album; Honda supports Panic At the Disco on tour; Vanity shops offer a CD with a dozen artists as a gift-with-purchase; Kim Crawford Wines sells downloads of emerging artists; and many more.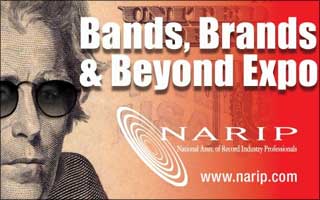 Coca-Cola not only sponsors music festivals globally, they have a music Web site that is spreading 70 million downloads in Europe alone. This doesn't even mention their use of music in promotions and ads.
Speaking of ads, don't overlook such commercial uses of music, including Goldfrapp for Target, Feist for iPod Nano, Jay-Z for Budweiser, Yael Naim for Mac Airbook, and on and on. The David Bowie/Iggy Pop composition, "Lust for Life," from Pop's 1977 album, has appeared (minus the striptease, liquor, drug, "torture film" and "flesh machine" references) on ads for cruises, cars, beverages, and more.
Coming Together
So what's behind the band/brand confluence? Consider the marketing muscle of corporations vs. record labels. A top-level music marketing campaign seems paltry in comparison to the tens of millions or even hundreds of millions put into marketing automobiles, clothing, cosmetics, pharmaceuticals, food, dining, and beverages. Yet all of those marketing efforts probably involve music in some way.
Within the past few years, a special type of executive has emerged, one equally versed in business and beats, music and marketing, songs and sales, creativity and cost/benefit analysis.
Many industry leaders were at NARIP's expo, among them Maureen Crowe (music supervisor on numerous films, including "The Bodyguard," "Poseidon" and "Chicago"); and Rob Souriall (VP of Strategic Marketing & Promotions for Hollywood Records). Also on hand were PanPacific's Peter Jansson; music consultant Thomas White; Erin Love and Rayne Gasper of Davis Shapiro (the law firm that put together the deal between rapper 50 Cent and Vitamin Water); Tom Fritze (manager of Jes, one of 8 artists selected for Coke's recent global marketing campaign in conjunction with the 2008 Beijing Olympics); and Heidi Richman (of H.R.M.P. a strategic marketing and promotion firm bridging the worlds of fashion, lifestyle and music).
And that was just the audience. On stage were additional noted figures in what is emerging as a new industry.
Who's Who
Tena Clark is the chief creative officer for DMI Music & Media Solutions which has more than a decade of success in creating, discovering, producing, programming and placing music. An accomplished songwriter and producer herself, Clark's songs and compositions have appeared on soundtracks, commercials and artist albums. In addition, she produced albums for Natalie Cole, Aretha Franklin, Dionne Warwick, and others. Clark was interviewed by NARIP president Tess Taylor to begin the day-long program.
Phil Sandhaus has been at the top of his game for a quarter of a century, working on marketing for such artists as The Beatles, David Bowie, Billy Joel, Miles Davis, The Rolling Stones, Garth Brooks, and many others. With past stints at EMI-Capitol and Columbia, he is currently a managing partner at Membrain, where he worked on the recent partnership between Victoria's Secret and the Spice Girls. Sandhaus was interviewed by Taylor to cap the morning session of the expo.
Umut Özaydinli has the daunting title of Global Music Marketing Manager, Worldwide Sports & Entertainment Marketing for Coca-Cola. The number of festivals, events, promotions, and consumer interactions sponsored by Coke is huge and Özaydinli oversees all uses of music in these ventures.
Martin Pazzani has worked with more than 700 companies on the Fortune 1000. He has been involved with creation of the music and audio logos for Adidas, American Express, Anheuser Busch, AOL, Audi, Cadillac, Chrysler, Cisco, Coca-Cola, Infiniti, Lexus, Microsoft, Nike, Pepsi, Visa, Yahoo, and more.
Mike Tunnicliffe was named by M&M Europe as "one of the top 100 most influential people in global advertising and marketing." With his own firm, Tuna Music, and with the branded entertainment and alternative marketing company, The Sheppard, he interacts with agencies, corporations, brands, entertainment businesses, and musical artists with the goal of creating new revenue streams and increasing mutual business opportunities between the music and brand industries.
Ed Razanno is a Vice President of Business Development at Ricall, an automated online music licensing firm that is paving the way in defining a new paradigm in the industry. In the past, he has worked at CBS Television, Universal Music Publishing and ad agency DMB&B.
Jeff Rabhan, CEO of Three Ring Projects, guides career moves of such artists as Jermaine Dupri and Lil' Kim, and is one of the architects of the TAG Records deal with Proctor & Gamble. He has held positions at The Firm, Atlantic Records and Elektra Records and has been integral in the career decisions of Kelly Clarkson, Jennifer Lopez, Korn and Enrique Iglesias.
Jared Rosenberg is at Wright Crear Management where he is the co-manager of international recording artist Janet Jackson.
Notable and Quotable
Mike Tunnicliffe: "The benefits of these deals must work three ways. It's not just band and brand, it's band, brand and fan."
Heidi Richman: "Goals of the brand and artist must match."
Tena Clark: "At the heart of every brand is a unique sound. You've got to work very hard to discover what it is or should be. It's what we call the soundDNA, something that can build emotional connections with the brand. soundDNA is the answer to the question 'What is the sound of your brand?'"
Martin Pazzani: "A growing number of marketers are beginning to see the benefits of using audio, the sense of hearing, at a much higher level than ever before. They use music and sound as an integrated, planned, strategic communication tool rather than a lowly production afterthought. These marketers are creating the new discipline of audio brand identity and realizing a new area of competitive advantage."
"Engagement" is one of the most important aspects in brand/band interaction. "One of the key metrics for brand performance is the level of affinity an audience feels to that brand," state Philip Daniels and Phil Ashcroft, architects of the Groove Armada/Bacardi deal. A case study they provided attendees carefully outlines the risks and rewards of such interactions.
In putting together band/brand deals, "you must prove ROI (return on investment) through sales, audience response surveys, online hits, event participation or upsell on their services," notes Tena Clark.
Martin Pazzani: "Interestingly, corporations will spend millions of dollars creating and maintaining their visual equity, yet give little effort to their audio identity. While more than 90% of brands today have a detailed and descriptive visual style guide, with legally protected logos and taglines, fewer than 10% of brands have anything even close to what we call an audio identity guide."
Umut Özaydinli has excellent advice for artists: "Everyone must become his own brand manager."
Martin Pazzani: "Fifteen years ago, photography had a higher value than today. Now, it's digitized, it's everywhere, it's nearly instantaneous to find, and it's devalued. The same thing could happen to music."
Umut Özaydinli: "Get a young attorney; by that I don't mean chronologically, but your music business attorney must be aware of the new digital age."
Passionate About Music
It was very clear from all participants that they care deeply about music. Comments from Clark, Rabhan, Rosenberg, Özaydinli — indeed, all the participants — indicated that they are steeped in music both on and off the job.
Perhaps Tess Taylor's remarks said it best: "Music is one of the finest inventions of mankind. It's an art form with high and enduring value, which is why our industry has the enormous cache that corporations and brands would kill for. At its best, music can uplift, transform, delight and amaze us." As the music business undergoes incredible change, artists must "find a place where they are comfortable turning their value into income. Today, artists increasingly look to brands for support, as do record companies. And brands recognize the emotional power of music and what it can do for their bottom line. Great art must be supported," Taylor noted, "it's the only practical way in a society where money is required to live. Without patronage we would not have Bach, Beethoven or Mozart."
More information: www.narip.com
Photo: (L-R) Three Ring Projects CEO Jeff Rabhan, Coca-Cola's Global Music Marketing Manager Umut Özaydinli, NARIP President Tess Taylor, Bluestone Partners CEO in Residence Martin Pazzani and Wright Crear Management's Jared Rosenberg.
Justin Winokur Photography, courtesy of NARIP
[tags]NARIP, Tess Taylor, music, advertising, branding, marketing, Tena Clark, Phil Sandhaus, Martin Pazzani, Umut Ozaydinli, Mike Tunnicliffe, Ed Razanno, Jeff Rabhan, Jared Rosenberg, Coca-Cola[/tags]