Digital Data Exchange: Taking a Byte Out of Information Miscommunication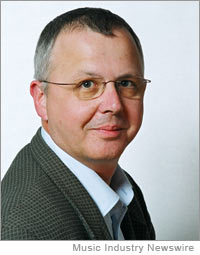 COLUMN: There are friendly battles between many organizations in the music industry. Competition brings that out. There are also some interesting love/hate relationships. You know, like when companies want to fight Apple, but only when they're not trying to get into bed with them.
So it is interesting when an organization can bring together such firms as Apple, Nokia, RealNetworks and the Harry Fox Agency. Plus ASCAP, BMI and SESAC. And Sony, Universal Music Group, Warner Music and Napster. Oh, and Music Reports, RoyaltyShare and Sound Exchange.
Songwriters and music publishers immediately spotted the US performance rights organizations in that list, but what about international ones? Yes, many foreign PROs, including SOCAN, SACEM, SGAE, Buma-Stemra, NCB, SUISA and SABAM, are also members. In addition, Google, EMI Music and Omniphone have also joined. You can read the full list at the DDEX web site.
Dee Dee Eee Ex?
Wait, who? Just what is DDEX? The organization is called Digital Data Exchange and they are in the business of standardizing the management and communication of metadata.
(Pause so that musicians can grab the mouse and click over to sites featuring gear or nudity.)
There. Now it's just those of us who are concerned about the business of music.
Money Matters
This area of standardization is not a juicy topic unless you consider how music (or any other digitized creation) needs to be monetized on the 'Net. If there could be agreed-upon standardized methods of communicating data about music tracks, photographs, motion images, books, etc., the metadata that describes them (and the identifiers themselves that uniquely identify them), would be a big step towards more accurate accounting of use. Right: accounting. As in, here's how much money your song made.
Paul Resnikoff on digitalmusicnews(dot)com not long ago ran a story on DDEX and their global efforts, stating that "metadata standards are clearly lubricants for a healthy digital marketplace," adding that "digital music companies are increasingly demanding compliance from content suppliers."
What does that mean for you? Well, if you have a business that relies on providing digital content services, you will be sending and receiving (and manipulating) large amounts of data. Sometimes this data can be included within the music file itself. However, more frequently, business partners need to exchange large amounts of data about what the music files contain, the deals associated with them and the resulting usage or sales of the files — and that information must be within computer messages, quite often using the XML (Extensible Markup Language) standard.
Data Can Equal Dollars
If your income is tied to the speed, accuracy and availability of that information (and it probably will be soon if it isn't already), then you'd pay attention to the details of metadata. Trouble is, the data exists in many forms and is arranged in many ways across the multiple formats, firms, operating systems, software, hardware, and so forth that we all use every day. DDEX has made it their goal to get us all organized.
"All industries managing low-value high-volume transactions have had to move to standardization across their whole supply chain," says Mark Isherwood, Chief Operating Officer of DDEX. "DDEX is focused on providing the same level of standardization and the automation it enables across the global digital music supply chain," he adds.
Getting everyone to agree is key to making things work for all of us. "The full benefit of improved efficiency and reduced costs that standardization brings is delivered when the standards are ubiquitous across the supply chain," Isherwood notes. "Now that DDEX has a firm foundation of implementations, primarily in Europe and North America, and a growing membership, we are using 2011 as the year to really expand to become a truly global organization."
Growing Fast
Launched in 2006 and concentrating primarily on music, the organization has been gaining in supporters and partners across the globe. As the DDEX web site states, "This is the first time all these leading players in digital music have agreed to jointly work together to solve these serious multi-industry problems around digital music distribution."
Imagine having accurate digital sales reports for your work because licensing and royalty reporting are smoother through standardized communication and structure of the metadata. As a songwriter and music publisher, I can hardly wait for successful implementation of DDEX standards.
Read All About It
There is an incredible openness to the enterprise. On their site or in readily available documents are descriptions of their message standards, both those that have been extensively deployed as well as those which are pending. Among their offers are protocols for Electronic Release Notification, Digital Sales Reporting, Musical Work Licensing, Data Mismatch alerts, Digital Signatures, and more. DDEX also makes available documentation to assist third-party evaluation or implementation.
If you are in any aspect of the industry where music meets money, you will want to know more about Digital Data Exchange.
DDEX online: http://ddex.net/ .
---
Article is Copr. © 2011 by John Scott G., all rights reserved.