Diet Foodies: Jenny Craig 2016 Menu Plan Expands with New Food Choices for Fall and Winter
For many of us, we seem to be on a perpetual diet plan of some kind. Especially for those of us who have found our 40s and impending middle age a bit tougher to balance time, work, meals, and general lifestyle mis-adventures than it once was. For me, I joined the Jenny Craig meal plan this spring, and am happy to say I've lost about 34 pounds so far, which is about one-third of my overall goal.
That's all well and good, but with any meal program, regardless of cost or convenience, I find I tend to get a bit tired of some of the same round-up of food choices, and need to "go off program" from time to time to have a steak, or some eggs with yolks, or even the occasional drive through at El Pollo Loco to stay "food sane."
Thankfully, to counter this eventual issue of food choice burn-out, the folks at Jenny Craig have rolled out a selection of new (and/or improved) menu items this Fall. Many are frozen, some boxed, some the dread "shelf-stable" products which I personally despise — sure, I liked canned spaghetti as a kid, but now? Hella no!
Let me pause a moment to mention I don't work for the Jenny Craig company (which has not been run by the founder and former owner for many years), I've not been paid to share my thoughts, and I'm not getting a free lunch or program out of this. I'm paying full rate, and nobody can pay me to say nice things about them in print or online. Just getting that out of the way, for those of you reading this who might suspect an ulterior motive, or suspect any other internet-publishing shenanigans. (I am the editor and publisher of this online magazine, incidentally.)
So, what's new?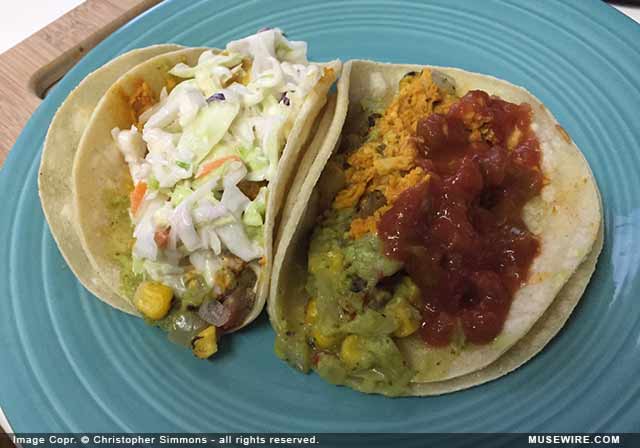 Chicken Street Tacos
This is a nice addition as it is basically four taco sized soft tortillas, with some chicken and bits of corn, onion and a spicy paste, which can be a tad bland alone, but easily spiced up with some salsa and cole slaw, or shredded lettuce or similar accouterments. These are very similar to the EVOL brand "street tacos," but a little slimmer version and without the guacamole. I find that separating the tortillas, adding salsa and making four tacos out of the serving is very filling for lunch or dinner item.
I give these an "A-minus," only because the amount of filling seems to vary a little, and certainly you don't see big strips of pulled chicken like some of the heavily staged corporate photos.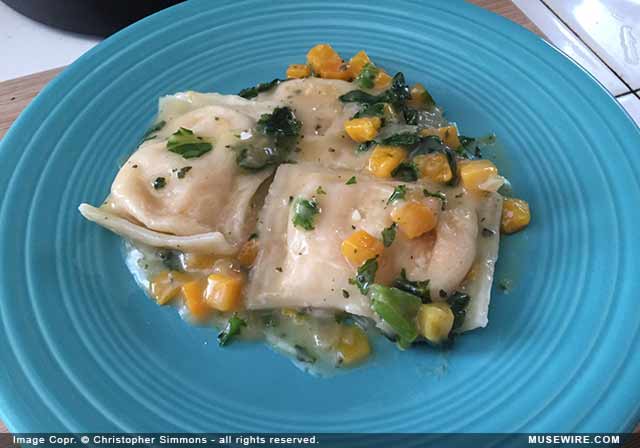 Butternut Squash Ravioli:
I quite like these. They have a very moderate, light taste, and actually make a good breakfast or afternoon snack. Sure, it helps if you like squash. The sauce is just about right, I think, although some expecting restaurant-style cream sauce might be disappointed. A little bit of light mozzarella makes it even better, but I've grown to like these just as they are, as they do have a unique flavor and something I would not have normally made for myself.
I give these an "A" grade because I always feel like I'm eating real food with these and less "diet food." These do require a minor adjustment to the cooking: I only cook halfway, then stir, contrary to the on-the-box instructions, to make sure I don't end up with an over-cooked corner of ravioli.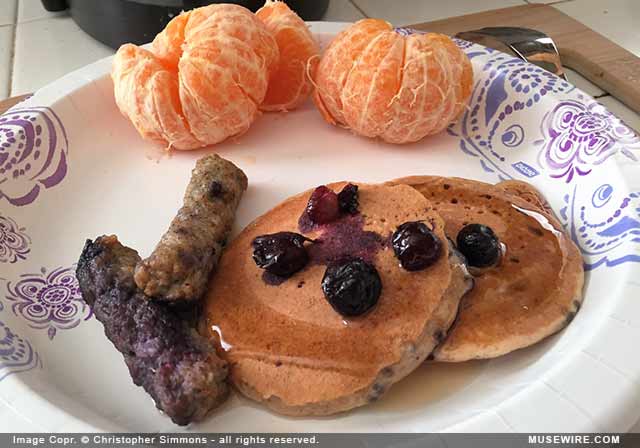 Blueberry Pancakes and Chicken Sausage:
This is one of many JC foods recently "re-invented," and very much for the better. The old version had several small "mini-pancakes" which had something like blueberry-flavored bits, along with veggie sausage. Very much a "C" grade item, I thought. The new version actually has two medium size pancakes, with actual blueberries on top, as well as two new chicken sausage links which are really good.
This is a home run for me, as I didn't like the old version at all. Very much an "A" rating for this one, too, happy to say.
Worth noting that this is one of many items which may require adjusting how you cook it, meaning, cooking for one minute then making sure the pancakes are separated to not overcook (or "hockey puck") part of one of them.
Garden Vegetable Frittata:
This is kind of a weird one. When you look at what it is, you might think, croutons on an egg breakfast thing? But that is the spirit of the dish, which has been popularized by taking leftovers and making a snazzy unique meal for any time of the day or night. And so with this, it's a little salty, a little crunchy, and actually quite good, borderline quiche but not. I give this an "A minus" only because of my own personal tastes, but it's something I could have once a week and not complain in the least. It definitely needs a side of fruit or cottage cheese, or some yogurt, for my calorie needs. Still, a win on the new foods menu, to be sure.
Chicken Cranberry Kit:
This is another re-invention, and frankly should just be called an all-new item. This is basically a chicken-salad kit in a can, with crackers. But I'm a huge chicken-salad fan, and I despised the old chicken-salad kit (I hate the version from Bumblebee, too!). But this new kit is really really good, and I'd buy this in the store if I went off plan. This is an "A plus" for me, thumbs up, home run, yadda yadda.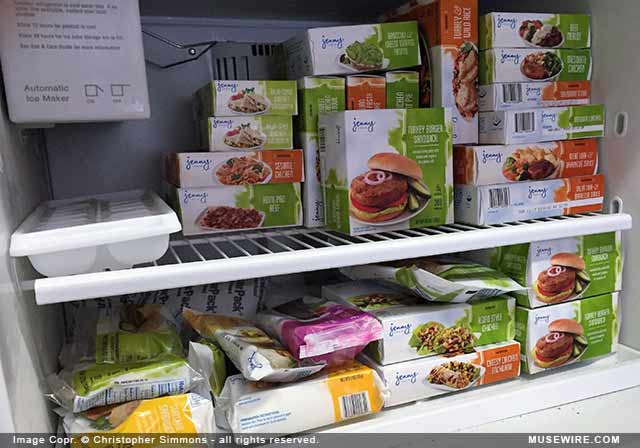 So What Else is New?
I will admit, I really dislike anything which is "shelf stable," and which is the modern version of canned food, except not in a can. And basically many of these foods taste both bland and downright "weird" to me, and I avoid them like the zombie apocalypse they seem intended for. So, while JC did roll out some new items of this sort, you literally can't make me try them. I give them a "D" rating just for existing, personally.
Not Spicy Enough?
You might notice I mention that some foods are a little bland? Well, the problem with any meal plan food like this is that it has to appeal to diverse audience, in this case paying customers in a somewhat captive diet program. Unlike a "spicy taco" offered in the store, which would shut out those who dislike spicy foods, the JC cooks seem to err on the side of the everyman/everywoman. So, for those who like a little more "oomph" it's all about so-called "volumizing."
Like the street tacos, or butternut squash ravioli, other JC products like the hummus with crackers might be too bland for some, but just right for others. Luckily now there are more choices, and some have been very much improved.
Losing Weight is Good!
So that's a quick overview of what's new this Fall on the Jenny Craig meal plan. If you need to lose weight, checking with your doctor is a good idea, checking your A1C to make sure you are not becoming pre-diabetic as happened to me two years ago (now "under control"), and to live longer and healthier. Regardless of the various commercial diets on the market, or a doctor recommended plan, it never hurts to lose some of the excess weight of middle age.
I'm going to be 40 lbs. lighter this Christmas than last year, and that is certainly the best gift anybody could give me, including self-gifting. It's been hard work, but the JC program (along with drinking a lot of water, and exercising every day) has really helped me get my shite together. Two years ago my A1C shot through the roof, and I managed to get it under control with quite a bit of effort and I managed to get it leveled out at 6.0. After losing over 30 lbs., my A1C is now 5.8, which is remarkable and proof that losing weight does actually help pre-diabetes.
Having a caring consultant at Jenny Craig who has herself lost weight on the program, and is "living it" with me, is a huge plus of the JC program. I am extremely thankful to Meggin and the other folk (Jeanell, Renee, and Dina) at the local Rolling Hills Jenny Craig locale for assisting me on my "get healthy stupid!" journey.
TO LEARN MORE:
You can learn more about Jenny Craig foods and nutritional information here:
http://www.jennycraig.com/site/cuisine/cuisine.jsp
For information on the 2015-2020 Dietary Guidelines from Health.gov, visit:
https://health.gov/dietaryguidelines/2015/guidelines/
If you have recently become diabetic (or are pre-diabetic), and are dieting to control your blood sugar levels, you should definitely join the American Diabetes Association:
http://www.diabetes.org/
* * *
This original article was written by and is Copr. © Christopher Simmons and first appeared on MuseWire.com, a publication of Neotrope®, Torrance, CA USA — all rights reserved. No fee or other consideration was given to the author, this site, or its publisher for creation or publication of this article. #ChrisOnJennyCraig