Ga-Ga for Movies: Hey Mr. Terrorist, I liked 'The Interview'
On Christmas eve, like many folk not out caroling or imbibing drinks of alcohol and nogs, I chose to watch that temporarily infamous film, "The Interview," which brought Sony Pictures to its knees thanks to hackers allegedly tied to North Korea (and denied by same), and has been cheeky fodder for pundits and twitterers for the past couple of weeks.
Want the short answer? I enjoyed it, laughed out loud quite a few times, while understanding that a farcical film such as this need not be mired in 100% authenticity to the real world. It's an amusing, and surprisingly funny in places, romp that is a throwback to some great movies from the 20th century where two hapless pals end up on a secret mission with quips and groans galore. If you dislike the two main leads, this won't change your opinion, but the true surprise is actor Randall Park who steals the show as a charming, yet slightly whacko Kim Jong-un.
Co-directors (and co-writers) Evan Goldberg and Seth Rogen steer the ship nicely this time, keeping everything a level above complete juvenile shenanigans. At its heart is a serious subject matter about a people under a despot's rule, and a satirical tale of how to displace said despot.
It's not surprising the real world Kim Jong-un would find this film unpleasant and offensive, much as the rest of the world considers him to be so.
It's a lot better than one of their prior comedies, "This is the End" (2013), which I actually enjoyed, but that was clearly self-indulgent with the stars playing versions of themselves, while "The Interview" is more of a fully fleshed story. Thankfully, it's also a heck of a lot funnier than Seth McFarlane's "A Million Ways to Die in the West" (2014). I was supremely disappointed by Seth Rogen's version of "The Green Hornet" (probably because I grew up on reruns of the TV show) but that's another wintery tale.
Where to Watch
I chose to stream the movie now rather than wait for a disc release or for the film to hit cable not for the sake of "don't let the terrorists win" or other such incendiary thinking, nor because I'm a rabid fan of either actor, but because I love movies.
I was pretty excited to be able to stream the new release movie on-demand, as I've been waiting for years for movie studios to offer this "at release" option, which is way past due in my opinion. It's not great for theater owners, but big screen TVs killed the drive-ins, too. Do I miss drive-ins? Sure, but I wouldn't go more than maybe once a year. I don't go to the theaters much anymore anyway.
Watching it "now" also became kind of a national/cultural "event of the moment" in some ways, while also wondering what would happen next in the war on Sony.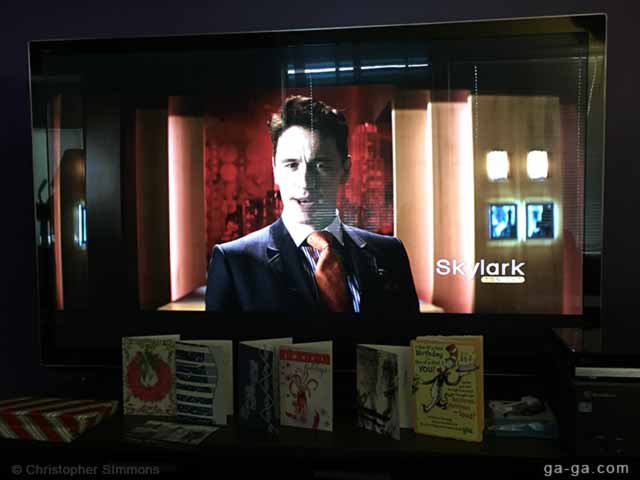 After being annoyed that YouTube only allowed SD streaming via my notebook connected to my Panasonic 55-inch Plasma, I chose to rent the flick via dedicated website setup by Sony – www.seetheinteview.com . As an anecdote, it looked like the site was using QuickTime in my particular case. Which made me still wonder why Apple wasn't able to jump on getting the film on iTunes, which would have been my first choice. (Update: as I was finally finishing this review today, Apple announced it was now carrying the film as of Dec. 28.)
There be spoilers ahead!
The Mission
The plot, in a nutshell, which you are likely to already know, is that a goofy self-absorbed pop culture TV show host (Franco) and his slightly more serious producer (Rogen) are tasked to try to assassinate the leader of North Korea, Kim Jong-un, by the CIA. If you don't like spoilers, you can stop right there.
Want the short answer? I enjoyed it, laughed out loud quite a few times, while understanding that a farcical film such as this need not be mired in 100% authenticity to the real world.
The film opens with an amusing little girl singing a goofy song about her imperious leader Kim Jong-un, in front of a giant crowd of North Koreans as a test missile – with capability of reaching the west – launches in the background. (Only slightly mimicking what happened in real life; at least the missile test portion.)
This comedy of errors and misadventure, which could almost have been called "The Road to North Korea" for those who remember the old Bob Hope and Bing Crosby pictures, really begins with a series of clips from the Dave Skylark show. Skylark (Franco) is a modern host that has more in common with tripe like "Access Hollywood" and the like than Merv Griffin or Mike Douglas, where it's all about wondering if that baby bump is real than whether the show guests have anything meaningful to impart. One clip shows Rob Lowe revealing his bald spot by removing his wig. Other show highlights involve rapper Eminem and Joseph Gordon-Levitt.
At a party, Rogen's character producer Aaron Rapoport runs into an old friend who is a producer on "60 Minutes," and makes fun of what Rapoport does, downplaying his show as having any resemblance to journalism. This leads to Rogen's character Aaron feeling a bit let down by his own show, and wanting to do more.
So Aaron and Dave get talking about doing something more meaty and meaningful. Surprisingly it turns out that Kim Jong-un is in the news for launching that missile, and they later learn Jong-un is a huge fanboy of the Skylark program. Jong-un wants to meet with the producer to setup an interview, which Skylark would do live in North Korea.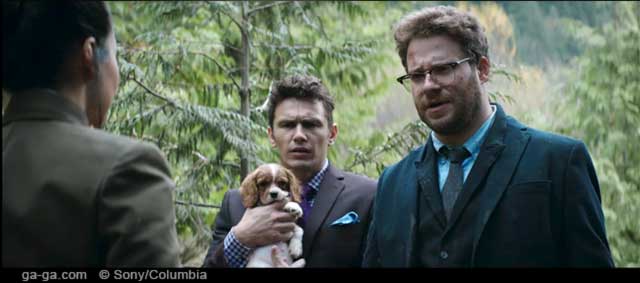 Franco plays Skylark for a foppish good looking guy, lampooning many an entertainment TV host; chosen for looks and personality and very little to offer in terms of depth or insight. He plays the coiffed and manicured buffoon to Rogen's more thoughtful straight man.
Of course, as in prior pairings with the two, there is a recurring bit of implied man love where Franco seems possibly bi-sexual and has a permanent crush for Rogen (think the same kind of thing seen in "This is the End" where Franco has special paintings of Rogen on the wall, or makes asides to hooking up in "Pineapple Express"). Skylark considers Aaron his best buddy, put another way and nothing could ever come between them.
This movie brought back memories of films I'd grown up with, not just the "Road" pictures, but things like "Salt and Pepper" (1968, with Sammy Davis Jr. and Peter Lawford; directed by Richard Donner). For me, it also had some elements of "A Few Good Men" (1992, with Tom Cruise and Jack Nicholson) and unavoidably elements of "Pineapple Express" without all the drug culture elements. One might even mention "Spies Like Us" (1985, with Chevy Chase and Dan Akroyd; directed by John Landis); but I actually laughed out loud many places in "The Interview," unlike the aforementioned 80s flick.
To get the titular interview, Aaron must travel to a remote location in China to meet with a representative from North Korea. Here he meets an attractive woman, Sook (Diana Bang) who is the producer for Jong-un. While the film is surprisingly adult most of the time, there is still a smattering of man-boy humor in small doses like "you said Dong."
Thankfully they play the silly card more than the overly medicated card for most of the film, aside from an initial blowout party once they became more high profile for snagging, then promoting, the scheduled interview with Jong-un.
As they recover from the party, the CIA shows up at their door and Agent Lacey (the always lovely Lizzy Caplan) and Agent Botwin (Reese Alexander) explain their desire for the duo to "take out" Jong-un while meeting with the dictator. Once they are convinced to do so, they are trained on how to use a poison strip to deliver a deadly hand-shake, use their secret spy watches, and of course the two are generally inept at this type of thing with slapstick results.
One of the running jokes is that the duo believe they have been "honey potted" by Agent Lacey into agreeing to go on the mission. When referring to a man they call it "honey dicked." This becomes a minor recurring element, since in effect the Supreme Leader is the ultimate honey pot (er, dick), convincing people he is a god to be worshipped. They are warned of his incredible persuasive powers.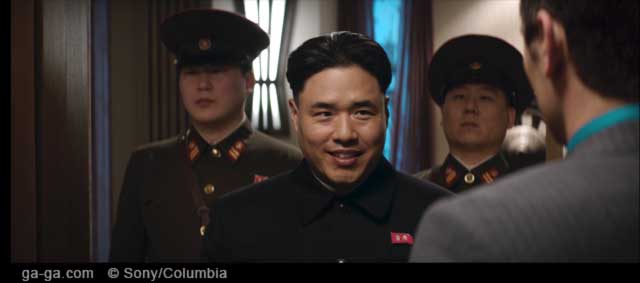 The Road to North Korea
The middle act of the movie is actually where it gets good. While driving from the airport to the Supreme Leader's palace/stronghold, they stop to see a grocery store, a well-fed child, and are told the idea of the populace starving is nothing more than negative propaganda. The North Korean producer / PR person, Sook, continues to tell them the opposite is true of everything negative they have been told.
Once they get past the guards inspection, and the original plan immediately goes awry, they settle in and try to figure out what to do next. Jong-un (Randall Park) appears at their door, and makes googly fan boy eyes at Skylark, giving Dave a gift of a bust depicting the talk show host.
Two things end up happening: first, they need to get replacement poison to try to kill Jong-un, which results in some silliness, and some butt humor.
Second, the next morning Jong-un, played hilariously by Park — practically stealing the show — takes Dave on a tour of the palace, shows him his car collection, and they end up in a tank and Dave discovers Jong-un likes Katy Perry ("Firework" becomes a recurring theme song in the film) and is really a sensitive and charming guy (or is he?). The casting of Park as Jong-un is brilliant, as Park has a long history of work on TV comedies and knows how to mug and express a wide range of emotions on his fluid features.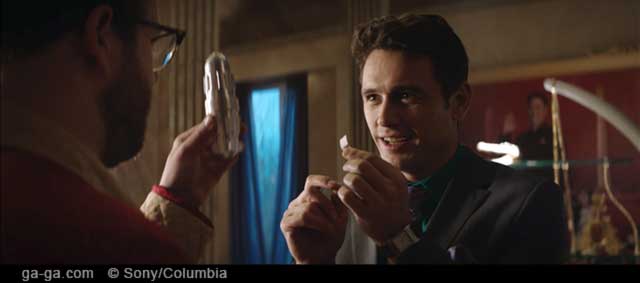 Dave completely falls for Jong-un in a growing bro-mance and no longer want to poison him. The show will go on, and Dave will, in fact interview Jong-un, and use the pre-prepared questions designed to show Jong-un as a benevolent and generous Supreme Leader. Naturally, Aaron has to then take it upon himself to complete the mission, but Dave blocks Aaron from performing the poison handshake and instead Dave goes out to party with Jong-un again.
The Interview
While at dinner, as the Dave and his new best buddy get drunk along with the inner cabinet of Jong-un's commanders, the Supreme Leader begins to grow more ferocious and begins talking of destroying billions of lives to show the world he is no weakling. Dave is taken aback and goes outside for some air, and while walking notices the fancy restaurant is backed up to the grocery store he'd seen upon arrival. When he goes inside he sees that it's all a sham with wax food, and painted backlit theatrical backdrop. He finally realizes he's been fully honey-dicked.
At the same time Aaron is meeting up with Sook, and they begin to act on their attraction, while learning that she believes Jong-un is a mad dictator and that everything she's told them has been a lie. Dave returns to catch them almost in the act, and the three decide to team up to take out Jong-un.
Unfortunately, as the interview is about to take place, Jong-un brings Dave a puppy, just like the one he'd lost as a child, and this seemingly wins Dave back to the Supreme Leader's side. As the actual broadcast interview starts, Dave is reading the pre-prepared questions designed to spread the lie of a happy nation and benevolent leader. In the control room for the broadcast, Sook and Aaron worry their plans have been foiled, or "honey-dicked," once again.
Where this gets even more interesting, however, is that Dave saw through the puppy gift, and once Jong-un feels completely at ease and thinks he's won a victory over the hapless Americans, Dave starts asking tough questions, reciting the dire facts of actual conditions in the country. Not unlike Nicholson's character in "A Few Good Men," Jong-un fights to stay in control and yet because Dave did truly connect with the despot, he knows which buttons to push. Back at home the CIA are flabbergasted, the guards and military watching are taken aback, and the North Koreans who actually have televisions watching the program are not sure what's going on either.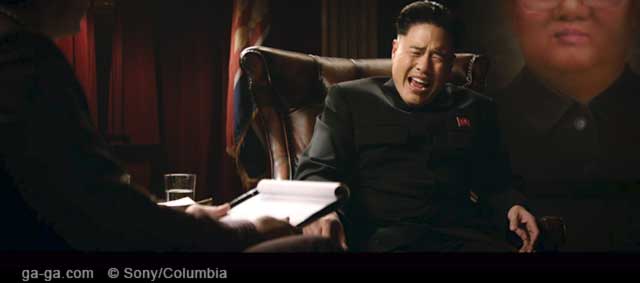 In the control room, Sook and Aaron end up fighting the broadcasting staff, in somewhat graphic ways but they keep the interview on the air, while the military tries to break in and stop the affair.
After Jong-un breaks down, showing his people he's not a god, not all powerful and possibly weak, he shoots Dave and everyone watching the broadcast believe he's dead. Yet, Dave had turned out to be a hero after all, in some ways showing the weaknesses of the Supreme Leader was more damaging to his standing than being assassinated. Even portions of his army now find him to be unworthy of worship.
Turns out Dave was faking, and wearing a bullet proof vest. The trio have to escape as the full military begins to hunt them down; luckily Dave remembers the special vehicle in the basement which they use to escape, and a defector in the army helps them escape some of the machine gun fire. All the while Jong-un learns Dave is alive and orders his nuclear missiles to launch while taking to an armored helicopter to hunt the trio down.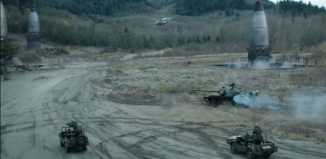 With a battle among the silos, inevitably Jong-un comes to a nasty end, and the three make good their escape. Without the leader in charge, there is no final launch order so the missiles do not launch. They have accomplished their mission, even though in a quite more violent and unplanned way than they had been prepared for.
Sook remains behind to try to help the people of her country, while Aaron and Dave return to the States (and they bring the puppy). They become somewhat more celebrated than before, and Sook keeps a Skype relationship with Aaron, while Dave goes on a book tour for his tell all book, just as he'd warned the CIA he would do all along.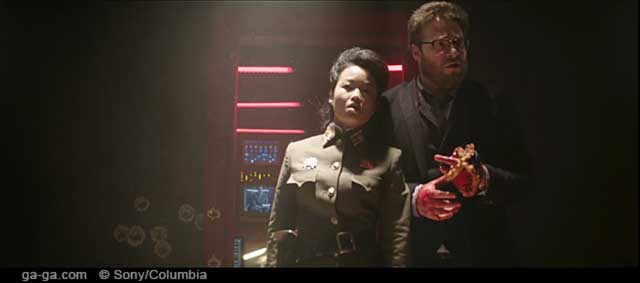 I enjoyed it, had a lot of fun and would be willing to watch it again, which is my normal barometer these days for a movie that doesn't entirely suck.
Production values are surprisingly good, making this look like a much larger movie, thanks to the cinematography by Brandon Trost and production design by Jon Billington (who also worked on the "Fifth Element"), with art direction by James Steuart (who is known for "The Watchmen"). The soundtrack/score is by Henry Jackman (of "X-Men: First Class," "Wreck It Ralph," "Kick Ass" etc.).
If you like screwball comedy, you might enjoy "The Interview" as I did. It's crass, stupid in places, but the overall vibe is silliness with only a small dose of toilet humor. Color me surprised.
VIDEO: "The Interview Final Trailer – Meet Kim Jong-Un" (YouTube; credit Sony Pictures Entertainment)
* * *
This original article/review is Copr. © 2014 by Christopher Simmons – all rights reserved – and originally published on Ga-Ga, now merged with MuseWire.com, a publication of Neotrope®. Photographs are Copr. © Sony Pictures/Columbia.