Deconstructing the Doors
MuseWire COLUMN: When did the Doors' records start going downhill? The answer to this question is shortly after their third record, however, the band's incipient tendency to write bad songs is evident as early as their first, as I will explain.
The problem mainly has to do with the band's inclination to attempt to integrate quasi-blues elements into their compositions, which detracts from their consistency and vitality and ends up inundating them with unessential, irrelevant and distracting elements. I know that towards the end of his career Jim Morrison reported a desire to become more of an old grizzled blues player than an incandescent pop star, however this was a deplorable ideation on his part and a large contributor to the overall decline in the quality of the band's recorded oeuvre.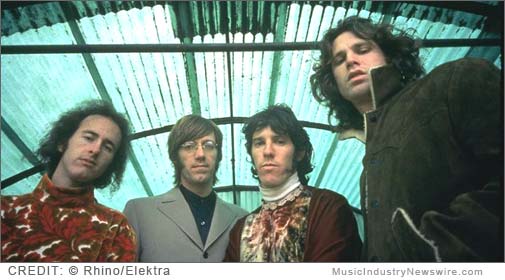 There is nothing per se wrong with blues bands, other than their proclivity to be rather boring. It was completely wrongful, though, for the Doors to conceptualize themselves in this dimension, because that wasn't what they were about, it wasn't for what they stood for, it was inconsistent with who they were as an integral performing unit, it detracted from the sufficiency and vitality of the band's premise, and it interfered with its ability to model a new way of looking at issues from the mundane to the profound and wildly extravagant, such as what is the purpose of life and the meaning of being.
To begin with, though, it's hard to overestimate the impact the Doors had on the little clique I was a member of in high school. They exploded onto the scene like some kind of weird neutron bomb, genetically altering everything within its path. All of a sudden those Simon & Garfunkel records we'd been listening to just weren't the same anymore. The girls we knew debated endlessly about who they'd rather have sex with: Jim Morrison or Mick Jagger. This was mildly puzzling as there were any number of perfectly serviceable guys hanging around with whom they could have sex if in fact they wanted to, but this seemed to fall outside the scope of discourse (and didn't really start happening until all of us transported ourselves off to matriculate at Berkeley).
The Doors were qualitatively different than the other influential bands then comprising the soundtrack of our lives, such as the Jefferson Airplane, Love, the Byrds and the Buffalo Springfield. Yes, there was the theatrical presence of the aforementioned Mr. Morrison, the disconcerting and other-worldly effect of Ray Manzarek's spooky organ, John Densmore's crisp drum riffs (particularly notable are the off-beat toms) and Robby Krieger's experimentalist guitar playing. But there is something more to it than that; a phenomenological texture that sharply differentiated them from their immediate counterparts.
If one were making a list of influential bands of the time, the Doors would have to be in a separate column. Thanks to brilliant production by Paul Rothchild, their records had a sound all of their own, which amalgamated and congealed the different instruments into a supernatural whole. While it was possible to hear each instrument clearly in separation, there was an overall sheen to them that one didn't find with records by any of the other aforementioned bands. Please understand I'm not casting aspersions on the production of records by these other bands, which was wonderful and is highly deserving of acclaim in its own right. All I'm trying to point out is that the Doors records sounded completely different. And, the band's creaky but visionary existentialist ethos of love-sex-death-nihilism-hallucination-delusion, both explicit and implied, put them into a different category altogether.
I saw the band on a half dozen occasions throughout its duration and evolution, performing shows of varying quality. Why they used those gigantic Acoustic amplifiers remains a mystery. While they made for an inspiring pile of speaker cabinets, they were transistorized (not tubes), and they sounded terrible – harsh and brittle. I always hoped Krieger had a small Fender twin by the side of the stage, which is what he really used, and the Acoustics simply were props (this commonly is done today with, say, Marshall stacks). In the band's defense, PA technology in the late '60s – early '70s was primitive, particularly with monitoring. So, much of a band's amplification power had to come from on stage. I also saw the band circa 2002 sans Densmore at the Universal Amphitheater, with Ian Astbury doing a creditable Jim Morrison impression (though Val Kilmer's in Oliver Stone's movie about the band might have been better overall; a legitimate subject for debate).
I listened to all of their records from start to finish during the space of a recent afternoon. Essentially there are six Doors records: their eponymously entitled debut; "Strange Days;" "Waiting for the Sun;" "Soft Parade;" "Morrison Hotel" and "L.A. Woman." Yes they did release "Absolutely Live" while the band still was together, but I would situate that more in the category of concert performances. "American Prayer" isn't bad but it was released years later; as a concept record of spoken poetry with music overdubs it doesn't really count. There were a couple of eminently forgettable albums by the band after Morrison's demise. And, the past several years have seen a plethora of releases of live shows. I was following these for a while but then got tired of listening to them as they are pallid examples of the band's work, particularly when compared to the paradigmatic cases of their studio albums. King Crimson has a similar problem with releases of its live shows. I know there are completists among us who enjoy these types of initiatives, but they really are best forgotten; just because they exist doesn't mean they should be allowed to escape from confinement.
The first three records may be considered as a group. The individual songs, and even the order in which they appear, have become crystallized over time. In retrospect, though, some clearly are better than others. Perhaps a vestige of their early performing days, the first record contained several anomalous quasi-blues songs like "Soul Kitchen," "Alabama Song" and "Backdoor Man." These are markedly inferior to songs such as "The Crystal Ship" and "Take It as It Comes," which more felicitously iterate the band's essential characteristics. [On the topic of "The Crystal Ship," there is an astonishing cover version, readily locatable on the www, by the band The Joyride; if you haven't heard it you must stop everything you're doing and listen to it immediately.]
"Strange Days" is much more consistent. Compositionally, "I Can't See Your Face in My Mind" is reminiscent of "End of the Night;" "My Eyes Have Seen You" could be an extension of "I Looked at You;" and "Horse Latitudes" is entirely dispensable. If there was one song I would omit it would be "Moonlight Drive," which again veers off-point; and then of course there are the lengthy expositions of "When the Music's Over" versus "The End." Its then scandalous Oedipal references notwithstanding, "When the Music's Over" actually is a superior song to "The End" in most respects; the poetry is better and the music's far more engaging.
"Waiting for the Sun" is the pinnacle of this trio. There really isn't a bad song on it. "Hello, I Love You" is one of the great pop songs of all time; the only one I can compare it to is "Jumpin' Jack Flash" by the Rolling Stones. "Love Street" echoes the themes of "People Are Strange;" "Summer's Almost Gone" and "Wintertime Love" are ingenious counterparts; and "Yes, the River Knows" is a beautiful, mystical, bittersweet paean to lost romance. If there was one song I would omit it would be "My Wild Love," which is more in the nature of "Horse Latitudes" and generally out-of-place when juxtaposed against the others.
The controversies really started to occur with the band's fourth album, "The Soft Parade." By and large I would like to come to the album's defense. Mainly listeners were turned off by the addition of orchestral elements. Personally I do not view this as problematic; it actually enhances those songs on which it is deployed. The record sounds different; there is more separation and not as much midrange, it sounds crisper. Maybe this was due to the evolution of recording technology, which then was occurring at a rapid pace. The real problem is that the quality of songwriting has become much more inconsistent. "Touch Me," "Wild Child," "Shaman's Blues" and particularly "Wishful Sinful" are amazing. However "Tell All the People," "Do It," "Easy Ride" and "Runnin' Blue" are horrible; much worse than even the worst songs on the album's three predecessors. I still am of two minds about the song "The Soft Parade." I can remember one evening up at Berkeley hooking up a huge PA system and repeatedly broadcasting the song's introductory declamation ("When I was back there in seminary school …") over Berkeley's entire northside. This was particularly amusing given that there in fact were (and are) several seminary schools there.
"Morrison Hotel" continued to evidence the band's slide. Most of the songs are terrible, such as "Roadhouse Blues," "You Make Me Real" and "The Spy." "Maggie McGill" is nothing more than a drunken rant. "Waiting for the Sun" is all right, however, it sounds more like it should have been on the earlier record of the same name. Three songs have intriguing breaks about mid-way through: "Peace Frog," "Ship of Fools" and "Land Ho!" If one was to edit these breaks and put them together, changing keys and tempi as appropriate, then simply erase the rest of the songs, the result might be halfway interesting. "Blue Sunday" and "Indian Summer" are beautiful love songs, though derivative of "Yes, the River Knows."
Then we get to "L.A. Woman," which is an awful record all around no matter how you look at it. The production is uninspired, the songs are mediocre, and the band is a pallid shadow of its former self. The only half-acceptable one is "Riders on the Storm," and even it isn't that good. The entire album could be safely extirpated from the Doors' canon without loss, and in fact most likely an enhancement to its durability. Why they released this record will remain a mystery.
Article is Copr. © 2012 by David Kronemyer, and originally published on MusicIndustryNewswire-dot-com before the site was revamped as MuseWire.com in March 2015 – all commercial and reprint rights reserved.