Clubbing: Nancy Luca, Average Johnsons, E.G. Daily, Original DP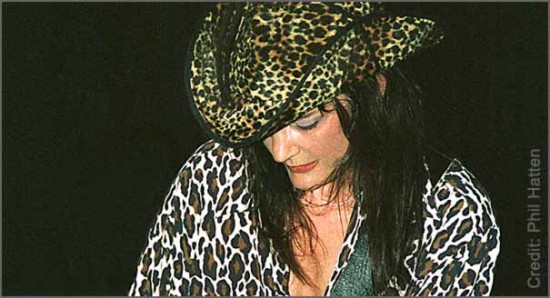 ARTICLE: Check the club schedules, call the shutterbug, throw on some jeans, grab the earplugs, gas up the car, hit the road, battle for a parking slot, and argue your way into the venue. Yup, ya gotta run that gauntlet to enable the music to wash over you and, hopefully, transport you to another part of the universe. Sometimes, it was all worth it.
BOOK SERIAL: Ambient Deviant Speedmetal Polka / Chapter 14
Nancy Luca plays guitar. Nancy Luca plays great guitar. Nancy Luca plays great power pop tunes on her Gibson Les Paul electric guitar. Her finely-crafted songs not only get audiences swinging and swaying, she plays with such passion and excitement that she always puts smiles on people's faces, even when the gig is taking place inside that bastion of the bad mood, the local dive bar. Oh yeah, a word about that: Luca will play almost anywhere. If you've got a paycheck for her and one of her bands, she'll be there, cranking up the level of joy (and the volume).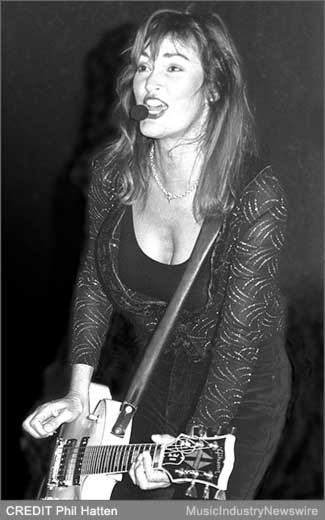 I say "one of her bands" because she has one group on the West Coast and another on the East Coast, not to mention being in tribute bands where she performs the lead guitar lines made famous by male rockers. So in any given month, you could catch the Luca band playing originals at a club, and then the Luca band playing covers at a corporate gig, and then the Whole Lotta Rosies playing AC/DC tunes at a bigger venue, and, well, you get the idea. Going through my notes from years of clubbing reveals a list of one-liners like "Nancy Luca currently touring clubs throughout Florida" and "Nancy Luca rocked 1,200 people at the Century Room" and "Nancy Luca expertly slammed out Jimmy Page riffs in a scorching tribute band performance" and "Nancy Luca played Hendrix" and "Nancy L playing Rusty's Surf Ranch on the Santa Monica Pier" and "Nancy Luca channeled Tommy Iommi on Thursday night" and on and on. Yeah, there are a whole lotta Lucas.
She consistently offered new material at performances of her bands. Covers of hits, covers of "album cuts," and her sparkling originals. Sometimes she was co-lead gunslinger with another tasty player while other occasions saw her as the sole axeman (axewoman?) in a power trio. Either way, the big bold bad guitar tones were always gorgeous.
Here are my scribbled jottings from the morning after one of her shows: "The Nancy Luca Band unveiled some exciting new power pop in an hour-long set at Scruffy O'Shea's. With Luca on lead and Lee Sarnoff on rhythm and second lead guitar, the sounds were superb and the interplay was consistently exciting. The group featured inventive and powerful drumming from Kevin Murillo and super-smooth bass lines from Leigh Lawson. The foursome is super tight and everything is just right."
Nancy Luca creates a lovely alternative reality when she performs, a universe that suddenly seems full of witty observation and crunchy hooks that you can hum all the way home.
THE AVERAGE JOHNSONS:
Michael Campagna brought The Average Johnsons to the Kibbutz Room at Canter's and took it over for an entire evening. If you were there, you experienced something quite fantastic as the band generated the kind of enthusiasm you would expect from a group with hit songs and big-selling albums. Playing a hip-bop blend of funk and jazz, the Johnsons got the room so exultant that some of the quiet passages had the audience holding its breath.
When a band can stop people from clinking glasses and rattling dishes in a bar that's inside a delicatessen, then you know the group is damn good.
The beats were irresistible thanks to Brian Head (drums) and Chet West (bass). Meanwhile, the keyboard work of the irresistibly-named Meaux Love often got the crowd to shout their approval. Out in front, Campagna's guitar work totally justified the frequent bowing of many audience members.
Nothing average about it.
E.G. DAILY:
There are tales and stories and whole lifetimes inside the voice of E.G. Daily. The lady wraps her vocal cords around a few notes and you hear more than the musical tones; you are also hearing hearts aching, wind rushing through meadows, babies laughing, and the pounding of horses' hooves on dusty earth. During some of her gorgeous melodies you may think you see stars colliding far off in space.
Appearing at The Mint, a nice club in darkest Hollywood that is run by minor-league idiots, Daily and her excellent band played songs from her "Tearing Down the Walls," "Wild Child," and "Lace Around the Wound" albums. You may have heard some of the tunes in movie soundtracks but all are deserving of wider play.
With songs so good and a performer of Daily's level of artistry, it was easy to understand the ovations from the standing-room-only crowd.
ORIGINAL DP:
Superb song craft and smooth delivery are what you first notice about The Original DP. They may be too smooth for their own good because these guys make things seem so easy. Domenico Pilato's lead vocals are expressive and strong, for example, yet there is no hint of stress or strain. He sometimes appears to be channeling the notes from a place far outside the earth's gravitational pull. Gino Di Leva (Drums) and Kyle Robarge (bass) are powerful yet completely supportive of the tunes, so much so that they never overtly call attention to their work.
The keyboard textures from Cary Carloff are lovely, while John DePatie and Axel Gimenez trade stellar lead and rhythm guitar lines; each delivers single-note runs that are beautiful restatements of the melodies.
Overall, the effect of The ODP is like the distillation of all that's great about the best '60s groups but reshaped and presented in a modern context.
THIS 'N' THAT:
Okay, so I chanced upon an old tear sheet from one of the rags that ran my Supersonics column during the latter part of the last century (and just how odd is it to write a sentence like that, I ask you.) Here's what was in just one paragraph of the column:
Switchblade Symphony was fascinating at the Key Club, putting operatic vocals atop goth melodies and industrial beats. Ester was superb in their opening slot for The Church at the House of Blues. Idol Worship unleashed a wild spectacle in their set at the Key Club. The Otterpops wowed crowds at the Viper Room. Dixie Dregs were sensational at The Roxy. Crooked Tom and Jacar impressed at 14 Below. Sinboy caused a buzz at Bar Sinister and again at The Gig. Stone was very bluesy-cool at B.B. King's. Stoney Curtis Band slammed out a great set at a pit that is so much worse than a dive that I'm not even going to mention the name of the place.
Ah, the ups and downs of the Los Angeles music scene.
Video of Nancy Luca playing "Rejection" http://youtu.be/k607TL2YL24
• "Ambient Deviant Speedmetal Polka" … to be continued next chapter. You can subscribe to John's articles and column via RSS (click this link), or read more from JSG here. You can also keep up with all our content on Facebook at: https://www.facebook.com/musewire .
Excerpt of book serial is Copr. © 2012 by John Scott G – all commercial and reprint rights reserved. Originally published on MusicIndustryNewswire-dot-com before the site was re-branded in March 2015 as MuseWire.com, a publication of Neotrope®. Photos by and © Phil Hatten (www.PhilHatten.com). Used by permission.