Chely Wright 1 – Country Music 0: Is Country Too Staid to Go Gay?
COLUMN: It's official. Doomsday Fundamentalists will most certainly herald the forthcoming of the End of Days. They've been given a sign. What sign would that be, you may ask? Well, of course, I'm referring to the People Magazine interview in which multi-award winning and chart topping Country Music Artist Chely Wright has officially announced that she is a lesbian.
First 7.0 earthquakes peppering the globe, then volcanoes erupting beneath glaciers while holding cross-oceanic airports hostage, and now – Chely Wright is a big ol' Lady Lover. Surely this must be the sign of The End.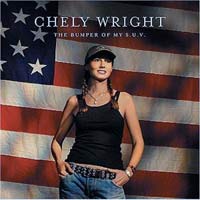 If Country Music is smart, it will be the sign of a Beginning.
The reaction to Chely Wright's coming out has been explosive. Blog after blog across the internet reflects supportive fans, indignant Country Music Purists inflamed at the very notion of, well – YOU know what, k.d. lang fans who are in an uproar over Chely's publicist's claims that Chely, not k.d., is the first country artist to officially come out as gay, and a staggering crop of twenty-somethings who are completely irritated by the fact that some 39-year-old-whoever is now saying she's tipping the velvet. Like, omg, who cares? That's so 1990-something.
Well, if I could ask any of the incredulous Gen Y's out there to stop Twittering for a moment about how u thot yr Big Mac wus sick — it may interest you to know (and you can even Twitter about this later) that Chely Wright's coming out is an incredibly important play in the touchy political landscape of Country Music, an industry that is almost indelibly tied to the God and Country Evangelical Christian Movement, thanks to a few Country artists and a few politicians. If that sharp sociological significance, coupled with GAY, escapes you – I mean, u — then I suggest you return to the World of Warcraft.
Chely Wright has had 13 number one chart positions across Billboard, the CMT's and GAC's. She has had eight songs and videos in the top ten. Chely Wright was as mainstream-cross-over-hot-airwaves-Country as it could get. She was "America's Sweetheart" before Taylor Swift was even walking on her own. In fact, without artists like Chely Wright, Mary Chapin Carpenter, Suzy Bogguss, and Shania Twain, Taylor Swift would not even have a market niche in which to play.
So is Chely Wright's coming out as a lesbian a big deal, in an industry where God and the Red, White, and Blue are the bread and butter?
Um – yeah.
If she were a one-hit wonder, this coming out to People Magazine would be seen as nothing more than a late-career publicity stunt. However, Chely Wright was far from a one-hit wonder. She was one of a handful of female Country Artists who helped shape, and redefine the modern country music market as it is identified today. She is the first country artist to "come out".
Many k.d. lang fans disagree, but it's important to remember that k.d., though incredibly accomplished and courageous for being exactly who she was when no one else was allowing themselves to be seen as gay – entered the industry as an out gay woman, so there was no "coming out" to be had. It's also important to note that to her credit, k.d. lang has the support of being Canadian, a country who is sociologically very accepting of gays and lesbians, where Chely Wright has made an announcement in the good ol' U.S. of A, where we are far less tolerant. So though yes, k.d. lang would be the first artist singing country music that people associated with being gay – Chely Wright would still be the first mainstream Country Artist to come out.
I know of several closeted mainstream gay country artists, and whether they come out or not is their business. I also know what a toll the entire closeting process takes upon an artist. So the fear of losing their careers and their fans is even more crippling to these Country Artists than the unbearable weight of pretending to be someone that they're not, day in and day out. Think about that for a moment.
Chely Wright is amongst a crop of choice cross-over mid-nineties country artists who planted their lips square on the stagnant mouth of a flat-lined pop and country market and gave a big enough puff for country music to not only cough out the dust that had settled on a dark solo horse carrying the country industry by the name of Garth Brooks, but to breathe the color back into the cheeks of pop listeners who were left dashed against the rocks in the wake of the airwaves Smelling Like Teen Spirit.
Chely Wright's contributions to the face of Country music are enormous, and ergo, her announcement regarding her sexuality carries much weight. To understand the weight of this impact, one must fully understand what was occurring in the musical climate of the nineties.
When the early nineties Grunge Boom took the music scene, it was such a phenom that it ate everything on the airwaves from pop to rock. If you didn't like Grunge, too bad. Every label was clamoring to create this sound.
I was signed to a record label in Seattle during the Grunge Boom, as a pop artist, and my job was to help fill the non-Grunge gap. I'm gay, and I was told expressly by my label that I was in no way to publicize that I was a lesbian. I was to stay "in the closet" because I could "pass" as a "straight girl". Well, I came out anyway, because I knew how hard it would be to attempt to hide an entire life, so I figured being openly gay would be much easier. I was right in the long run. The label was much, much less than happy in the short run. This may seem odd in retrospect, considering that Seattle was viewed as the Ultimate Fringe. But beneath it all — all the Grunge, and the Defiance, were big dollars, and no one wants to gamble with those. Remember, this was 20 years ago — the "Don't Ask Don't Tell" generation, not the "Tattoo Me Gender Queer" generation.
In the nineties, the commercial homophobia in music was intense, even outside of the Country industry. Not to mention, the music scene was tipped on its ear by this overpowering Grunge phenom. So musical adjustments had to be made, and Chely Wright was part of those adjustments. There was an enormous hole open in the airwaves, and the Country Music Market was smart enough to adapt – and take advantage of what was wide open: The pop market listenership.
"New Country" was born, taking up the slack for everyone who wanted more than the Grunge movement. The brand of Country that came out to fill this gap was superbly crafted to be easy on the ears and almost pop-esque in its listenability. Gone from the now-branded "New Country" were the hard "r"s, weeping steel guitars, and checkered-bloused bouffant babes, and in their place came smart, sexy and savvy gals crooning in low, dulcet tones about their weaknesses, their incredibly strengths, and with arrangements that hinted of Country pain, but didn't jam the eye-watering Western clear down the listeners' ear canals.
It was absolute producing genius, and it elevated a then-limping Country genre to appeal to not only Country listeners, but a whole new demographic. It changed the Country music market forever, later inspiring Country greats like Johnny Cash to cover Nine Inch Nails. "New Country" married classic country and pop. It was to be what mainstream Country has become. Chely Wright was one of its finest, launching into the 2000's with purpose, zest and zeal, along with Shania and Martina McBride and a host of other Country Sweethearts, winning the souls and adoration of a nation that had been drenched in the mossy melancholy of the Northwest for a little too long.
So here comes Chely Wright, fifteen years later, once a fixture in the New Country Turnover, announcing she's gay. No biggie if you're a citizen of the new millennium. But this means that every traditional Country listener who has been spinning Chely for fifteen years – has been loving a lesbian's music. This is an issue if your music is your way of life, which tends to be the case with many Country listeners. Reference the fan reaction regarding the Dixie Chicks and Natalie's comment about George W. Bush. That's extreme, but so are the loyalties of the fans in the Country Music Industry. Now start doing Chely Wright's math.
Holy emotional and sociological dilemma, Batman.
The Country Music industry would be well served in this new millennium to go ahead and use Chely Wright as a transition piece, once again, just as she was utilized along with the other "New Country" cadets, in conjunction with referencing Country Grammy winners such as k.d. lang, to demonstrate what "liberty" and "freedom" – two of it's driving tenants — are all about.
The squeaky-clean apple-pie stigma placed around female Country Artists forces the artists to lie to their fans, their families – the public in general, if they are to maintain any sort of career, and that insincere modality is in direct violation with the "down-home code" of the country artist. I know a little something about this code. I'm from Montana. That's a dyed-in-the-wool Country Music culture. I've had a chance to play and write for some great Country artists like Chris Ledoux. I certainly wasn't announcing to Chris that I was a lesbian, but then again, I didn't need to because he already knew that, and didn't care, since Montana is a "Live and Let Live Culture", so it was a non-issue. Which is my point entirely here.
If the Country Music Industry was less concerned with offending the religious members of their ranks, which are many as God is an enormous foundational backbone in that genre, and be more concerned with adhering to the Christian tenants of not judging one's neighbor, as "ye without sin cast the first stone", as Jesus asked all Christians to do, then the Country Music industry would send a clear message that indeed – they were 100% behind an All-American attitude of Living and Let Live, of not judging one's neighbor but of supporting the great work that a great neighbor does, that what happens in an individual's personal life is between them and God alone, should they chose that path, that not one of us – not ONE of us – is qualified to sit in moral judgment of another person, ever – then I cannot imagine a more unified, more all-American, more freedom-based, more God and Country stance.
There is strength in the truth, no matter how difficult it may feel coming over the lips.
I am going to go out on a limb today and actually pull for the Country Music Industry, that they will have the strength, and the courage, and the commitment, and the integrity to do the right thing with this opportunity that has been afforded them. I will hold out great hope that the Country Music Industry will seize this important and pivotal moment in musical history, and in time, to take advantage of the press focus surrounding Chely Wright's proclamation, and finally make a statement on the utter foolishness of attempting to hide the essence in each one of us. Hiding who you are is not American. Forcing someone to hide is not Christian. And hiding certainly does not represent Freedom. God, the Stars and Stripes, and Freedom — all three things that the Country Music Credo is based upon.
C'mon, Country Music Industry – put on your big boy boots. It's time to pony up, or leave Cheyenne.
Editorial Note: the above article by Ms. Egnew does not necessarily reflect the opinion of this publication. Further, it has not been edited or corrected in any way in order to maintain her "voice" for this article.