A Peek at Pook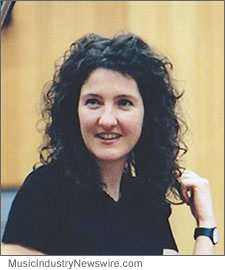 MuseWire Column: Playing in rock bands, creating soundtracks for motion pictures and television, and writing modern classical music would be an impossible combination for most people but composer/performer Jocelyn Pook is succeeding in all of these arenas.
Jocelyn Pook does not hear sound the way most people do. Whereas someone else might hear a droning piece of machinery, she hears the foundation of a song in which mere sonic noise is fashioned into auditory excitement. Where one person might hear a simple chord, she hears the potential for a mellifluous combination of aria and electronica. Where the average person might notice a few birds chirping in the distance, she hears the idea for the creation of an etude or tone poem.
Of course, that's just the way I see it. And so is this: Jocelyn Pook creates music of such majestic beauty that it serves to suggest the grace of the gods.
Talent
Let's back up a moment and consider the talent it would take to compose music for, and perform along with, Peter Gabriel, PJ Harvey, Laurie Anderson, This Mortal Coil, Massive Attack, Ryuichi Sakamoto, Nick Cave, Lyle Lovett, and the Communards. While that is daunting enough, now ponder what would be needed to be able to handle commissions and assignments from Stanley Kubrick, Derek Jarman, the BBC, The King's Singers, and the Royal Opera. Pretty nifty, but every one of those achievements is just part of the resume of Jocelyn Pook.
Her curriculum vitae begins with her studies at the Guildhall School of Music and Drama but immediately afterwards she hit the road with the Communards and very quickly began collaborating with musicians, artists, choreographers, and filmmakers who operate at a high level of critical and popular recognition.
Scores
In addition to recording, touring, and leading her own projects (Electra Strings and the Jocelyn Pook Ensemble), she has created or contributed to the soundtracks and scores for such motion pictures as: The Merchant of Venice, directed by Michael Radford; L'Emploi du Temps, directed by Laurent Cantet; Brick Lane, directed by Sarah Gavron; and Gangs of New York, directed by Martin Scorsese.
Also among her motion picture credits are Caravaggio, the Derek Jarman film; Room in Rome, directed by Julio Medem; The People v. Leo Frank, directed by Ben Loeterman; The Government Inspector, directed by Peter Kosminsky; Storm Over Everest, directed by David Breashers; and Death On The Staircase, directed by Jean-Xavier de Lestrade; as well as Edward II, Mad About Music, and Blight for British television.
Music for the stage is another area of specialization for Pook and her work has been a part of My Body, Your Body, the DV8 Physical Theatre production; Deluge for O Vertigo; the National Theatre's production of St Joan; Phantasmaton for the Shobana Jeyasingh Dance Company; and Darshan Singh Bhuller's Requiem for the Phoenix Dance Company.
The ROH2, which is the contemporary arm of the Royal Opera House, commissioned and produced her opera, Ingerland. BBC Radio 3 commissioned her Portraits in Absentia, which intertwines music, resonances, and voices from her recorded phone messages. Pook has also composed music for such theatre productions as: Peter Brook's Insomniac; Bobby Baker's Box Story and How to Live; and The Royal Shakespeare Company's King John.
Ears Wide Open
There is no doubt that Pook's most widely-known work resulted from her being asked to compose the original music for Stanley Kubrick's final film, Eyes Wide Shut. People tend to fall into one of two positions in discussing that score. "I love it!" say some folks. "I hate it!" say some others.
When questioned, the haters almost always refer to the soundtrack's solo piano piece, "Musica Ricercata, II," which was composed by Gyorgy Ligeti. While I am a huge fan of that piece, as well as everything I've ever heard by Ligeti, I recognize that his oeuvre may be an acquired taste. The point is that Pook's exquisite compositions in the Kubrick film are often unfairly maligned by people who haven't bothered to look into them.
There are also some strange comments about what are called "those backwards vocals" on the track used in "Masked Ball," the erotic coupling sequence of the film. It is unlike almost anything else utilized in motion pictures. My own reaction is one of awe at how organic this piece sounds while at the same time possessing an almost mathematically precise progression of voice-and-instruments.
While nothing on the Eyes Wide Shut soundtrack attained the popular acceptance of that portion of "Also Sprach Zarathustra" used in Kubrick's 2001: A Space Odyssey, I find her compositions to be at an equally high level. For me, her achievements are as compelling as that Strauss work. In both cases, I first heard them while watching the films. And in both cases, I have subsequently played the works in their entirety many times.
Whole New Worlds
Jocelyn Pook creates musical works that combine the new and the traditional. Her approach melds the energy of youth with the experience of maturity. In piece after piece, she combines disparate styles, genres, textures, or source material. Or all four. The result is the conjuring of new aural worlds. They may be unnerving but they are also ethereal. They may be haunting one moment and peaceful the next. She can achieve massive alterations of mood often with nothing more than the modulation of one instrument.
She has already created a body of work that is representative of a magnificent transcendence. These are songs and suites that some might term moody-groovy. Her works sparkle for their inventiveness and dexterous blending of wide-ranging influences. The Pook style is certainly mysterious, and sometimes even quite unusual, but every one of her creations is consistently satisfying to the soul. Put on some Pook and you have the opportunity to be transported to a different plane of existence and to enjoy a celestial piece of legerdemain.
Listening Room
Recently, I took a couple of Pook's albums, Flood and the Eyes Wide Shut soundtrack, to Anisound, the mixing and mastering studio run by Matt Forger (Michael Jackson, Quincy Jones, Patrick O'Hearn). The goal was to subject the recordings to intense audio scrutiny. Forger put them up on a couple of his speaker systems and I am now more impressed than ever. While I enjoyed and respected her work when playing them on my home, auto, and computer systems, after hearing them in a near-perfect listening room, I absolutely love them.
In other words, like all valuable and vibrant music, Pook's work just gets better the more you dive into it.
As I said a few paragraphs ago, Jocelyn Pook does not hear sound the way most people do. After listening to her work, neither will you.
For more information, visit: www.jocelynpook.com .

Article is Copr. © 2012 by John Scott G and originally published on MusicIndustryNewswire-dot-com before the site was revamped as MuseWire.com in March 2015 – all commercial and reprint rights reserved.
VIDEO:
http://youtu.be/N-5UxXKjibk