Zombie, White
MuseWire COLUMN: The sound of threatening and dangerous music almost changed forever with the genre-bending tracks from White Zombie. They blazed briefly, but the economics of their situation caused an implosion and music is the loser.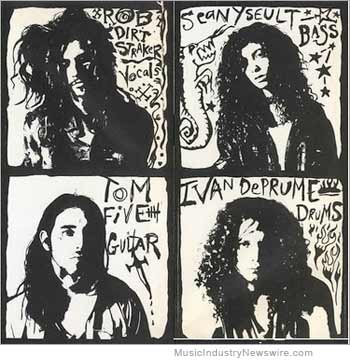 First, let's be clear we're talking about White Zombie, the band, and not "White Zombie," the 1932 motion picture starring Bela Lugosi, for which they were named.
Second, in mentioning some heavy metal bands in this piece, we will avoid the use of umlauts. Look, unless I get to have one over the "o" in my middle name, nobody is getting one in this article. Not even Einsturzende Neubauten, whose name actually uses one.
Third, a confession: other than owning music by some of the bands regularly thought of as being "heavy metal" — Black Sabbath, Motorhead, Alice Cooper, Judas Priest, Metallica, Anthrax, Blue Oyster Cult, Accept, Dream Theater, Iron Maiden, etc. — my knowledge of metal is pretty limited.
Okay, sure, I also have a lot of Nine Inch Nails and some Celtic Frost, Electric Wizard, Ministry, Rage Against the Machine, Tool, System of a Down, Coal Chamber, Sepultura, Fear Factory, Slipknot, Korn, Type O Negative, Yngwie Malmsteen, and the aforementioned Einsturzende Neubauten. But I'm not, like, totally into the style. Or perhaps that should be "styles." There are genres and sub-genres galore: black metal, death metal, nu metal, thrash, grindcore, speed metal, symphonic metal, drone doom metal, funeral doom, and djent, to name a few. You can also find adamant adherents to the cause of Viking Metal and Nintendometal, if you go looking.
Finally, to address the whole metal thing involves decisions. Often, the decisions can lead to arguments. After all, just where do you classify stuff like Front Line Assembly, Public Image, Ltd., or early Deep Purple? Or Marilyn Manson, the Bon Scott edition of AC/DC, Skinny Puppy, Poison, Byrne and Eno's "My Life in the Bush of Ghosts," or Lou Reed's "Metal Machine Music" (or even his "Rock 'n' Roll Animal" album, for that matter). But my view is to toss in the word "metal" when describing almost any dangerous and threating music that combines a titanium attitude with bounteous beautiful aural anger.
But enough of a preamble.
From Pee Wee to Zombie
The time is the mid-1980s and there's this guy who is a production assistant on the "Pee Wee's Playhouse" television show. First known as Rob Cummings, then Rob Straker, or perhaps the other way around, he eventually would settle on Rob Zombie. As you might imagine, I am in no position to kid anyone's name, so let's just go with Mr. Zombie and concentrate on some aspects of the music.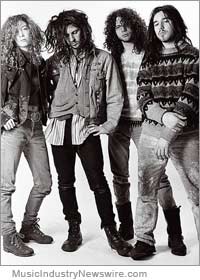 Working with then-girlfriend Sean Yseult, the fledgling band began exploring music in New York, seemingly as an experiment in heavy metal terror. Finding it difficult to get booked into clubs, they played squats — abandoned buildings taken over by street people and assorted ruffians. Some stories even have them living amongst them.
Completely ignored by the music industry, they scooted from tenement to dive to secondhand studio and managed to capture some of their sonic assaults, including "Gods of Voodoo Moon" and "Pig Heaven" in 1985, and "God of Thunder" the following year. Also in '96 was the full-length "Psycho-Head Blowout," an evil-sounding concoction that sowed the seeds of their soon-to-be-unleashed sound. The album that followed, "Soul Crusher," was a 1987 independent release featuring such delightful shock-rock metal ditties as "Shack of Hate" and "Die Zombie Die."
The next two albums were a head trip of the first order. These tracks took listeners on a propulsive ride akin to channel-surfing a giant radio receiver that gets every kind of sound on every type of station. What sets them apart from many other attempts to incorporate sampled sound as a part of the music is the extraordinary success they have in making everything move and groove. The samples are all there for your ears to assimilate, yet they never get in the way of the song's flow. In fact, they often serve as part of the sonic structure, helping to push the tune forward while increasing the headlong rush to eargasm.
"Make Them Die Slowly," their second LP, was under the production aegis of the mightily-respected Bill Laswell, and it crackled with polished tracks of fast-paced gothic-tinged metallic music. Mr. Zombie has dismissed the release as not capturing the full physical attack of White Zombie music, which is true, yet it was a logical step forward in technology's search for ways to put their frantic yet full sound on disc.
Quartet de Noise
Always utilizing RZ on growls and Yseult playing bass, the group had become a quartet with the addition of drummer Ivan de Prume and a succession of guitar players. They went through four axegrinders before settling on the crushing sounds of Jay Yuenger (ex-Rights of the Accused).
With a step up to the big time distribution of Geffen Records, their next release took metal to a new high in technological accomplishment and screaming riffology. "La Sexorcisto: Devil Music Volume I," produced by Andy Wallace, shocked the senses, shook the walls, and rattled the cages of everyone involved in hard rock. Every cut was a killer, with much attention given to "Welcome to Planet Motherf–ker (Psycoholic Slag)," "Thunderkiss 65," and "Black Sunshine," with its toughguy vocal intro by Iggy Pop. Thanks to White Zombie, the sound of metal now had room for everything, from funk-on-a-rampage to shrieking horror movie soundtracks.
Non-stop touring followed this incredibly influential release, with their fan base and sales figures expanding at every stop. Along the way, de Prume left, with Phil Buerstatte taking the drum chair briefly before being replaced by John Tempesta, formerly of Testament. Fortunately, the changes did not slow them down. Audience members left their shows saying things like "White Zombie cooks, slashes, thunders, and burns." Well, I said things like that. Other people seemed too stunned or stoned to talk.
Still, for all its aural excitement, "La Sexorcisto" in no way prepared listeners for the amazing advance in the science of sound that was dropped on an unwary world in the form of their 1995 Geffen release, "Astrocreep 2000: Songs of Love, Destruction and Other Synthetic Delusions of the Electric Head." With a devastating mix, the band took the best parts of Iron Butterfly, Dave Allen and the Arrows, Kiss, Funkadelic, surf music instrumentals, gothic doom-rock, techno-industrial noise, grunge riffs, slasher movie sound effects, and good-old-fashioned heavy boogie sludge and created a fully-realized Zombiesque sound that no one had ever heard before.
Rock Vistas
The band opened up new vistas for rock and roll by playing hard while adding sophisticated programming and keyboards from Charlie Clouser (later a member of Nine Inch Nails and "Saw" soundtrack composer), as well as dozens of painstakingly created "vintage samples." To get an idea of the incredible thickness of the sound, consider what has gone into "More Human Than Human," which has layers of guitars, keyboards, beats, bonks, thuds, moans, cathedral bells, zithers, horror movie stings, and a guitar slide that has been manipulated to continually rise to the heavens. "Electric Head" also takes you into an alternate universe of delightful shock 'n' roll.
Every cut on the album has fantastic audio tweaking, including sirens, household appliances, ominous footsteps, and phony dialogue from imaginary television shows. Rob even claimed to have sung "Real Solution #9" through a set of Mighty Morphin Power Rangers walkie-talkies.
Despite the best efforts of hundreds of bands and dozens of producers, all seeking a way to capture some of their magic, there is still only one White Zombie. Nobody can find the formula, probably because there is no formula. Sean created riffs, J picked up on them and made them crunch, Tempesta added new beats, and Rob continued devising new ways to shape it all into something otherworldly. Although White Zombie developed its songs as a unit, the guiding hand was Mr. Zombie, who also designed/directed the album art, merchandising, stage sets, and music videos.
With multi-platinum sales, "Astrocreep 2000" was successful enough to be released in a second version. "White Zombie Presents: Supersexy Swingin' Sounds" features thumping remixes of the album tracks utilizing superb contributions from such notable producer/mixers as Clouser, The Damage Twins (Lords of Acid), The Dust Brothers (Beck's "Odelay"), John Fryer (Stabbing Westward), P.M. Dawn, and Mike "Hitman" Wilson.
The Bottom Line
Even while the songs rocked and the beat was bigger than ever, the whole enterprise turned sideways and the incredible diversity of sound was put away. Sure, the new recording entity known as "Rob Zombie" has crunch and thrust and power. But IMHO it ain't up to the level of White Zombie.
What were the reasons for the alteration? Was there dissension in the band? Maybe, but I've not heard much about that. Was the concept so fragile that it couldn't continue if the group members changed? Possible, but seems unlikely.
No, I think the reason was purely fiscal. There is more money to be made as a solo act. Mr. Zombie is a good businessman and good rocker, but metal music lost something truly great when he broke up the band.
VIDEO for "Electric Head, Part 2":