UVI releases Synth Anthology 2, classic collection of analog and digital synths in one virtual instrument
UVI announced this week their newest creation, Synth Anthology 2, a classic collection of analog and digital synths in one virtual instrument. This new version and comprehensive update includes over 2,500 presets sampled from 77 hardware synths, new interface and premium UVI effects such as Sparkverb, Thorus and Phasor.
As a long time UVI fan and user (and original owner of the first "Synth Anthology"), my first impression of the new interface, effects and controls remind me a little bit of a "lite" version of their flagship FALCON virtual sampler/workstation instrument, but scaled down to work with this set of sampled classic music instruments.
While not entirely correct, if you own or use (or have seen) Falcon, you'll notice some similarity in the look/feel as compared to the original anthology, perhaps due to trickle down design and code. And, that's only a good thing on all fronts, especially since it can run in the UVI Workstation, or inside the Falcon instrument.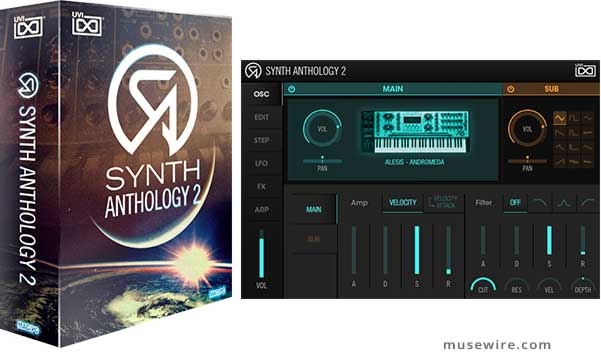 According to their email push to media and current UVI customers, "A total of over 20,000 samples capture the authentic hardware sound of vintage analogs like the Oberheim Xpander and Jupiter 4, digital synths like the FS1R and Synclavier and even future classics like the OB-6, Prophet-6 and Sub 37. Version 2 sees the addition of 25 new synthesizers, over 500 new presets, a new user interface and the inclusion of powerful studio effects such as Sparkverb, Thorus and Phasor."
Synth Anthology 2 delivers a large collection of sounds from a huge variety of synthesizers touching every major manufacturer and synthesis type, covering large and small productions ranging from the early 70s to today. Presets in SA2 have been lovingly designed on the original hardware and treated through an exceptional chain of processors including EQs, compressors and effects from Manley, Langevin, Lexicon, Publison, Focusrite, SPL and more giving each sound a mastered touch.
Presets in SA2 can be further edited through a new user interface giving users deep control over amp, filter, stereo placement, effects, LFO and step modulators, arpeggiator and a discrete sub oscillator allowing users to make changes as subtle as EQ adjustments to completely reshaping and customizing the sound, all with the convenience of a software instrument.

Synth Anthology 2 offers native 64-bit standalone operation by way of Falcon or the free UVI Workstation, providing comprehensive support for all modern DAWs and simultaneous authorization on up to 3 computers or iLok keys.
Video Trailer for Synth Anthology 2 (YouTube):
(also referred to as "Synth Anthology II" in various places).
Pricing and Availability:
Synth Anthology 2 is available immediately at an introductory price of $99 / 99€ through November 14th, 2016 (regularly $149 / 149€) from authorized dealers and the UVI online shop. Upgrade pricing of $49 / 49€ is available for owners of Synth Anthology and Synth Legacy through November 14th, 2016.
Additional Information:
Additional information on Synth Anthology 2 is available at:
http://www.uvi.net/synth-anthology-ii.html