UVI announces FALCON, a virtual instrument with 15 oscillators covering both synthesis and sampling techniques
As a likely response to the popular Omnisphere 2, UVI have announced their own hybrid synthesis+samples instrument, Falcon, which they describe as a "fully-featured hybrid instrument with 15 oscillators covering both synthesis and sampling techniques, over 80 effects, extensive modulation control and more."
According to the announcement, Falcon is a "hybrid instrument design," allowing unrestricted use and layering of oscillators, effects, modulation generators and event processors. From advanced time stretching and granular sample engines by the renowned IRCAM institute — to pure synthesis oscillators like Wavetable, FM, VA, Drum and the Pluck physical modeling oscillator, Falcon provides a sophisticated set of tools for sound design.
Falcon offers native 64-bit operation in stand-alone and plug-in formats, supports surround setups up to 10.2 channels, is compatible with all UVI powered soundbanks, and allows simultaneous authorization on up to 3 computers or iLok keys.
Savvy musicians might suspect this to be the underpinnings for — or possible replacement for — MOTU's venerable Mach 5 which hasn't had a "big" update in quite awhile and is about due for a v4 update. This is also a big step up from the awesome free UVI Workstation and many of the features of Falcon have been seen before in similar form, from within Mach 5 3x.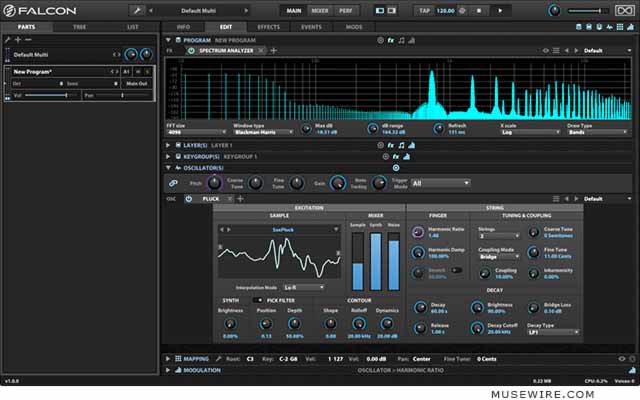 Modulation? It's in there! Rich sound means motion and Falcon can create it whenever and however you need it. AHD, Analog ADSR, Attack Decay, DAHDSR, Drunk, LFO, Multi Envelope and Step Envelope modulation generators all come standard and can be used to effect nearly anything in the Falcon environment. Create variation over time or on demand, drive your oscillators, effects or even other modulators, then add the most important parameters to the macro panel for clear and intuitive performance control.
Also, for time-based effects, factory processors such as an advanced Arpeggiator, Micro Tuner, Chorder, Harmonizer, Strum simulator, MIDI Player, Unison and Shepard effects control movement, or code your own from scratch with the powerful Lua scripting language.
Pricing: Falcon is available immediately at an introductory price of $229 through November 9, 2015 (regularly $349) from authorized dealers and the UVI online shop. A free $100 voucher is included with every Falcon license, good towards any soundbank at uvi.net (valid for 2 months from time of purchase).
Additional information on Falcon is available, including some pretty awesome audio samples, at:
http://www.uvi.net/falcon.html
Promo video "trailer" (via YouTube):
About UVI:
UVI is a Paris, France based developer of premium virtual instruments, effects and software for professional audio production. Over the past two decades UVI has released an extensive catalog of instruments and applications, winning numerous industry awards and accolades. As a key technology partner UVI has worked with many companies to enable groundbreaking software instruments with the innovative UVI Engine™.