The Wrecking Crew
MusicIndustryNewswire COLUMN: Some songs sound special. There are recordings where there are licks that are tasty and satisfying every time you hear them. Recordings with such a powerful groove that you dance even if you're sitting down. Recordings where the atmosphere or the feel is unique or even majestic, and the songs never lose their ability to affect you.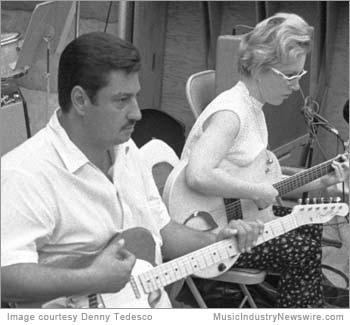 Examples: The bass line in "The Beat Goes On" by Sonny and Cher. The jangling guitars in "Mr. Tamborine Man" by The Byrds. The purring sax in the "Pink Panther Theme" by Henry Mancini. And practically everything in "Good Vibrations" by the Beach Boys.
Who played on those tracks? The Wrecking Crew.
Or consider the wall of sound in such Phil Spector-produced classics as "You've Lost That Lovin' Feelin'" by the Righteous Brothers, "Be My Baby" by The Ronettes, and "River Deep Mountain High" by Ike and Tina Turner.
Played by The Wrecking Crew.
And don't overlook "A Little Less Conversation" by Elvis Presley, "Bridge Over Troubled Water" by Simon and Garfunkel, "Strangers in the Night" by Frank Sinatra, and "Feelin' Alright" by Joe Cocker.
Again, The Wrecking Crew.
Two Decades of Accolades
From the start of rock 'n' roll through the nineteen eighties, there were about two dozen people who played on seemingly every hit record produced in Los Angeles. Carol Kaye, Larry Knechtel or Joe Osborne on bass, Hal Blaine or Earl Palmer on drums, Plas Johnson on sax, Tommy Tedesco, Glen Campbell or Billy Strange on guitar, Don Randi or Leon Russell on keyboards, to name a few.
When record producers wanted a tight, compelling sound, they put out the word to round up the Wrecking Crew. Day in and day out, sometimes multiple sessions per day, these guys (and one gal) created magical tracks. Tracks that became hits. And in a wide variety of styles: "Something Stupid" by Frank and Nancy Sinatra. "Let's Dance" by Chris Montez. "Love Will Keep Us Together" by Captain and Tennille. "These Boots are Made for Walkin'" by Nancy Sinatra. "Windy" by The Association. "The Way We Were" by Barbra Streisand. "We've Only Just Begun" by The Carpenters.
Looking Back
Throughout this delightful film, many members of the Crew are seen in interviews. Carol Kaye is a particular joy but all the interviews are lively and fascinating. Also appearing are many of the artists and producers who got to work with these great musicians, including Cher, Nancy Sinatra, Jimmy Webb, Brian Wilson, Herb Alpert, Lou Adler, Snuff Garrett, and Bones Howe.
It is tempting to lavish praise on the director, Denny Tedesco, for making such an entertaining documentary, but I would like to split the praise between him and editor Claire Scanlon. Kudos to them both.
Tommy
No, not the rock opera. I'm talking about Tommy Tedesco, quite probably the most recorded guitar player in history. Between him and drummer Hal Blaine, it feels as if they helped make every hit record in the world for more than a decade. Tedesco's work is heard every single day, even if you only list some of the TV theme songs using his guitar, including "Twilight Zone," "Bonanza," and "MASH." For any of you who are thinking his licks might border on lightweight, check out his amazing work on Frank Zappa's album, "Lumpy Gravy." Like all members of the Crew, Tommy Tedesco could play anything.
In some ways, director Tedesco made the "The Wrecking Crew" a bit of a love letter to his father, guitarist Tedesco. While some people may feel this alters the progression of the story, it is more than compensated by the rush of emotion sensed and shared at certain points in the film. Besides, some of the biggest laughs in the movie are from Tommy's stories.
Coming Soon
Well, perhaps that should say Coming Eventually. The film is done. It has been shown at dozens of film festivals, winning awards at ten of them (and counting). But it's one thing to get music licenses for the festival circuit and quite another for theatrical and DVD release, so the producers are in the interesting position of raising money for a film that is already completed.
Fund raising screenings are taking place around the country, donations are being accepted, sponsorships are available, and you can purchase a song dedication at their site.
The Film and More
While "The Wrecking Crew" is around 100 minutes, director Tedesco and editor Scanlon have a lot more footage for the DVD. So much more that they are discussing a release with entire discs focusing on certain players or certain instruments (each of which could have its own sponsor). This multi-disc release seems like a great idea to me. If ever there was a documentary that leaves you wanting to see and hear more, it is "The Wrecking Crew."
More information: www.wreckingcrew.tv . (*CORRECTED*)
Article is Copr. © 2011 by John Scott G. Published on MusicIndustryNewswire.com.