THE ART OF MUSIC's Sounds like Music comes to Santa Monica, Sunday March 25, 2012
SANTA MONICA, Calif. (MuseWire) – Coming to Santa Monica, California on Sunday March 25, 2012, The Art of Music presents "Sounds like Music." Art of Music is a groundbreaking series presenting "criminally overlooked specialty music for film, TV, video game and other media." It gives music supervisors, film composers, film directors, game designers and other media professionals a unique chance to explore niche music style, discover upcoming projects and stay ahead of the curve.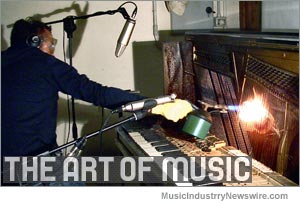 Each "The Art of Music" showcase features musical masters performing genres that are generally under the radar, but are nevertheless lend themselves to adding more depth and persona to video-based projects. Spotlights on lesser known Cuban, Mexican and Chinese music genres; Delta and pre-depression blues; and 1930's period music are just some of what you can expect from this lively series, which occurs three times a year at the Bleicher Art Gallery in Santa Monica.
Join us March 25 for |Sounds like Music| for an approach to media scoring that will challenge your sense of what's possible. Featured artists include premier sound composer Diego Stocco, whose music has been heard on Sherlock Holmes, Transformers, Assassin's Creed Brotherhood and Revelations, The Tudors, C.S.I., Cold Case and The Daily Show as well as countless trailers such as Tron: Legacy, Terminator Salvation, 2012 and Spiderman Shattered Universe.
He has also contributed to the multi award-winning Spectrasonics sound library, which is used by almost every post production studio on the planet. Diego will offer a rare glimpse behind the curtain to explain techniques he uses to create his unique "musical sounds". Equally fascinating are the sublime soundpoems of composer Nat Evans, who will be sharing a special performance synchronized to the sunset at 7:14pm. Nat's soundscapes are like extremely artful musical reveries, blending the very best of real instruments, natural sounds and processing effects to create an artform that is in a league of its own.
Production teams from dozens of features and documentaries currently seeking innovative sound design-inspired music for cues will be invited, as well as music departments from The Walking Dead, Game of Thrones, Raising Hope, Damages, Breaking Bad, Cinema Verite, Homeland and Red Faction.
This event is a MUST for anyone with an interest in adventurous scoring and placement for film, TV, video games, web content and apps.
Beyond the showcases, attendees get a free music bundle courtesy of RapidShare, which includes dozens of tracks — all unreleased and clearance-ready. Attendees will also get a copy of the |Sounds like Music| handbook with industry contact info and resources, plus a chance to win raffle prizes including Sonoma Wire Works' FourTrack iphone recording app, a GuitarJack high-quality iphone interface, a copy of the new Film and TV Music Guide and more.
Further info: www.artofmusicla.com
Time: 6-9pm Sunday, March 25, 2012.
Location: Bleicher/Golightly Gallery, 1431 Ocean Avenue, Santa Monica, CA 90401.
This event will probably be photographed and/or filmed. We expect news coverage and perhaps an interactive film crew to document performances, which may also be used for promotional purposes. If you do not wish to be filmed, kindly contact event producer Peter Petro directly at peter@artofmusicla.com and we can make special arrangements.
Pre-order online tickets typically sell out, and tickets are very limited due to space.
For additional info, media passes and interviews contact: Peter Petro / peter@mandevillestudios.com / 310.430.5096.