Synth Legend Rick Wakeman Signed Vintage Minimoog to be Raffled in Support of Bob Moog Foundation
The non-profit Bob Moog Foundation today announced launch of new raffle for 2018, of a vintage Minimoog Model D synthesizer keyboard, signed by Rick Wakeman, the legendary progressive rock keyboardist whose 50-year career has inspired people worldwide. The raffle supports the music education efforts of the Foundation.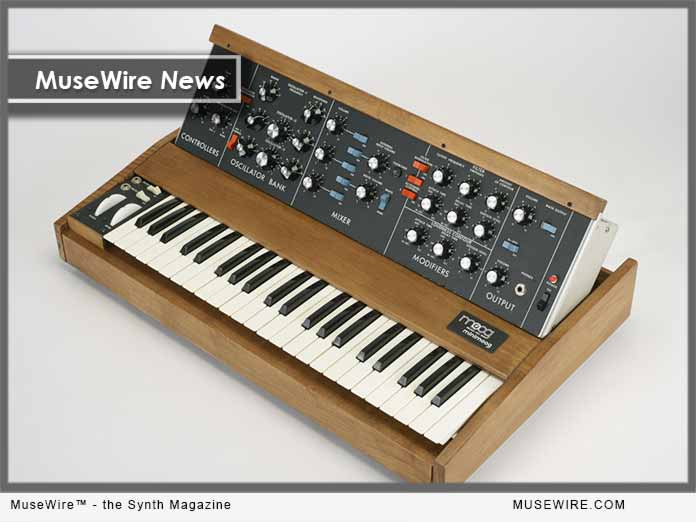 According to the Foundation: During his extensive touring and travels, Rick had the opportunity to meet and spend time with Bob Moog and the two became close friends. The inscription with his signature on the instrument reads, "Thanks Dr. Bob for sharing your genius. You will never be forgotten."
The Minimoog Model D being offered, serial number 6360, was built at Moog Music's Williamsville, NY factory on December 9, 1974, and is valued in excess of $6,000. The synthesizer is in excellent technical and physical condition and has been serviced by acclaimed New York City-based restoration perfectionists Tone Tweakers.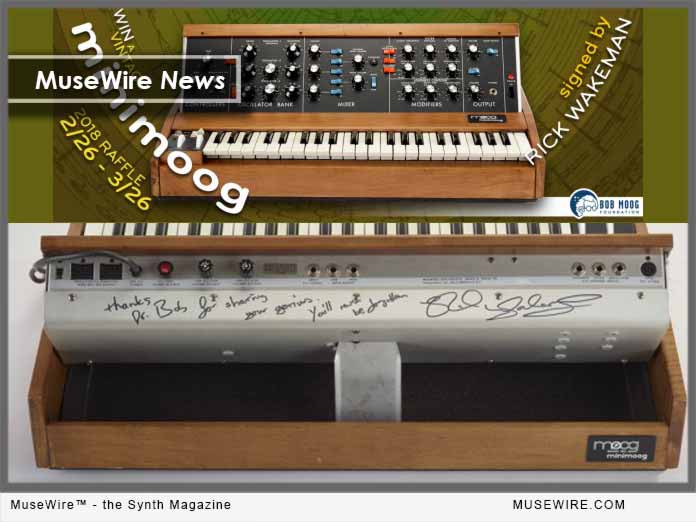 "Bob Moog not only changed the course of musical history, but he changed the dynamic for performing keyboardists," remarked Wakeman. "With his instrument, we were no longer sonically buried by the guitarist and drums. Bob's genius made it possible for us to truly be heard. He was a one-of–kind inventor, gentleman, and friend."
Tickets to enter the raffle are $25 each, or 5 for $100 and can be purchased via the BMF website. Learn more here: http://moogfoundation.org/2018-raffle-vintage-minimoog-signed-rick-wakeman/
Please be sure to read the rules and regulations before entering the raffle.
The raffle, which is open internationally, begins at 12:01 a.m. on Monday, February 26, 2018 and closes at 11:59 p.m. on Monday, March 26, 2018 — or when all 4,500 tickets are sold, whichever comes first.
About the Bob Moog Foundation
Bob Moog's innovations in music synthesis revolutionized almost every genre of music. The Bob Moog Foundation, a small 501(c)(3) non-profit organization, carries his pioneering legacy forward to future generations. Our mission, to ignite creativity at the intersection of music, science, history and innovation, is accomplished through three programs.
We provide hands-on opportunities for children and adults to explore the science of sound through Dr. Bob's SoundSchool and the preservation of Bob Moog's archives and musical inventions, which will converge in a future interactive museum, or Moogseum, online and in Asheville, NC. Learn more: http://moogfoundation.org/
About Rick Wakeman (text courtesy the BMF Website):
Rick Wakeman likely needs no introduction to any Moog fan, but just in case you are not familiar, he began his musical career as a session musician, including performing on several tracks for David Bowie. He soon rose to prominence during his 1969-1971 tenure with the folk rock group Strawbs. He is best known as the virtuoso keyboardist for the progressive rock band YES over five tenures between 1971-2004, with whom he recorded eight studio albums including Fragile, Close the Edge, Tales from Topographic Oceans, Going for the One, Tormato, and Union.
His nine solo releases include Six Wives of Henry the VIII, Journey to the Centre of the Earth, The Myths and Legends of King Aurthur and the Knights of the Round Table, and Listomania. He is currently touring with Yes Featuring Jon Anderson, Trevor Rabin and Rick Wakeman. His official website is: http://www.rwcc.com/

This version of news first appeared on MuseWire.com – © 2018 by Christopher Simmons.