SimChris: Music Industry Life 05.21.10
COLUMN: One of the more interesting tidbits I've run across this week, was the rumor of a new product from venerable synth builder Tom Oberheim. He apparently told a person that a new "Two-voice" model would be in the works for later this year, possibly Sept. 2010 (as reported on the Moog forum). Basically, this would likely be a rebirth of the classic two module, plus sequencer, plus keyboard SEM-based setup (or the "TVS").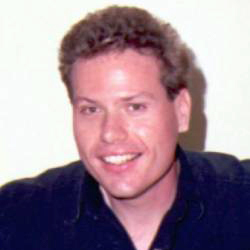 The two-voice is famous because it sounded amazing, and because, when you blended the two SEM modules (Tom began shipping the MIDI version of his new retro relaunched SEM module this month, http://www.tomoberheim.com/), you'd have a lovely four oscillator sound, plus each voice module runs independently. Cost would likely be in the $2700 range (guess) with a 16-step sequencer vs. the old TVS 8-step. Sign me up when it's on the launch pad, Tom!
Roger Linn – Linn Drum II
Also something I ran across and which I've been following for quite some time is the Roger Linn "Linn Drum II" project (originally called the Boomchik, and which was to be co-designed with Dave Smith, and be an analog/digital hybrid, possibly with a one-voice analog synth ala the Mopho built in). It now appears, based on Roger's most recent site posting (http://www.rogerlinndesign.com/), that the original joint-development version is now dead. Roger still plans to create a Linn Drum II, and he had this comment: "I recognize that this product has been in development for a while now. However, the fun for me in designing a product is to try to implement it in a new way that surprises and delights, and for better or worse I tend to take my time getting the details right. Thanks for your patience."
It's likely true that a complex instrument which contained the best of the MPC-3000/60, a modern analog click-thunk-whap style drum beat box, and a single voice Mopho-style analog synth, with sophisticated control of external devices, is probably an expensive niche product. I would have bought one, but that's me. Since the majority of folks can't tell the difference between a true analog blip box and a sampled one, using all samples makes sense, perhaps with analog filters. Having an onboard analog synth would be nice, but again, the virtual analogs are really good at doing bass sounds, and the MPC-5000 would be cheaper (and it's not exactly flying off the shelves). So, a new digital drum box with Roger's unique bent on sequencing, and the long-ways pad layout of the Linn 9000 vs the 4×4 grid, would be most welcome.
I actually preferred the 18-pad layout of the Linn 9000 (3 long rows of 8), along with the mixing/tuning sliders for each pad, and the single assignable (default to hi-hat) slider. A modern version of the Linn 9000 would be awesome! (Anecdote: my band mate, Rick Kleffel, at the time the 9000 came out, wrote the instruction manual for the 9000.)
Cheap Trick Isn't Dead
For some reason I hadn't been looking for Cheap Trick and the other day had a bee in my bonnet to look around iTunes, and found a very cool charity one-night-only concert where they do the Sgt. Pepper album. Good stuff. This led me to discovering their 2009 album "The Latest," which I'm listening to now. Nice to hear some new electronica sounds at the start of the first track, "Sleep Forever" (sounding very much like a patch from Omnisphere or similar). Songs like "When the Lights Are Out" are very much classic Trick. If you like the guys, you should definitely check it out. They still rock it, even if it sounds like a bit of Auto-tune is creeping in a few places (my apologies if I am mistaken), plenty of melodies, and nice chord changes, harmonies, and a very comfortable level of experience is evident in all the tracks. Nice change, too, if you're a bit tired of all the downer-pop-rock bands that sound alike right now.
Nik Kershaw Unplugged
Speaking of music from '80s era folk, I'm a big fan of singer/guitarist Nik Kershaw, and he has an all-acoustic album on iTunes (et al), called "No Frills – Solo Acoustic." If you like Kershaw, you'll dig this album as it lets you revisit the songs without the sometimes dated production values of the original albums. I can sing along with all the tracks, but then I'm a fan.
No Flash on iPad 3G – Do I care?
Generally after two weeks with the iPad 3G+WiFi I haven't really missed Flash capability (big hoopla in media about Apple not wanting to include Adobe Flash Support in their iPhone, iPod touch, or iPad line), except a couple of places. One of my fave music magazines Sound on Sound has a new mobile portal, but it doesn't seem to work with the iPad, which is too bad. I really like PCWorld and MACworld using the slooooow Zinio reader. But Sound on Sound appears to use something like Flash or Adobe Air. I also ran into one site which had charts showing relative speeds of the new Intel processors that needed Flash to show the dynamic bar charts. But that's about it (oh, and I think the CBS TV website for watching TV on the go).
Waiting on the hexacore Mac Pro!
I've been pondering going "back to Mac" for music, and using Logic Pro 9 for my DAW, now that it supports 64-bit (and loads of RAM). I had been pricing a dual Quad Xeon Mac Pro with 32GB of RAM, but then I realized with the new socket compatible 6-core Xeons now on the market, this would be the inevitable "coming soon product refresh" for the Apple tower desktop pro model. Apple uses a custom version of the Xeon chips, slightly different from the off-the-shelf OEM version, and hence not likely to be hamstrung by the current shortage in the market relative to the i7 chips. Also on tap, according to various Mac rumor sites, is a new 27-inch LED based LCD "Cinema display" which will basically prove a cheaper updated replacement for the 30-inch CFL model which is very long in the tooth now. Why wait for hexacore? Apple tries to hit certain price points with all their gear, and generally the NEW version of a product refresh is offered at the same or near price, but with updated kit. SO, it's potentially doable for Apple to offer a dual 6-core (12-cores, 24 threads!!), machine for near the same cost as the current dual quad model. I am seriously drooling over the potential of 12 cores, 24 threads, and 64GB of RAM (which is doable with this great memory kit from OWC: http://eshop.macsales.com/item/Other%20World%20Computing/85MP3S8M64GK/ .). Va va voom!!!
No 64-bit for You Open Labs Faithful!
I was a bit disappointed with Open Labs new "Gen6" product line up announced this week, as the new keyboard virtual instrument workstations still don't support 64-bit. It's clear that OL is in that unenviable spot where the music software market for Windows 64-bit hasn't quite caught up to the fact that Windows 7 64-bit does NOT suck, and that many of the most popular pro virtual instruments (the Open Labs reason for being, for some of us), like Omnisphere, EastWest PLAY, Toontrack Superior Drummer, are all serious RAM hogs (not a bad thing, they simply are powerful products). So, the Gen6 models have Windows 7 32-bit, so touch panel support is improved, and now support the smokin' fast Intel Core i5 processors (which are way the hell faster than the prior generation Core 2 Quad) but you're still limited to about 3.4GB of RAM. With my current Gen5 NeKo XXL, I can kill my system by loading up Sonar Producer Edition 8.5, big instance of Superior Drummer, and then load up the latest Omnisphere … watch the screen refresh slooooow to 20 seconds to update the screen when opening a window. Seriously. The problem is that most of the kit included with the Open Labs hardware isn't yet ready for 64-bit, which includes the DAW, drums, virtual instruments, Pro Tools LE, etc. So, it's a weird thing, if you have a Gen4, it might be time to upgrade, but if you have a Gen5, likely not. Them's my two cents.
Article is Copr. © 2010 Christopher Simmons – all rights reserved.
That's it for this time out. I've gone back to writing this column as I have not had the braincells this year to write a series of discrete articles on all the things I have been into and out-to. The return of a regular "column" like this will let me keep you informed of cool sh*t going on, without having to wait for a rainy day. 🙂