Interview: Sean Wiggins Lives the Indie Life
INTERVIEW: Singing, songwriting, recording, and playing lots of gigs may be the traditional way for an independent music artist to get ahead. With the release of "The Kitchen Sink" by Sean Wiggins and her band Lone Goat, the singer shows that the quality of the work may be as important as the quantity.
G-Man: Your songs seem very personal and yet universal at the same time. Is that deliberate, or is that just the result of you writing what you feel and it turns out a lot of us might say "I've been there!" as well?
Sean Wiggins: Some are stories that may not be something I have completely experienced, and is more of a creation from my mind and what I have seen. But mostly they are stories from my life and then as a writer I add to it and make it a better or sadder or funnier story (laughs).
You guys describe the album as having many styles. What are your influences?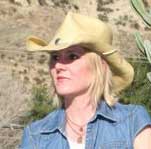 Hmmmm. I love all sorts of music, so I've been influenced by many people and styles. Stevie Ray Vaughan, Aerosmith, Joni Mitchel and Alan Jackson, just to name a few.
What is your process when creating a song?
I usually get a hook in my head, just words or maybe words and a melody. It usually comes to me when I'm driving down the street. I call my machine at home and sing the idea into my machine and then I go from there. I grab my guitar and I start to sing and play with words and chords: they sort of go together for me. After I get the basic idea, I sit and hash out the words.
Do you give any thought to the mystical nature of music touching people's heart, mind and soul? Does that change for you when you're writing as opposed to when you're performing the songs?
Certain tunes of mine are very close to my heart and soul, and I think when I'm writing them I hope to touch other people with the words and to write them in a way that could be accepted by many as opposed to just venting my own situation. So, I try to make it open to interpretation by the listener. When I perform, it is very personal and I hope the fact that it is so close to me will let people get close to the song for themselves — if that makes any sense at all.
Absolutely. Growing up, what were you: nerd, class president, bad kid, dreamer, loner, or…?
I was all of the above. What does that say about me?! Student body president and loner, locked myself in with a piano for hours a day and I didn't even really know how to play.
When did it click with you and you just knew it was music that would be your life?
I always sang. . . used to sing my tent-mates to sleep at night at camp. I would sing entire musicals for them. But seriously, I joined my high school jazz combo at about 15 years old and I started to perform professionally at 16 and was writing and singing my own tunes by the time I was 17. I was ready to run away from school and try to make it on my own in New York when I was about 16. Luckily my parents stepped in and got me to focus thru high school. I have been nuts ever since!
Why "Lone Goat"? Or, I guess I should say, "lOne gOat" as it's spelled on the CD?
Paul Houston, my right hand man and guitar player, travel a great deal together doing shows all over California and the U.S. We bonded with a lOne gOat on our way up the 101 and that's all she wrote. There was something in that lone goat that spoke to us (laughs).
Okay, we'll live with that. Can you talk a bit about how you view the business side of the music business? Like it/hate it, why are contracts so long, etc.
Well, I wish I had more business, but I have piles of contracts. Unfortunately in this day and age, watch your back and cover your ass. I think you have to play by the rules of today's world and a handshake does not do it anymore.
Talk about CD distribution: how are you marketing and moving your product? Any merch going on?
I sell through my Web site (www.seanwiggins.com), Amazon and CDbaby. But I would say most of my CD and T-shirt sales come through live shows.
How many gigs are you guys going to play this year?
Probably 150-200.
Are you doing the booking?
Yep!!! It's all me!
In your sound, I hear alternative mixed with country and a sprinkling of troubadour folk-rock. Kind of like Bonnie Raitt singing with Beck's band doing Woody Guthrie if Woody Guthrie just finished reading ee cummings.
Wow, can I use that quote? The best one I have heard EVER! Seriously!!! That is me!
Fine with me. I like it when I hear what an artist hears in their music. You guys have a great sound. Who are the players?
The amazing Paul Houston on electric, slide and acoustic guitars. Robert Dill on drums and Todd Connelly on bass. I had two other bass players on the album, Sylvia Owens and Jim Patterson. I just love all of the players. We don't even rehearse: it is magical! It's like they read my mind and Paul leads the way in hooking it all together with the perfect guitar lines! I warble and play acoustic.
[tags]Sean Wiggins interview, Sean Wiggins and Lone Goat, The Kitchen Sink CD, singer songwriter, country folk rock, Gman, Scott G, music industry news, indie music distribution[/tags]