Review: Tom Chaffee by SIHH (Self-Important Hollywood Hipster)
BOOK SERIAL – Ambient Deviant Speedmetal Polka: Chapter 11 – Tom Chaffee by SIHH — SIHH stands for Self-Important Hollywood Hipster, a disreputable character who, as you are about to see, is as opinionated as I am. This is less a review than a peek into the problems of attending live music in an age of avarice, ignorance, and indifference.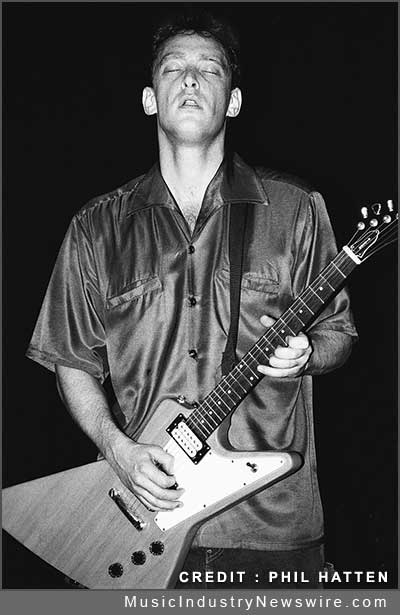 Okay, so the Tom Chaffee review is way down at the end. The evening began with me and the shutterbug paying a visit to darkest Hollywood to see some other act. They're the eight o'clock band. Which is not promising, but hey, we've seen great people kill in the opening slot. They bring 10 people. Not promising, but we've seen great artists bring fewer. They go on 20 minutes late. Not promising, but we've seen great acts take a while to get ready. They start playing. Raggedly. Not promising. In fact, it becomes clear that they lack greatness. Doncha just hate that? I hate that. In fact, attention non-great acts: please take note of this and stop inviting me to your shows. Get great first, THEN invite the press.
And another thing. The whole 20 minutes late deal doesn't seem in the best interests of the club 'cause they aren't going to get those minutes back, meaning every band will be late for the rest of the night. On the other hand, we've been in clubs where it took quite a few minutes for a band's sound engineer to undo whatever damage had been done to the club's P.A. during the prior act. Adequate sound is worth the wait, but why not hire bands that know what they're doing. Oh wait, in the day of pay-to-play or play-for-nada, I guess the public can't expect a lot of expertise. I'm just saying.
But with any kind of sound mix, these guys are nuthin' so by their third song I'm ready to leave. For some reason, the Shutterbug wants to give them another chance. Okay, no problem. Grabbing some of the free magazines by the front door of the club, I spend the next few minutes flipping through the pages the way all journalists and musicians look at any publication: "That's B.S. That's B.S. That's B.S. Oh wait, there's me!"
After a little while, the Shutterbug joins me on the sidewalk, shaking his head ruefully.
"Didn't get any better, did it," I said to him.
"It's a bad weekend," was his reply, referring to this evening as well as the night before, which was a showcase of three groups who each had the musical ability of a sinkhole but with almost none of the charm.
We scoot to our next stop, a bar in the Valley. It's in one of those sections of the city where the zoning laws were obviously the result of bribery, with a commercial strip butting up against a congregation of nice houses. The homeowners have erected barricades to discourage bar patrons from invading the neighborhood and auto access is next to impossible, thus forcing the use of the nearby parking meters and car lots.
We enter the club. I don't want to say the place is bad but it would have to be cleaned up to be called a dive. We're there for Tom Chaffee & The Saturnalia but no one in the club seems to know anything about the schedule. We go back outside.
Tom is by the side of the club, explaining the name of his band to the bass player, who is brand new. We all chat about music, recordings, clubs, bookers, girls. The usual. We go back in the club. Their eight o'clock band had gone on at nine o'clock and their nine o'clock band went on at ten-thirty.
"Yes, it's that kind of night," says Tom and the Shutterbug at about the same time.
The nine o'clock band that went on at ten-thirty has three decent riffs which they attempt to spread out through an entire set. These guys might make you think they are adequate if they played through a good P.A. but this club has no monitors and the sound system seems to have just three settings: the first setting would be called "poor," the second setting would be called "ugly," and the third setting would be called "undergoing adenoid surgery without anesthetic." I checked my watch at 10:35, 10:40, 10:45, etc.
After an eternity, Tom Chaffee & The Saturnalia go on. Suddenly, the weekend is saved. And damned if the sound system is suddenly a whole lot better. Funny how good musicians can transform bad gear into something decent just by playing well.
But there's a conflict almost immediately. The club had been overrun with mostly phony trendoids who were there for the earlier band. They got one earful of Chaffee's complex jazz-based songs and they took off. Guess they had to get home to preen in the mirror while seeing how much Jagermeister they could consume before bumping into furniture.
Chaffee's all-instrumental set was an hour of musical excitement that was challenging and uplifting. The guy plays electric guitar in both senses of the term. And the trio featured great interplay between the guys. "Partners in musical glory," I call them. TC on guitar, Chuck Sparks on drums and Orion on bass. Smooth, rough, soaring, intimate, and always tweaking your mind while letting you snap fingers and tap toes.
Towards the end, the songs morphed from a kind of psychedelic jazz-rock fusion to a heavy groove type of sound, whereupon they began sharing the stage with a dancer who just came up out of the audience, performing some moves that nearly caused fights to break out among the inebriated males in the front of the house. The band kept on playing. The girl kept on shaking it. It was a Wow.
Told you the weekend was saved.
• "Ambient Deviant Speedmetal Polka" … to be continued next chapter. You can subscribe to John's articles and column via RSS (click this link), or read more from JSG here.
Excerpt of book serial is Copr. © 2012 by John Scott G – all commercial and reprint rights reserved. Originally published on MusicIndustryNewswire-dot-com before the site was re-branded in March 2015 as MuseWire.com, a publication of Neotrope®. Photo by and © Phil Hatten (www.PhilHatten.com). Used by permission.