Review: The Good and Bad of Grammy 2009
REVIEW: Thank you, Grammy Awards, for not entirely embarrassing the music business this year. Sure, there were problems with the presentation, but this show had fewer eyeball-rolling moments than any awards program in recent memory.
Usually, the Grammys have so many cringe-worthy moments that I end up exiting the room for long stretches of time, desperately searching for some decent distraction such as a guitar, a glass of whiskey or a half-pound of sleeping pills. But this year was different. A lot of it was pretty damn good, and I'm grateful.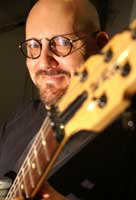 That said, I will now intercut the praise with a bunch of carping and complaining about the muffs and mistakes, because, you know, that's more fun.
The event launched with a U2 number that displayed enough fury and their superstar aura of angst to delay everyone's reaction to the show's horrible set. I don't know how awful things looked inside the hall but the dimestore designs that came through the TV were the opposite of eye candy. Eye rancid fruit, we might call it. Or, as photographer Snook put it, "the set looks like a cruise ship."
Carrie Underwood grabbed onto a lightning bolt and rode it for a stunning, uplifting and foot-stomping rendition of her hit, "Last Name." She was equal parts power and perfection, while her band just flat out rocked. Topping things off, the lead guitar lines from 24-year-old Orianthi made every axe player in the world go "oomph, that girl's great." Or words to that effect.
Kenny Chesney was intriguing and incendiary with the smallest amount of light possible for a TV spectacular. He pulled off a minor miracle with his voice and guitar, a subtle percussionist and a moody-groovy string section, all seeming to float inside swirling steel-blue curtains of foggy light.
Paul McCartney earned a standing ovation for a delightful rendition of a song he wrote in the 1960s. With Dave Grohl on drums locked in tight with a titanium-hard band, Sir Paul brought a smile to everyone's lips.
The Radiohead collaboration with the USC marching band was. . . absolutely great. (And you thought a put-down was coming right here, didn't you!) The staging was simple and dramatic, the sound was crisp, and the overall effect was electrifying. I've been up and down about this group over the years, but this was definitely an Up.
When producer T-Bone Burnett joined Alison Krauss and Robert Plant for music from their "Raising Sand" album, there were waves of magic rolling out over the audience and into living rooms across the world. Superb sonics, heavenly harmonies and a perfect performance.
Guess what? Justin Timberlake and T.I. were excellent with "Dead and Gone." No, really. It worked. And Kid Rock delivered the goods with a medley from his monster "Rock and Roll Jesus" album. You may not enjoy the guy in his interviews, but he is simply killer on stage.
Were there moments of pure unadulterated terror? Of course there were. The Jonas Brothers were paired with Stevie Wonder and you had to wince at the indignity of a world-class artist being forced to endure those smarmy little twerps. The overkill conglomeration of T.I., Lil Wayne, Jay Z, M.I.A. and Mr. Ego just didn't work musically, no matter how fascinating is was to wonder if M.I.A. was about to give birth right in front of us. There was also a duet from the winners of a local high school talent contest. . . oh, wait, it actually was Miley Cyrus and Taylor Swift. To which one can only say, "Oh please."
As for the awards, well, the voters of the Grammys (and I confess that I am one of them) almost always select middle-of-the-road acts for the top awards. Thus, Plant and Krauss' superb "Raising Sand" received Album of the Year over Radiohead's stunning "In Rainbows."
Coldplay, a pop act, received Rock Album of the Year. Seriously, my fellow NARAS members apparently don't even know what rock sounds like. Coldplay also took home Song of the Year honors for "Viva La Vida," which has some nifty melodic lines written by Joe Satriani in 2004, but which fact is not being acknowledged by the very cold band members, forcing Mr. Satriani to sue for plagiarism.
But hey, a lot of the event was terrific. After all, who among us wasn't shouting for joy when James Conlon and the L.A. Opera Chorus & Orchestra took home the Best Classical Album trophy for "Weill: Rise and Fall of the City of Mahagonny." Oh wait, it was just me and a few classical music lovers, and that award was not part of the televised program.
[tags]Grammy, Scott G, music review[/tags]