Events: Blue Microphone Launch Party with Chris Pierce
EVENT REVIEW: Blue Microphones this past week threw a private party (November 6, 2008), to demonstrate their latest products and it turned out to have the most security of any event in the city. The site was the Gibson/Baldwin Showroom which is right next to the Beverly Hills Police Department. The BHPD was apparently calling in every available officer to handle protests at the Mormon compound located only a few miles away and the street next to the Gibson entrance was being used as a staging area.
Rounding the corner from the nearby Live Nation offices, I walked past police cars, police vans, a police bus that resembled a rolling jail, and plenty of officers standing by vehicles of various shapes and sizes. Since the protesters were nowhere near, our little corner of Beverly Hills seemed very safe indeed.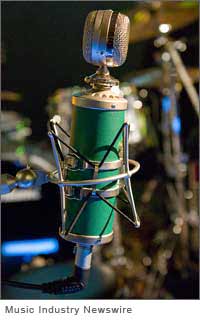 Once inside, attendees did exactly what you'd expect at such affairs: mingling, networking, munching, and so forth. Me, too. More importantly, many of us took advantage of the fact that brand new Blue products were set-up for one-on-one demos at computer workstations in the main room and in a soundproof booth located deeper inside the building.
The Look of Blue
Since its founding in 1995 by Skipper Wise and Martins Saulespurens, Blue has developed a strong reputation for creating microphones that not only look unique, but also offer a distinctive sonic personality. This approach can lead to an extraordinary level of product loyalty from artists because you can find a Blue mic that perfectly meshes with your own audio personality.
The progression of Blue has seemed inevitable, but they have faced interesting challenges. As Wise puts it, "We started with the Bottle mic, making it tough on ourselves! Tough, because it was our top-of-the-line microphone, and we have since trickled down to our most inexpensive mic to date, the Baby Bottle. But it's not about being inexpensive. We don't consider the Baby Bottle a cheaper choice than the most expensive mic. It does something different. Because we make capsules, the most important part of a microphone, we can create different sounds so that each mic does something different."
New Products
Introduced recently by Blue was the Snowball, a direct plug-and-play microphone for Mac or PC. It features a dual capsule design and offers three different patterns at the flip of a switch: cardioid, cardioid with -10dB pad, and omni. Obviously it works perfectly for podcasting.
Unveiled at the event were the Icicle, the Mikey and the Eyeball. The Icicle is a mic preamp with 48V phantom power that lets you connect an XLR mic to your computer via USB. The Mikey is specifically for the iPod 4G, 5G, 6G, iPod Nano 2G, 3G and iPod Classic and is compatible with most protective cases. The Eyeball is a web cam with a condenser capsule, premium lens, and adapter for positioning on virtually any laptop or desktop monitor.
Music that's Alive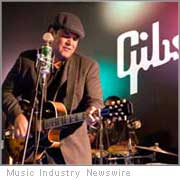 Most exciting was the entertainment, in which indie recording artist Chris Pierce performed using Blue mics, thus proving they can not only stand up to the rigors of a high energy, world-class live act, but come through with flying colors. Pierce, who was also the first artist to use the Icicle with Blue's Bottle mic to record directly into a computer, has been thrilling audiences a decade and will soon be the opening act for B.B. King. I've seen full shows by both artists and let me assure you that audiences on that tour are in for a treat.
Opening his too-brief set with an a cappella wail of such power and passion that he instantly silenced a crowded room full of schmoozers, Pierce launched into a wild amalgamation of funk, folk and rock that was the very definition of vigorous. Pierce seems to operate on raw energy crossed with lightning as he climbs all over his clever lyrics and deftly beats the hell out of his big Epiphone jazzbox.
As if Pierce wasn't powerful enough, his band features cool controlled explosions from bassist Orlando Sims, percussionist David Leach and drummer Bryon Holley. These guys could make nursery rhymes sound dangerous and their ability to propel each verse and chorus with just the right amount of gunpowder was beautiful to behold. Steve Aguilar's keyboards and Jon Butcher's electric guitar work were alternately silky smooth or razor sharp. The interplay and dynamics of these six musicians simply cannot be topped.
More information and product specs for Blue Mics: www.bluemic.com.
More information and music about Chris Pierce: www.chrispierce.com.
Photography by: SNOOK/Immedia Wire Service.
[tags]Blue Microphones, studio recording, pop music, audio gear, USB converter, Skipper Wise, Martins Saulespurens, Chris Pierce, rock[/tags]