Review: Nektar at the Key Club
MuseWire COLUMN: Until a few days ago, Nektar was nothing more than a puzzling footnote to me. According to everything I had read, this band was a standout progressive rock outfit in Europe during the nineteen seventies. Not making it big in the United States, their fame remained underground to many stateside music lovers, including me, and relatively little seems to have been written about their work after the band broke up in the eighties. But then a funny thing happened….
After the turn of the century, they re-formed. Not for money. Not for some promoter's nostalgia booking event. But for the music. They wrote new material and played it with commitment, usually alternating between the old and new stuff. Suddenly, other funny things began happening. Seemingly overnight (well, only after about three-and-a-half decades) Nektar was in studios, at gigs, invited to festivals, and then on a European tour playing before startled but grateful audiences. Next thing you know, they're on a U.S. tour where someone as out-of-it as me (at least prog-rock-wise) can discover them. Better tardy than AWOL, right?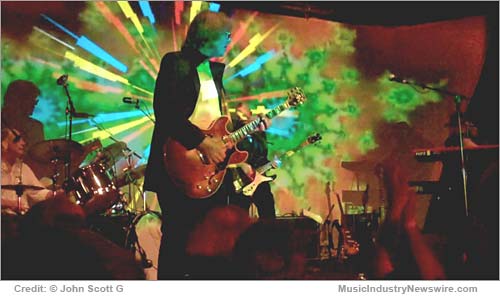 Diminutive Expectations
Before the concert, I posted a few comments to some of the social networking sites, telling about my plans to see the band. Herewith, a confession: the things I put up online were a bit snarky. Let's face it, I made some jokes at their expense. For example, there was something like this: "Going to The Key Club to see Nektar. Why? Because, well, because German/English European progressive space rock rules." Yup, I freely admit to spreading around some wiseguy smartmouth stuff like that.
Well, now that I have experienced 90 minutes of live Nektar music I can honestly tell you that German/English EU progressive space rock does, indeed, rule. This was an otherworldly experience. Absolutely ethereal music but in a refreshingly down-to-earth performance (y'know, except for the mind-blowing light show). Bottom line is this: I had a great time.
Prodigious Outcome
Mixing fan favorites with new material that seemed of equal excellence, Nektar put on a friendly ear-assault of the first magnitude. There is a formula for some of their success and it has to do with their method of constructing a song. And here is their secret: do not play chords that a listener expects. Or at least not a pop listener. Every number seems to contain enough aural input for about three songs. And each of those may sport unusual modulations, unexpected time changes, and a strange unearthly amalgamation of glorious spaciousness and incredibly compacted clusters of notes. It is as if rock, jazz, goth and psychedelia all got together and held an orgy inside your brain.
The Vibe
The overall feeling at the Sunset Strip venue The Key Club was blissful. "Good vibe in the room," was said by at least two other people. While the male-to-female ratio was about eight-to-one, the girls in attendance were interesting, as in friendly and slightly inebriated or stoned. Or, in a few cases, both.
The wide-screen non-stop light show was also quite a trip. Mostly computerized, the images pulsated and flowed nicely. Having seen such outfits as Glen McKay's Headlights and the Brotherhood of Light, and having worked once with the Single Wing Turquoise Bird light show, I must admit that I miss the more organic feel of real liquid on real overhead projectors (and I do miss 16mm film loops!) but I could certainly appreciate the scope and mind-altering properties of this delightful presentation.
Sound Affects
So, what about the overall sound, I hear you ask. All right, here goes. A stroke of lightning is started by the clash of electrical fields in the clouds. Positively-charged air rumbles with negatively-charged air and you get a spark. It's just like the static electricity you experience by shuffling your feet on the carpeting before reaching out a finger to touch your brother's ear. Pop! Just like that. Only bigger. A lot bigger. As in twenty thousand degrees Fahrenheit. The heated air expands at supersonic speeds, forming a shock wave. And then there's a boom.
Okay, now imagine that boom being shaped, pummeled, caressed, and joined by keyboard stabs and electric guitar flourishes of astonishing beauty. That was the Nektar I saw. And it was awesome. They now have at least one new stateside fan.
For more information on Nektar: www.nektarsmusic.com .
ARCHIVAL VIDEOS (not from the event!):
Nelly The Elephant
http://www.youtube.com/watch?v=RIqtmmZR-Qg
New Day Dawning
http://www.youtube.com/watch?v=MpSOyh4C7qI
King of Twilight
http://www.youtube.com/watch?v=EDEETNno9xk

Article is Copr. © 2011 by John Scott G – all rights reserved. Originally published on MusicIndustryNewswire.com.