RARHOFAM: Hall of Lame
MuseWire COLUMN: After several visits to the Rock and Roll Hall of Fame and Museum, the primary reactions were trepidation and consternation. The building itself is quite impressive but the well-packaged contents of the RARHOFAM are often silly and ultimately insignificant.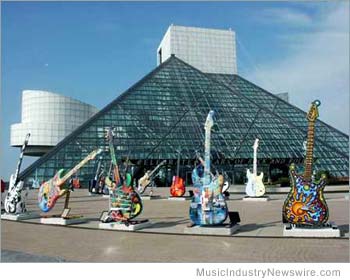 "Excuse me, but can you tell me who is singing?"
The salesclerk in the gift shop of the Rock and Roll Hall of Fame and Museum (RARHOFAM) cocked her head to listen to the public address system, which continuously pumps out music from the inductees. "I'm not sure," she said.
"That's okay," I said to her with a smile. "It's a group called The Temptations."
I didn't spend a lot of time in the gift shop, just long enough to notice that they were offering such items as caps, hoodies, jackets, tee-shirts, sweatshirts, mugs, pins, magnets, key chains, dolls, earrings, bracelets, necklaces, Christmas ornaments, umbrellas, board games, flasks, backpacks, totes, beanie bags, socks, booties, wallets, plates, cups, soccer balls, mouse pads, books, posters, and a six-thousand-five-hundred-dollar guitar.
Location
Cleveland is a dirty city, with muck and particulate matter in the air, all of which occurs despite the town being built on the banks of Lake Erie and around the Cuyahoga River. The pristine sky in their official photographs is quite possibly a result of Photoshop. I am familiar with the air quality issue as I reside in Los Angeles. But in Cleveland's case, Standard Oil began the layering of grime with refineries constructed right after the Civil War. According to a website called The Encyclopedia of Cleveland History, "Standard Oil controlled 21 of Cleveland's 26 refineries by 1872."
A century later, British Petroleum (yes, the Gulf oil spill BP) bought Standard Oil. Right around that time, the Cuyahoga River caught fire, or, rather, there was such a high level of oil-based pollutants in the water that it took a just a spark to set off a conflagration. To be fair, you can visit some nice places online with details on Cuyahoga River fires of 1868, 1912, 1936, 1952, and 1969. This habit of the river bursting into flame made it into song: Randy Newman's "Burn On." Coincidentally, Randy Newman is not yet one of the inductees into the RARHOFAM.
"Excuse me, do you work here?"
"Yes. Can I help you?"
"Sure, can you tell me who is playing right now?"
"No, I don't know."
"No problem. It's a man named Smokey Robinson."
Architecture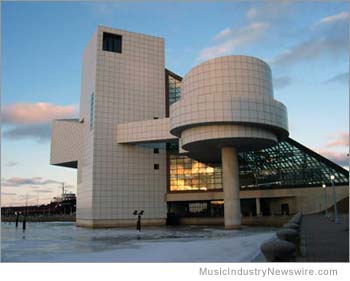 The actual building that houses the RARHOFAM is quite striking. Designed by I. M. Pei, whose other works include the Pyramide du Louvre in Paris, the structure seems to be hovering just above the lake in a breakwater located near the appropriately-named Marginal Road. Inside, it is very cool. Lots of light, interesting angles, and a very pleasant feeling. Look, I love the building. I just cannot love what's inside.
"Hi, could you tell me the name of that group?" I pointed up at the overhead speakers.
"Uh, no, I'm not sure."
"Thanks for trying! It's Booker T. and the MGs."
Exhibits
The displays on the various levels of the RARHOFAM are handsomely arranged, magnificently mounted, and completely worthless in terms of paying homage to rock music. Wow, look over here: actual album covers of Bands Whose Works Were Originally Released on Vinyl! Hey, check this out: Michael Jackson's jacket! My oh my, Dad, you won't believe this: it's the prop cannon from an AC/DC tour!
No matter how exquisite the Plexiglas dioramas may be, you cannot communicate anything about the essence of rock and roll by filling them with photos, scribbled lyric sheets, stage props, tour jackets, and beautifully beat-up guitars.
One exhibit featured an impressive number of 1950s radios. The Bakelite outer shells and science-fiction style tuning knobs are cool-looking, but early rock music wasn't played much on table model radios. Rock was played on car radios when teens parked. Constructing a display of mom-and-dad's radios reveals a fundamental misunderstanding of the early history of rock. And the history of radio broadcasting, too, come to think of it.
Now this stuff may be more interesting than important, but for my money, a museum is supposed to get some of the nuance of the age they're putting on display. I mean, this isn't the Creationist Museum, for crying out loud. The stuff that's displayed in the RARHOFAM actually happened.
Another display, not-in-use at the time I visited, seemed to be a sort of combination DJ booth and early recording studio. What a great opportunity wasted! They could have had someone broadcasting songs and announcing them. Perhaps there are airchecks of some of the early rock and roll radio broadcasts that could be played. Or they could have people sitting in as guest DJs or announcers. They could have let people step into the booth to be interviewed while giving their views of rock or pretending to be president of an artist's fan club or even pretending to be some of the artists themselves.
They could have gone one step further and had people audition for RARHOFAM artist of the day, singing on their own or singing along with one of the inductee's recordings. But no. That would have been a lot of work.
"Hi, pardon me, but who is that singing that song?"
"I think I know it. . . I'm not sure."
"No problem. It's Jackson Browne."
In the Hall of the Pyramid
At the very top of the pyramid is the actual Hall of Fame. While it may have been remodeled since my last visit, when I squeezed through the narrow aisles it was an interesting interactive experience: "Oops, sorry." "Pardon me." "Ouch!" "Sorry." "Watch the shoes!" "Sorry." "Whoops, sorry." Yeah, it was cramped up there.
As for the display in that rarefied chamber, well, I didn't believe it. It looked like each inductee's name was etched on a Plexiglas plaque, mounted on the wall, and lined up like mail boxes in your local Post Office. Each plaque was back-lit so the effect was the same as shuffling through a too-small mass mausoleum with the overhead lights turned off and dim flashlights shining out of each memorial marker.
"Excuse me, sir. What's the name of this group? The band playing right now on your sound system?"
"Oh, I don't know them."
"That's all right. They're called The Ventures."
In Their Own Words
This is from the Museum's website:
With a permanent collection drawing from the most impressive and iconic rock and roll artifacts and a wide-ranging roster of on-going and temporary exhibits, the Rock and Roll Hall of Fame and Museum is dedicated to exploring the past, present and future of the music and the cultural context from which it emerges. The Museum continually augments its own collection of thousands of artifacts with items on loan from artists and collectors from around the world. In addition to these items, the Museum's exhibits utilize film, video, interactive kiosks and, of course, music.
Oh yes: "and, of course, music." It's kinda-sorta the heart of the matter. And yet. . .
"I wonder if you could just tell me the name of the singer of this song?"
"Um, no, I don't think I know it."
"Okay. It's Louis Armstrong."
Who's In, Who's Out
A few words on the inductees. The yearly nominations, selections, and TV show awards ceremony constitute an awesome public relations campaign. As a guy who is familiar with feeding the hype machine, I am very impressed.
The public discussion of the nominees often bubbles over into genuine emotion. "I absolutely cannot justify under any possible set of circumstances how NAME could be left off the list but OTHER NAME is already in the Hall of Fame!" And so forth. Very entertaining. Sometimes I join in because it's so damn much fun. "You are so amazingly correct!" I say to them. "And I know you'll back me up when I mention the Bay City Rollers and Dexy's Midnight Runners!" Those with a sense of humor have fun at this point; those without, frown. Either way, using my approach means you are more likely to find the people in the room to whom you'd rather be talking.
In an e-mail to Bob Lefsetz that was published in The Lefsetz Letter, writer Toure discussed his work with the RARHOFAM and admitted that a "discussion of whether or not an artist or their sound qualifies as rock n roll never comes up." Which would explain many of the choices for inductees. But for my two cents' worth, or, to be more in line with the admission prices, my twenty-two dollars' worth, let me just say that the choices of inductees have never bothered me. Rock can and should embrace the work of Laura Nyro and Velvet Underground, Joni Mitchell and Sonic Youth, Muddy Waters and Run-DMC, Jimmy Reed and REM, and so on. Connections and dichotomies, babe.
If you want to lobby for a personal favorite, go ahead. If you want to protest someone else's choice, feel free. I'll bet the RARHOFAM welcomes the discussion as well as any controversy. Hell, they'll probably even welcome this little attack. Publicity is publicity, right?
"Hi, excuse me, can you tell me who is singing right now?"
"Oh, no I can't. Sorry."
"That's quite all right. It's Dinah Washington."
Clubbing
While it's true that Cleveland is a ghastly place with the air (and river) full of industrial waste and most residents' heads full of plebian notions, it is also true that they often have some vibrant rock. That is frequently the case in such situations: In a town full of big company boardrooms and a sickly-sad and all-pervasive case of boredom, rock music becomes a revolutionary response to conformity and ennui.
The evening after my first desultory visit to the RARHOFAM, I went to see some local bands at a huge barn of a club and it was a stone solid gas. There was more excitement and rock spirit in the pauses between songs than in my entire time inside the Hall.
To save you the trouble of reading all my conversations with various employees of the RARHOFAM, I'll just cut to the chase: "Del Shannon." "Abba." "Sam Cooke." "Neil Diamond." "The Four Tops." "The Hollies." "B.B. King." "Roy Orbison." Yes, that's correct: I never received an answer from anyone working in the place.
Coda
There is one area where the RARHOFAM presentations have value: they sometimes show films of people actually playing rock and roll. Hail, Hail.
But as I'm writing this, there's a bright red link on the front page of the RARHOFAM site, proudly announcing that Lady Gaga's meat dress and shoes are now on display. I love Gaga but her outfits have as little relevance to rock as does the entire Hall of Lame.

Article is Copr. © 2011 by John Scott G, originally published on MusicIndustryNewswire-dot-com before the site was revamped as MuseWire.com in March 2015 – all commercial rights reserved.