Paul Atkinson: This Guy Had Ears
MuseWire COLUMN: His name was Paul Atkinson and he played electric guitar. He made music in the most inventive of the British Invasion bands, The Zombies, whose gorgeous harmonies, infectious hooks and intriguing jazz-pop blend made huge sellers of "She's Not There," "Tell Her No" and "Time of the Season."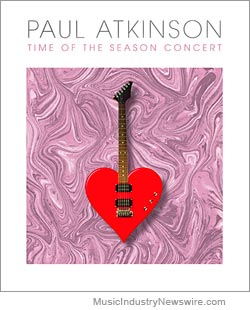 Working within the whirlwind of music in the nineteen sixties, he recorded and toured as part of a band whose melodies the All Music Guide compared to The Beatles and the Beach Boys. And then he did something totally wild: he left the band to pursue a career in the business side of the music business.
From the Archives (A different version of this article was originally published March, 2004).
A&R
Atkinson went from being in the Top Ten to being in A&R. ("A&R" is the part of the record industry formally known as Artists and Repertoire. Those were the folks who found new artists and new songs, and put them together. Some people say this profession is now virtually non-existent.) After making the difficult transition from pop-rock artist to industry executive, Atkinson was more than merely successful. He thrived and went on to head the A&R departments at three of the five major labels.
He worked with Paul McCartney, Aerosmith, Eurythmics, The Beach Boys, Lyle Lovett, B.B. King, Elton John, Tom Petty and Pink Floyd, among others. He signed ABBA, Bruce Hornsby, Mr. Mister, Judas Priest, and Michael Penn, among others.
Time and time again, people would make a most complimentary observation about Atkinson: "This guy has ears." That statement was certainly, undoubtedly, demonstrably true and he kept proving it over and over throughout his life.
His contributions ranged from artist development and production to global marketing and catalog development in both the U.S. and Europe. In addition to the more usual A&R work, Atkinson also launched Gamble & Huff's Philadelphia International label (O'Jays, Three Degrees, Billy Paul) in the UK, supervised the early UK campaigns for Bruce Springsteen, and managed marketing plans for The Clash and all CBS UK artists.
As if all that was not enough, he also became a partner in a syndicated radio programming firm and co-founded the first nationally distributed Internet-based enhanced CD record label and production studio.
Many would be content to rest on such laurels, but even as his body began to fail him, Atkinson consulted with Warner Strategic Marketing on the Frank Sinatra Reprise catalogue and had also produced a 101-song Nat King Cole Classic Singles Collection boxed set for EMI/Capitol Records, in addition to guiding several independent labels on talent acquisition.
Working on two continents as artist, music biz executive, and businessman was a testament to his tenacity, skill and ability to be flexible. He was able to maneuver with changes over the years, and stay in the game when so many others gave up or fell by the wayside. In his nearly four decades of success, Paul Atkinson displayed a rare level of taste, wit, style, charm, and good will.
The Spirit is Willing
Health become a huge issue for Atkinson in the later years of his life. By the time he died at age 58, he had undergone multiple liver transplants and suffered from kidney failure and biliary cancer. Medical bills had skyrocketed and his family was unable to cope with the fiduciary side of modern healthcare.
But with so much good will built up over a lifetime, a cadre of music industry professionals began working at a feverish pace and a fundraising concert and silent auction were assembled in just six weeks. Back in 2004, I worked on some of the copywriting for the event and my friend Phil Hatten did the design and artwork.
On the evening of the benefit concert, with emcee Shadoe Stevens smoothly guiding the proceedings, there was a non-stop outpouring of accolades for Atkinson. Neil Portnow presented The Recording Academy President's Merit Award to Atkinson. In addition, dozens of industry professionals praised Atkinson's character and accomplishments. Here is one statement: "Paul Atkinson is the epitome of class, one of the truly kind, talented and honest people in the record business which makes him rare enough. He also achieved top-tier success as both an artist and an executive which he then sustained for over three decades, a phenomenal accomplishment."
Many others made their contributions from around the globe via video, including Adam White, VP of Communications for Universal Music International, Walter Yetnikoff, the legendary head of CBS Records, and Paul Shaffer, currently musical director for David Letterman but a member of Scandal when Atkinson first signed that band.
The Concert
Performers at the event, each of whom had reason to thank Atkinson for help or guidance during their careers, included Brian Wilson, Michael Penn, Patty Smyth, Richard Page of Mr. Mister, Colin Blunstone with Rod Argent, Mickey Thomas, and opener Bruce Hornsby.
Working in front of their peers, the artists were all at a stellar level, including a 30-minute mini-concert suite from Brian Wilson and his 9-piece ensemble, which included members of The Wondermints. Sometimes cacophonous but often enthralling, their new take on Beach Boys classics from the "Smile" period was a complete delight and "Good Vibrations," in particular, was a knockout.
Great as all this was, the evening would still offer a singular event that transcended everything else.
Heart-Stopping Performance
For the first time on stage in America since 1965, Paul Atkinson strapped on his guitar and joined vocalist Colin Blunstone, keyboardist Rod Argent, bassist Chris White and drummer Hugh Grundy, thus reuniting all five original members of The Zombies. Naturally, a standing ovation greeted them, but there was more than anticipation in the air; there were concerns, too. Is Atkinson well enough to perform? Apart from that primary anxiety, and seeing as how they were going to try pulling this off, could they deliver those sleek harmonies? Are they still able to mix pop, jazz, and rock? Hell, some even wondered if they would be any good at all.
Good did not begin to describe it. They were magnificent. Blunstone sounded like an ethereal choirboy. White, Grundy and Atkinson created enticing rhythms. And Argent was a fluid dynamo on organ.
They played just two songs, but it was ten minutes of magic that no one in the room is likely to forget. Launching into "Time of the Season," there was a gasp from many in the audience at how brilliant the band sounded. The song was pure, rich, and true. Plus, it took us to intoxicating heights of emotion. At the final chord, the crowd rose to its feet with a roar of approval.
With barely time to catch our breath, they unleashed "She's Not There" and we were on another rollercoaster ride of melody and elation. And yes, there was a third standing ovation.
Afterwards, I did not cry like a baby. No. I cried like a little kid.
Article is Copr. © 2004 and 2011 by John Scott G, all rights reserved. This version first published on MusicIndustryNewswire.com – all commercial rights reserved.