Patch Base 3 and Yamaha TG33 Synth Editor Launched by Coffeeshopped
The Coffeeshopped Patch Base synth editor for iPad/iOS was recently updated to an all-new version, with new interface and subscription model pricing. Additionally, Patch Base 3 now offers an editor/librarian for the Yamaha TG33 desktop synthesizer.
Patch Base 3 allows you to create sounds for synthesizers from Korg, Roland, Yamaha, Casio, Oberheim, Ensoniq, and more. Patch Base is a collection of the best patch editors available for iPad. Real-time editing of synth parameters. Random patch generation. Sound library organization, with iCloud integration.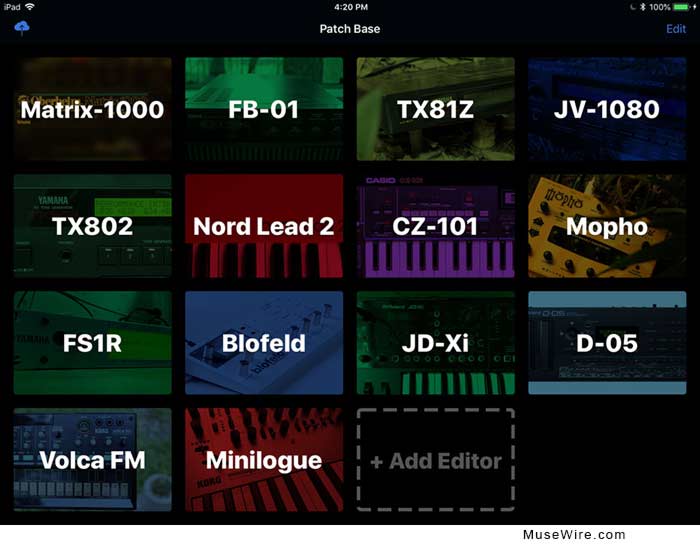 According to Chadwick Wood at Coffeeshopped, "Patch Base is the best collection of patch editors and librarians for a growing number of hardware synthesizers, and version 3 is a major update: adding new features including full undo support and patch bank backup and editing for most of the synths that Patch Base supports."
Patch Base has always enabled you to download individual patches from your synth and store them on your iPad. Now, you can download all of the patches at once from your synth, and store them as a single file. You can also rearrange the patches in the banks, add new patches, and completely swap out the sounds in your synth, all from inside the app.
You can also edit a single sound and save it directly to your synth's memory with the tap of a button.
"Multitimbral / Performance editing and saving are now also supported for a wide array of synths. And a new affordable subscription option is now available, giving access to all of the editors in Patch Base at a low monthly or annual price."
Subscription pricing and All Access pricing available in the app, which is a free download. Learn more at: https://coffeeshopped.com/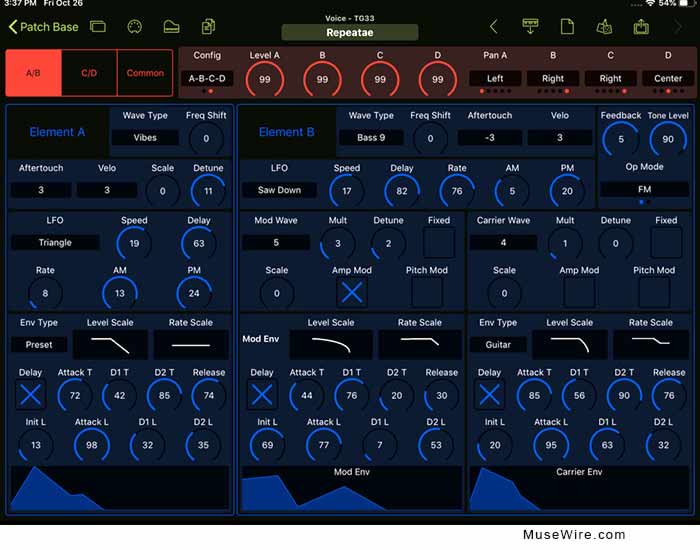 New Synth Added: TG33
Shortly after Patch Base 3 was announced, a new TG33 synth editor was also added! The latest addition to Patch Base is an editor/librarian for this complex and slightly esoteric desktop synthesizer.
According to Chadwick Wood, "The TG33 is an interesting mix of ingredients: each patch on the TG33 is made of up to 4 separate "elements": 2 FM voices, and 2 sample-based (crunchy, character-heavy 12-bit samples) voices. And on the left side of the synth, you get a sweet joystick that you can use to mix the levels of the elements in real-time, which adds a great performance aspect to the TG33."
Watch an official intro video on using Patch Base 3 (YouTube):

This original article was created first on MuseWire.com by Christopher Simmons. No fee or other consideration was provided in publication of this content. Copr. © 2018 Christopher Simmons. All other rights reserved including original images and video Copr. © Coffeeshopped LLC.