Music Supervisors: Gatekeepers to Songs Old and New
Record companies, radio stations and iTunes don't fully control what music you get to hear. Scott G examines the ever-changing role of the music supervisor for motion pictures and TV.
In 1968, director Stanley Kubrick acted as his own music supervisor for his film "2001: A Space Odyssey." Kubrick cancelled a score composed by Alex North in favor of tracks from his record collection. That's why people think of the Ligeti, Strauss (Johann and Richard), and Khachaturyan compositions as being part of the "2001" experience.
It's difficult to argue with the results, as the soundtrack to that awe-inspiring film is brilliant, yet there were a few teeny tiny difficulties. As has been reported on the Internet Movie Database, composer Gyorgy Ligeti successfully sued Stanley Kubrick over improper use of his music in "2001." Kubrick was a directorial genius, "2001" is magnificent, and its soundtrack is glorious, but the production obviously would have benefited from having a professional music supervisor on the payroll.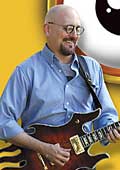 Kubrick didn't have as many choices then as he would have now. Today, it often seems that every person laid off from a record label prints up a business card reading "Music Supervisor," but the fact is that the job is more difficult, more varied, more full of paperwork, and more influential than most people realize.
Did I say influential? Perhaps essential is a better word. Soundtracks have more than instrumental compositions. They are bursting with songs. "Superbad" has more than a dozen. "The Simpsons Movie" has nearly that many. The "Rush Hour" films have almost four dozen between them.
The "Spiderman" and "Matrix" movies have oodles of songs. Films like "Sleepless in Seattle" and "You've Got Mail" would have a totally different feeling without their deft use of classic recordings. "Dirty Dancing," "American Graffiti" and "Forrest Gump" wouldn't work at all. And what would happen to almost any automotive commercial without the music? Or most commercials, for that matter.
Who is finding, presenting, and licensing the rights to all that recorded material? Music supervisors. They have become the gatekeepers for music, perhaps more influential than record label executives, agents, managers, and radio station payola-takers.
Many Jobs In One
Depending on a music supervisor's relationship with studios, producers and directors, they may oversee a myriad of responsibilities: hiring composers and recording artists, overseeing recording sessions, finding songs, editing music, and organizing on-camera musicians. Of course, that's just the fun stuff.
Consider the administrative details such as calling publishers and record labels for synchronization and master licenses, tracking down copyright holders, writing out cue sheets, and so on.
Music supervisors must deal with a metric ton of paperwork each year. And while getting free CDs is fun, it becomes a bit of a chore when you receive 500 of them a week. Especially since there's no way of knowing which one might deliver that ideal piece of music for the next sound cue a producer needs.
Let's not overlook the hopes, dreams, fears and egos of everyone involved in the process. "There seems to be a lot of babysitting involved in music supervision," notes John Anderson of Windswept Pacific. During his nearly two decades in the industry, Anderson has represented the music of everyone from Bobby Darin and Pete Townshend to Snow Patrol and Kings of Leon.
A Peek into the Industry
Looking through the Music Registry publication, "Film and TV Music Guide," one music supervision firm was selected at random. The music supervisors at Neophonic include Evyen Klean, PJ Bloom, Ray Espinola, Jr., Jennifer Reeve, and Janet Lopez. They have worked on projects for such directors as Gus Van Sant, Stephen Hopkins, John Dahl, Mike Nichols, and many more.
Let's take just one of these as an example of the profession. PJ Bloom has impeccable credentials: a music school graduate, a veteran of several bands, a performing DJ, and a passion for doing everything at the highest level of performance.
His involvement with soundtracks for film and television began in the early 90s while on staff at Columbia Records and then continued at Arista and some independent firms. Fittingly, he has worked with directors at the top of their game, including Michael Mann, John Frankenheimer, Mike Nichols, Norman Jewison and many others.
In addition, he has worked on everything from studio films ("Crazy/Beautiful"), to episodic TV ("The Shield," "Nip/Tuck"), to TV movies ("The Gathering Storm," "Angels in America"), to independent features ("Better Living Through Circuitry"), to video games and commercials.
Looking into the backgrounds of many other music supervisors, one finds an extraordinary range of knowledge and skill. Many of them make it a point to speak out on their profession at industry functions both large and small. One of the larger events was held by NARIP (National Assn. of Record Industry Professionals) where some of the questions went right to the bottom line.
Money Matters
Tess Taylor of NARIP notes that getting a song onto the soundtrack of a film or TV show can be a terrific marketing move as it exposes your artist to millions of potential fans, but how much money does it make for the owner of the song?
If you are an in-demand artist with a "can't live without it" track, you might get a million dollars for the use of a song in a big-budget film. If you're an up-and-coming artist with a track that fills a need, you might get a couple thousand dollars. If you're an unknown with a shot at a slot in an independent film, you might get offered anywhere from nothing to a couple hundred bucks.
As it turns out, "Everything is negotiable," although there are certain economic realities that cannot be avoided. Bloom recommends that artists and managers recognize the budgetary limitations facing those who have not yet had records on the charts. "The money offered to newer artists is not a comment on your artistry, it simply reflects the budget we have," Bloom adds.
The Voting Process
Another point to remember is the incredible diversity of opinions as to what songs should make it into a film. "There are many competing agendas, including the director, record label, marketing department, producers, music supervisor, and studio executives," notes music supervisor Todd Homme ("Catch Me If You Can," "Collateral," "Anchorman").
Speaking about some of the stranger choices for music placement in movies is John Houlihan of Houlihan Film Music ("Training Day," all 3 "Austin Powers," both "Charlie's Angels"). He says that "Directors want to use songs that they first got laid to." On the various factions voting on what tunes make it into a film, he says "I was one of five kids, so I learned the art of compromise."
Bloom agrees about the need for cooperation, negotiation and conciliation. "You have to figure out how to wade through the politics. If you can't, you need to find another job."
Fortunately for the music industry, there are people willing to do what it takes to get songs on soundtracks. Without them, think of all the glorious sounds you would have missed.
[tags]music supervisors, gman, Scott G, Music Critics Must Die, music, iTunes, radio payola, Kubrick, 2001, PJ Bloom, John Anderson, Todd Homme, John Houlihan, NARIP[/tags]