Virtual Music Instruments Black Friday and Cyber Monday 2016 Deals Roundup
Most modern musicians know that sometimes waiting for new gear can be tough when the magazines and videos demo a neato new software app, sample library or piece of hardware. This can lead to so-called "gas" (gear acquisition syndrome). Savvy folk know there are certain times of the year when deals are to be had. Black Friday, Cyber Monday, and often around NAMM and other music shows, or right before a new version is released (e.g., Native Instruments does this with KOMPLETE).
In past years I used to do a nice "round up" of all the deals I'd run across, and this year there are so many, it seemed a great time to do it again. If you already have your 4K TV, half priced sweaters and jeans, and bought your kids toys online vs heading to Toys R Us at midnight, then maybe it's time to treat yourself! Engage "GAS mode!"
2016 Example "Black Friday" and "Cyber Monday" Deals by Vendor:
Note: this publication (MuseWire) is published in the U.S., so I typically will be only showing U.S. deals, in U.S. dollars. For international clients, check your local region for deals, and also view each website for local pricing in your area.
AKAI PRO:
Akai is offering special deals on MPC related software and add-ons. 50% off on MPC expansions through Nov. 29. Information: http://www.akaipro.com/microsites/mpcsoftware/.
APOGEE ELECTRONICS:
Apogee Electronics is offering specials via its online web store on various popular hardware products, up to 55% off through Nov. 28 (note most items appear to be factory "refurbished"). More information: http://www.apogeedigital.com/black-friday.
APPLIED ACOUSTIC SYSTEMS (AAS):
Until Monday, November 28, get 50% off and more on all orders in the AAS webstore. The best deals are on the Modeling Collection Upgrades — starting at only $89! Whether you already own one or more Professional Series instruments, they represent exceptional value. More information: https://www.applied-acoustics.com/modeling-collection/#buy.
ARTURIA:
Arturia launched their "Sense of Sound" seasonal promotion on Nov. 18 and it runs through Jan. 10, 2017. Ridiculous pricing on their V Collection 5 bundle at $399, which should be in every synth head's collection. It wasn't too many years back that a single instrument would cost that much. Analog Lab, is only $44, which is a great entry into the Arturia sound universe if you're looking for stocking stuffers! Individual instruments on are sale for those who might have existing products or bundles, but perhaps only need to update their one main instrument used often. Learn more here: https://www.arturia.com/sense-of-sound.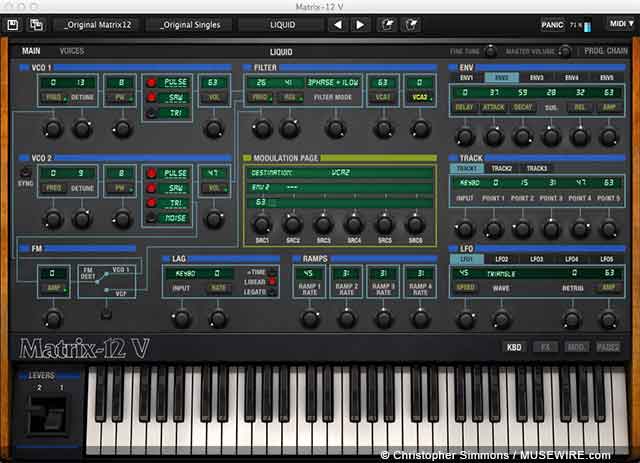 BOB MOOG FOUNDATION:
For Black Friday and Cyber Monday this year, the Bob Moog Foundation is offering 20% off items in their online store — and all sales help a great cause in music education. Some really awesome shirts, posters, etc. More information: https://bobmoogfoundation.myshopify.com/.
ESOUNDZ:
The cool folk at eSoundz have a number of great deals on premium drum kits for BFD up to 70% off, and RMX Style Packs as little as $5. Reason Refills from $5 and SampleTank libraries for $5. Learn more at: https://www.esoundz.com/.
IMPACT SOUNDWORKS:
Impact Soundworks is offering great deals on their sound instruments, including 60% off on Celestia ($49) and Juggernaut ($55), and 20% off on Super Audio Cart, through Nov. 28. More information: https://impactsoundworks.com/black-friday-2016/.
IZOTOPE:
The folks at iZotope are also running specials including the awesome 2016 Mix and Master Bundle for $299. More information: https://www.izotope.com/en/store/deals.html#content-friday.
KORG:
Korg is offering 33% off on all KRONOS sound libraries through midnight on Nov. 28. Stock up on supreme sounds during Korg's four-day Kronos library sales! All EXs titles, KRS titles and bundle packages will be 33% off. Learn more at: http://shop.korg.com/Kronos. Additionally, KORG is offering 50% off on all "apps," for iOS, as well as the awesome Korg Legacy Collection plug-ins for Mac/PC, through Jan. 5, 2017. Learn more: http://www.korg.com/us/news/2016/112503/.
NATIVE INSTRUMENTS:
For the Thanksgiving holiday, Native Instruments is offering up to 50% off on over 140 products, including the SYMPHONY SERIES, KONTAKT 5, and TRAKTOR PRO 2. Be sure to log-in to your account if an existing product owner, as upgrades can sometimes be cheaper than holiday promotions. It looks like the promotion ends Dec. 5. More information: https://www.native-instruments.com/en/products/special-offer/.
NOVATION:
For Black Friday, Novation is offering their "Launch Control" for $49.99. Various Focusrite iTrack docks are also on sale, including Focusrite iTrack Pocket for $29.99. Deals good through Tuesday, Nov. 29. View all the deals at: https://store.focusrite.com/focusrite-x-novation-black-friday-2016.
OHM FORCE: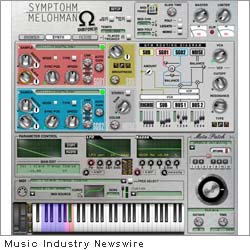 Ohm Force have a Black Friday promotion running Nov. 25-28, 2016, with 50% off any bundle in their shop including their "cohmpletion" bundle (a discount "everything" bundle for those who already own one or more products). Ohm Force make the awesome Minimonsta (Moog Mini), Oddity (ARP Odyssey), and Symptohm granular synth; as well as numerous well-regard effects (FX) plugins. View bundles: https://www.ohmforce.com/ViewCategory.do?category=Bundles. To get the discount, use this coupon "LE-VENDREDI-NOIR." ALSO! Even if you don't buy anything, you should download their FREE "symptohm PE" granular synth: https://www.ohmforce.com/ViewProduct.do?p=SymptohmPE.
PROPELLERHEAD SOFTWARE:
The folks at Propellerhead have all sorts of items for REASON on sale — over 200 of them! — up to 80% off, including items like Parsec 2, Antidote, and the JPS Harmonic Synthesizer. More information: https://shop.propellerheads.se/deals/.
REALITONE:
Realitone is having their own sale, with half price on their two signature instruments RealiDrums and Realivox Ladies. Their neat new product "Fingerpick" is also available for $79 vs normal $119 price. More information: http://Realitone.com.
Watch a cool demo video of Realitone's new Fingerpick instrument:
SWEETWATER SOUND:
Sweetwater Sound in the U.S. is having some great deals including guitars, amps, drums, pedals and more on sale. Toontrack Superior Drummer 2.0 is only $99. Native Instruments Komplete Kontrol S49 is $100 off. More information: http://www.sweetwater.com/sale.
TOONTRACK MUSIC:
Toontrack's "insane Black Friday deals" include software up to 80% off including EZKEYS Small Upright piano for $36 (reg. $179). Nashville EZX for Superior Drummer for $22 (!). Learn more at; http://toontrack.com/ (note, website was overloaded as of 10:30 a.m. PST Friday).
UAD /UNIVERSAL AUDIO:
Universal Audio has over 60 UAD plugins for the UAD-2 platform on sale as a "black fortnight" offer, for under $100, through Nov. 30. More information: http://www.uaudio.com/uad-plugins/all-plugins.html.
U-HE (u-he by Heckmann Audio GmbH):
Purveyors of remarkable analog recreations, u-he is offering 30% off on their signature virtual synth "DIVA" as part of a "Happy Birthday" promotion for the instrument. From November 25 until November 29, Diva is available at 30% off. No coupons needed, just add Diva to your shopping cart and celebrate its 5th anniversary. Additional coupons are available for existing customers. More information: http://www.u-he.com/cms/diva . Existing u-he customers got a promo email to get their coupons, which are good through Nov. 29, but if you missed that you can request the coupons here (existing customers only): http://www.u-he.com/diva-birthday/.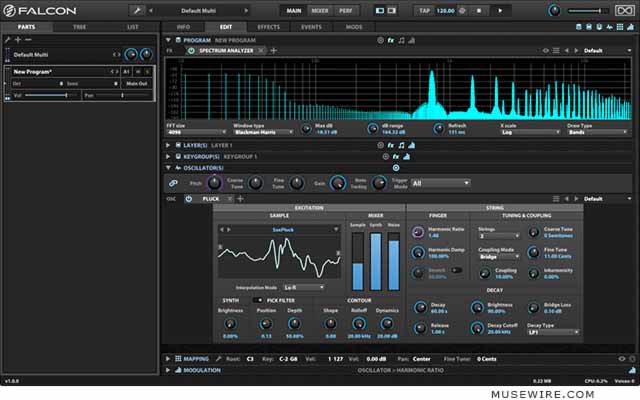 UVI:
For Black Friday (through Nov. 29), UVI is offering 30% off store-wide, including the awesome FALCON soft synth, which is my favorite synth of the year. More information: http://uvi.net/falcon.html.
WAVES:
Black Friday only, Waves has a number of great deals including the GOLD plugin bundle for $179, and the Vocal Rider for $59, and they have been offering the SuperTap plugin for free in various places on Facebook, and elsewhere. Check some of the deals here: http://www.waves.com/specials. The free SuperTap plugin offer may still be available for limited time today only: http://www.waves.com/lpn/black-friday-2016/free-plugin.
WIDE BLUE SOUND:
The folks at Wide Blue Sound have informed me on Saturday they are also having holiday deals on their cool virtual instruments including ECLIPSE. Save 50% store-wide through Nov. 30. More information: https://www.widebluesound.com/.

REMINDER: all promotions are only valid during the promotional period, which could be over Nov. 25, or through Nov. 28, or sometimes longer. This is certainly not an exhaustive list of every deal in the universe, but these are the circles I happen to run in.
* * *
This original article was written by and is Copr. © Christopher Simmons and first appeared on MuseWire.com, a publication of Neotrope®, Torrance, CA USA — all rights reserved. No fee or other consideration was given to the author, this site, or its publisher for creation or publication of this article.