Music Industry Guru Loren Weisman announces launch of new 'Music Business For Dummies' book with Florida event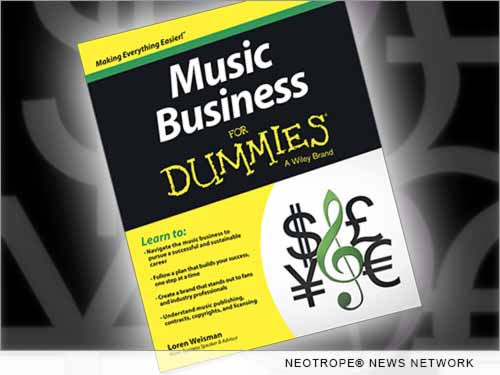 Long-time musician (drummer/producer) and music biz "guru" Loren Weisman has announced a June release party event in Florida for his new book, "Music Business For Dummies" (ISBN: 978-1119049654), which is geared to those creative types of any age looking to launch or rekindle a music career.
The latest in the world-famous "for dummies" book series, Loren brings his respected knowledge of best practices and hidden pitfalls of working in the music biz to his aptly named new release. Weisman describes the book as "your companion on your journey to the music career you want."
A June 29 "launch party" and book signing will take place in Florida at Grind and Grape in Vero Beach, from 7 to 10 p.m. Grind and Grape is located at 925 Bougainvillea Lane, Vero Beach, FL 32963.
In addition to signing copies of the new book, an early "Happy Birthday" is going to be sung to Loren. What makes that stand out is that Grind and Grape is one of the only coffee and wine bars in the state of Florida that can legally sing that song. They have taken direction from Loren and now are correctly in line with the required licenses to not only sing "Happy Birthday" but also be able to have live and recorded music.
Loren says, "If music is your calling, you need to plan your career in a way that sets you up for success from the very beginning. In, 'Music Business For Dummies,' You'll learn how file-sharing, streaming, and iTunes have transformed the industry, and how to navigate your way through the new distribution models to capitalize on your work."
Leveraging Smart Inc., Loren's new company with Steve Moreau, is also launching on that same night. Leveraging Smart is a Business & Entertainment Advisory Group assisting with products, projects and plans for established businesses and start-up ventures.
"Musicians can be leveraging smart with 'Music Business For Dummies' while other companies inside and outside of entertainment can benefit from a more direct and individualized approach to their projects, products and plans," adds Weisman. "It's exciting to expand beyond music as Steve and I are showing that many of the concepts are universal."
"Music Business For Dummies" (ISBN: 978-1119049654, paperback, 7×9, 432 pages, $24.99) will be released in June, 2015, and will be available from all major booksellers.
About the Author:
Business Advisor, Speaker and Author Loren Weisman organizes, optimizes and implements individualized branding, marketing and content plans for start up and established businesses. Weisman is also an executive producer and co-creator of Leveraging Smart, a new reality business television show.
Loren is also the author of "The Artist's Guide to Success in the Music Business" (ISBN: 978-1608325788; Greenleaf Book Group Press).
Learn more about Loren at: http://www.lorenweisman.com/ and his new venture at http://leveragingsmart.com/.
SoundCloud: https://soundcloud.com/loren-weisman/music-business-for-dummies
VIDEO:

This article is Copr. © 2015 by Christopher Simmons, all rights reserved. Originally published on MuseWire.com – a publication of Neotrope®.