Music Critics Must Die: The Death of Pro Tools & Other NAMM Events
Scott G was happy to ogle the tons of software, DAWs, gadgets, guitars, and gear galore at the NAMM show, but an Apple demo seemed to predict the way the industry is moving.
For many of us in the business of making music, there is something indescribably satisfying about walking into the NAMM show, especially the larger of the two annual events, the Winter Show on the West Coast. Equipment is everywhere. Thousands and thousands of square feet of software, amps, guitars, gadgets, digital audio workstations, drums, keyboards, synthesizers, microphones, samplers, compressors, and on and on. Wonderful! Really gets the blood flowing and the pulse racing. Must be like an alcoholic wandering into the world's largest free wine tasting event.
Apple of my Eye
After redefining music retailing with iTunes, and changing the idea of the private listening room with iPods, Apple has already achieved quite a legacy at the start of the 21st century. But they haven't stopped there. Apple has quietly been altering the way music is created and recorded. Every Mac owner knows how easy it is to grab some music loops with Garageband, but music industry professionals are now going to have an eye-opening experience with the release of Logic 8, the most amazing "studio" I have yet seen.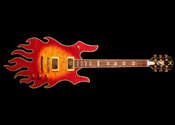 Multitrack recording, precise editing, mixing control, automation, easy signal path assignment, excellent surround production tools, and an open architecture approach that welcomes your use of other hardware and software — all in a sleek and mostly intuitive interface. For five hundred dollars. Sorry, Digidesign, but with this one demo, I felt I was watching the death of Pro Tools.
Pigtronix
Makers of the wonderfully-named Disnortion pedal and the Echolution effect, the Pigtronix people were introducing a guitar synthesizer pedal called the Mothership. While not as all-encompassing as the Roland git-synths, it produces some terrific sounds and definitely extends a guitar player's flexibility while performing live. One of the onlookers suggested chaining a couple of the other Pigtronix pedals to the Mothership and the resulting outer space rumble/churn/wail was like nothing heard before. "That's nasty. I really like that!" was the comment that drew smiles and nods all around. (www.pigtronix.com)
Famous Names
Sure, there were big names in attendance. But I'm going to concentrate on someone who should be better known: musician Craig Anderton, who in his spare time is the executive editor of EQ magazine. What does he do at a NAMM show? Everything the rest of us journalists do, plus give product demonstrations with the latest digital performance tools, like his live remix of Pink Floyd's "Interstellar Overdrive" using the PreSonus FireBox as the computer audio interface. Oh, and help introduce a product he created, the Minimoog Tribute Expansion Pack for Rapture and Rapture LE. Yet he still had time to say hello and trade comments about music journalism. Gotta love people like that.
Quips
Perhaps the most fun I had was trading acerbic comments in the Press Room with a writer for "Black Tail," the porn magazine. When I said I wasn't familiar with that publication, she said she had examples in her bag. "Do I want to see them?" I asked. "Depends how much you enjoy overly-lit unretouched close-ups of-" "No thanks," I said. But what a fun lady with whom to exchange bon mots.
Schmoozing With the Alien
For two decades, Joe Satriani has been playing instrumental rock at a high level of musical and sonic inventiveness. His "Surfing With the Alien" album is still treasured by those of us who play instrumental music. So when Vox let the press know there would be a special event involving Mr. Satriani, a large crowd gathered to hear about it.
The official announcement is as follows: "Satriani and VOX are working together on a line of signature effects pedals designed to deliver Satriani's trademark tone plus a wide range of new sounds for guitarists of all playing styles and ability levels."
Sounds good, right? But wait, there's more: "Our collaboration with Joe will raise the bar on guitar effects and the expectation of performance, response and tone quality available to the general public," says VOX Product Manager Mike Bradley.
Cool. Plus, having Satriani himself appear at the booth was a treat.
One teensy-tiny problem: No pedals. He couldn't tell us the names of the pedals, or what they will do, or how they're going to look. "That's all in 'legal' right now," he said.
So, why are we here again? Oh, right, because it's Joe Satriani. Who spoke about 5 minutes and then disappeared without playing a note.
Briefs
No, this section isn't a continuation of the porn imagery from above. Just some quick, random observations from a generally fun show:
* Strumming one of the stunning hand-built Henman-Bevilacqua guitars and losing track of how long the instrument kept vibrating. Those creations are alive! (www.henbev.com)
* Standing right next to someone who then suddenly walked off with one of the displays at the KB Covers booth (www.kbcovers.com).
* Seeing smile after smile at the wild designs of the axes in the Johnson Guitars booth (www.johnsonguitarsusa.com).
* Trying to enter the ESP Guitars room to see what was new and being stopped by a belligerent mongoloid who practically spat out "Dealers only."
* Chatting with Kevin Von Der Hofen about producing songs and finding out he's the bass player in Lonestar.
* Checking out my appearance in the surface of the magnificent Minarik guitars. (www.minarikguitars.com)
[tags]NAMM, Apple, Logic 8, Digidesign, Pro Tools, Pigtronix, Minarik, Craig Anderton, EQ, PreSonus, Joe Satriani, Vox, Henman-Bevilacqua, Lonestar[/tags]