Music Critics Must Die: Taking the Maxim Magazine Approach to the Max
Scott G says we shouldn't be too hard on Maxim magazine for reviewing an album they hadn't heard. They are pioneers in a new form of rock journalism.
By now, everyone in music and journalism has read the story of Maxim magazine publishing a "review" of a Black Crowes album they hadn't actually heard.
While that magazine is highly respected for its glossy covers as well as for photographs that are technically known as babelicious, they have been taking a lot of heat over their speculative (read "made-up") critique of the "Warpaint" album by the Chris Robinson-led band. Calling it "an educated guess preview," the Maxim folks have provoked much derisive commentary.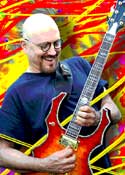 For example, Pete Angelus, manager of The Black Crowes, reportedly said "Maxim's actions seem to completely lack journalistic integrity and intentionally mislead their readership."
In a story published by Mi2N, Angelus was quoted as saying, "It speaks directly to the lack of the publication's credibility. In my opinion, it's a disgrace to the arts, journalism, critics, the publication itself and the public. What's next–Maxim's concert reviews of shows they never attended, book reviews of books never read and film reviews of films never seen?"
Yes. Exactly! Maxim is bravely going where political journalism has already gone: they are just making things up. It's a refreshing step in what was heretofore the tightly-controlled world of rock writing. And really, how could this not have come to pass in a business where artists don't play on their own albums and don't sing in their own concerts.
But I don't intend for Maxim to stay out in front of the curve. No, here at the MuseWire, we are blazing new trails by writing reviews of albums that have not yet been recorded.
"Togetherness"
Frank Sinatra & Eminem
While there is some initial coldness and, quite frankly, stiffness, in Sinatra's delivery, the magic kicks in by track three as he and Double-M kick out the jams on a cover of Merle Haggard's "The Fighting Side of Me." This is a stone solid winner from the indefatigable Marshall Mathers and the man known both as the Chairman of the Board and Old Blue Eyes.
Note: Never has the name of this column been more right on the money.
[tags]Maxim, Black Crowes, Chris Robinson, pop music, Frank Sinatra, Eminem, Mi2N, journalism[/tags]